Fond Memories of Swee Kee
By TianTianChi - Monday, Oct 21, 2013
Every time someone asked for a fish head bee hoon soup recommendation in the past, Swee Kee was always on top of my list. I have many fond memories of this eatery – it was my late mother's favourite and I remembered the weekly pilgrimage to the old Chin Chew Street in the '70s as a kid. The queue was always long and an hour of wait was normal. The excitement was not just the anticipation of a great meal, but the occasional chance of bumping into celebrities. Swee Kee was a must visit for almost every local or Hong Kong artiste then, all there for their famous fish head bee hoon.
It is redundant to repeat the well-written history of the restaurant and how the legendary 'Ka Soh' (daughter-in-law) inherited that legacy. After moving to bigger premise at Amoy St, the second generation went on an expansion spree. They opened new outlets at Ann Siang Hill and Gillman Village. The result of such plan, usually has an effect on quality and hence viability. Now, only one branch remains – at the Alumni Medical Centre. Ever since "Ka Soh," the matronly lady that carried on the mantle of Swee Kee's name and legacy passed away, its reputation was tethering.
Earlier this year, I revisited Swee Kee, after a friend hinted that things are looking up. It did and I went back several times after, as if to compensate for the lost years, for old and new dishes.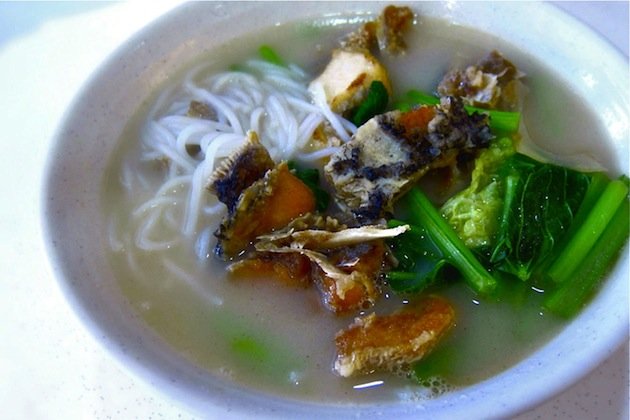 The Fish Head Bee Hoon that I remembered so fondly is now back on every table that evening. The snakehead fish head is flash fried and browned together with ginger and Chinese wine before it s boiled with stock. It comes milky, smokey, robust and rich. There is no milk used unlike at many stalls out there. However, it lacks just that bit of mojo that used to be present in the past, although quality generally cannot be faulted. Those who cannot handle fish head usually opt for the fish slices or better still, the fish belly. But it just lacks the emulsification that the bones and collagen in fish heads lend to the stock.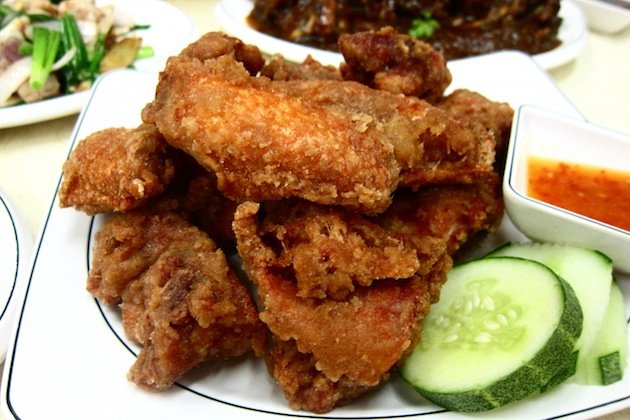 Back in the day, Swee Kee was known to have the best Har Jeong Gai (prawn paste chicken). They make a very moreish one here, but we're not sure if they still hold the title of the 'best'. The prawn paste marinate is not overwhelming but the flavour and fragrant have certainly penetrated right through the chicken chunks, and the skin is crispy.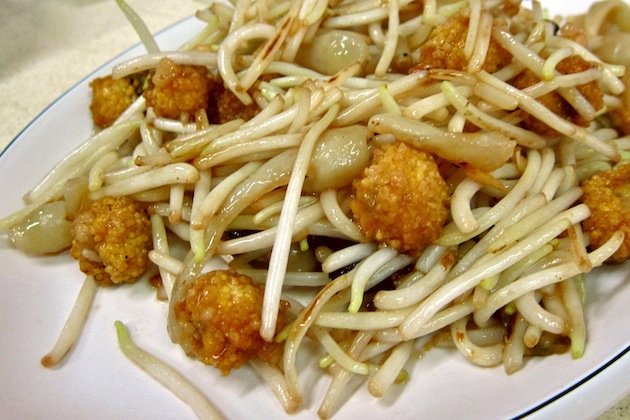 A good cze char restaurant make full use of all animal parts, and can always create a winning dish with any part of it. A friend of mine recommended their rare Fish Intestine with Beansprouts. They are generous with the fish intestines, and there's also fish liver, fish blubber and on a couple of visits, I even get sweet gritty fish roes in this dish. The pleasure of biting into the crunchiness of well wok-fired and plump beansprouts together with those fish parts, and the slightly bitter yet creamy liver – is absolutely delightful.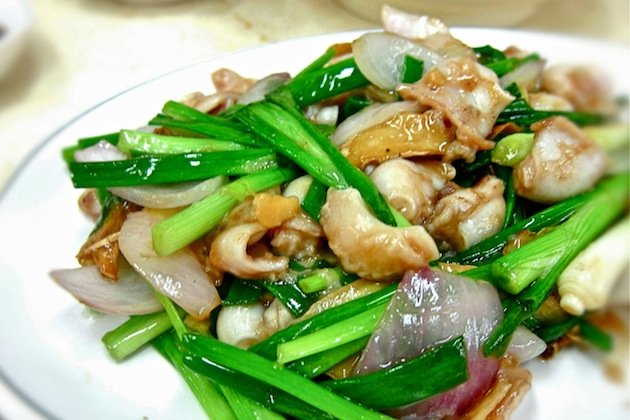 Another rare find incorporating spare parts is the Fried Pig Fallopian Tubes ('shang cheong' in Cantonese). It is rather tasteless by itself, but if well fried with the right condiments, it transforms – delightfully textured, appealingly chewy and flavourful. Their black bean paste version is popular, but we always opt for the lighter flavoured ginger and scallion version for purity of taste.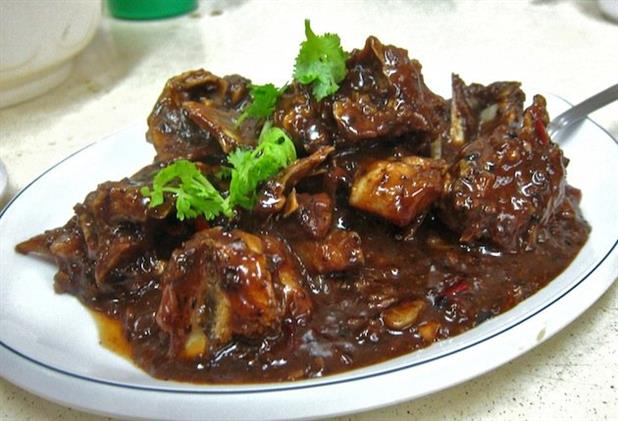 The Braised Fish Head looks unappetising as it comes in very dark colour, but the robust aroma of the sweet earthy black bean paste is alluring. The fish head is deep fried and coated with light batter that seals in the juice of the meat. This also allows the bean paste to cling on the fish head chunks. You may order this with bitter gourd too – well processed, cut into chunks and is nary bitter.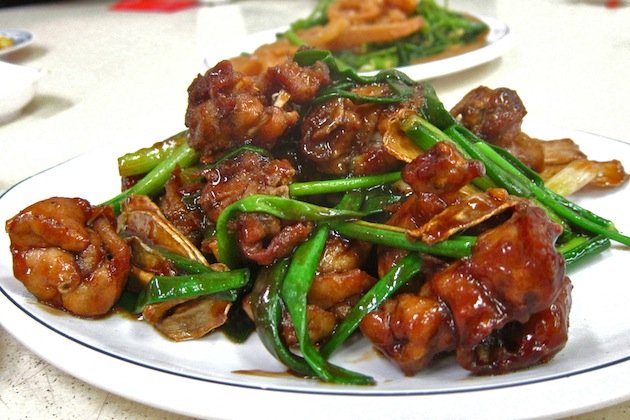 Cooking with ginger and scallion is a popular style of cooking in such old school Cantonese cze char restaurants, and Swee Kee is no exception. Case in point – their fish slices, beef and frog legs. With frog legs, the browned and caramelised ginger and scallion mask the fishiness of frog legs, and bring out the freshness instead, while imparting a heady and fragrant aroma to it. Another dish that they excel in is flash fried vegetables, and we preferred the local style Sambal Kang Kong. There is a generous amount of finely minced hae bee (dried shrimp) used in the sambal, which yields a spicy umami sensation. Order the version with crunchy cuttlefish for a more substantial bite.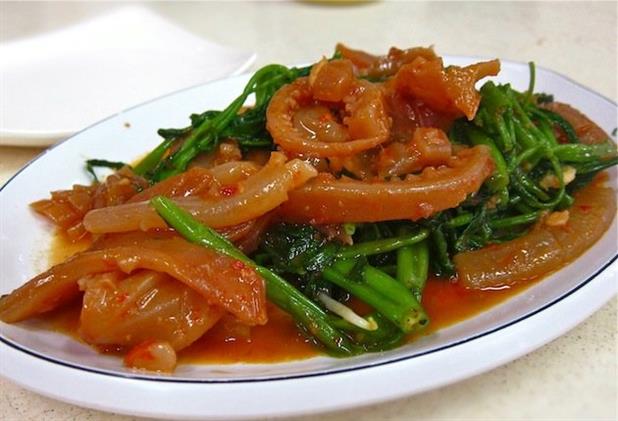 Blame nostalgia or perhaps my evolving taste buds, but something still seem amiss. But one thing is for certain, we are getting less and less of such old school Cantonese cze char restaurants. Many have gone out of business, compromised on quality and filled it with fanciful and new-fangled dishes. I am glad these folks are still vanguards of this makan culture. Bravo.
SWEE KEE (KA SOH) FISH HEAD NOODLE HOUSE
96 Amoy Street,
Tel: 6224 9920
Hours: 11:30am – 3:30pm, 5:30pm – 10:30pm