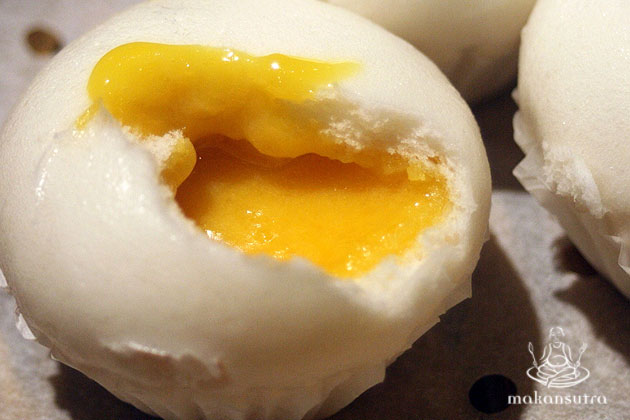 Foodglish: You don't blur sotong hor!
By Adeline Ang - Wednesday, Jan 21, 2015
As Singapore turns 50 this year,  here's a unique tribute to our unique makan culture. Besides our kiasu/kiasee culture and ERPS, the one element contributes most tour Singaporean identity will have to be our colourful Singlish. But being the foodies that we are, we don't just butcher the English Language; we butcher it and marinate it with food terms, cooking up some well-known food related terms… so rojak! Besides providing you with some of our infamous food related phrases, we recommend you a dish or restaurant related to the term… so it's like a Teochew steamed fish, got head- got tail.
Blur Sotong
A phrase that is well-known amongst the Singaporeans, it simply points to a person who is confused or is unaware of current happenings. So why a squid and not an iguana? When a school of sotong or squid gathers under the fisherman's boat lamp at night, they are all bunched up, translucent and wiggly…it's a sea of blur. You don't know head from tail, hence, the blur sotong fellow. Being the Singaporeans that we are, we shorten it to "blur".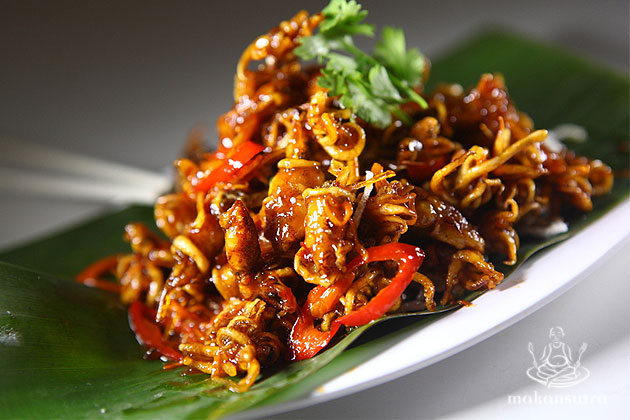 Visit Roland Restaurant be sure to give their Crispy Baby Squids, one of their five signature dishes, a try. Accompanied by You Tiao stuffed with sotong paste, this addictive dish will have you craving for more.
Roland Restaurant
89 Marine Parade Central #06-750
Tel: 6440 8205
Monday-Saturday: 11.30am-2.30pm, 6pm-10.30pm
Sundays and PH: 11am-2.30pm, 6pm-10.30pm
Bo Jio
Literally translating to "no invite", this term is used by the uninvited when accusing someone of leaving him out of an activity. From going to the movies to having lunch, this phrase is most probably the most common of all the phrases. Since we're all punny (see what I did there?) people, as jio, besides its connotation to "invite", also refers to a banana in the Hokkien dialect. So the next time you're accused of bojio, drag them to this goreng pisang stall, hand them a fried jio and say "here, don't say I no jio you".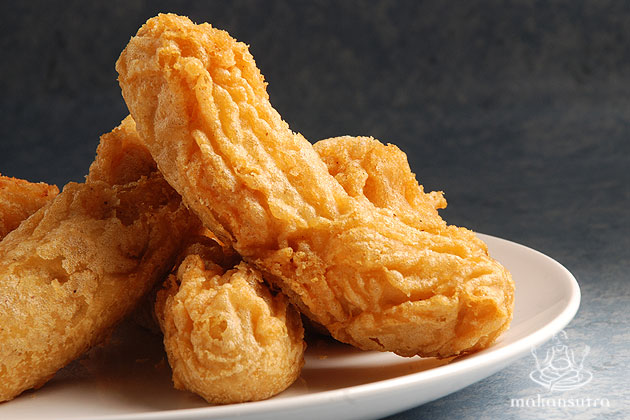 There are a healthy number of goreng pisang stalls but Mei Xiang sells one of the better ones. With its crispy exterior and hot pisang that melts in your mouth, get ready for a whole new pisang experience. Don't say got good goreng pisang bojio hor.
Mei Xiang Goreng Pisang Popiah
Changi Village Food Centre
Blk 2 Changi Village Road #01-15
Tel: 8268 0583
Tuesday-Sunday: 11am-9pm
Chop ChopKali (Curry) Pok
Most of us are familiar with this term which essentially means to have something done in a quick and efficient manner. So for instance, "Oi, late already lah; chop chop curry pok." The reason behind the use of the term curry puff is unknown but it does have a nice ringing sound to it.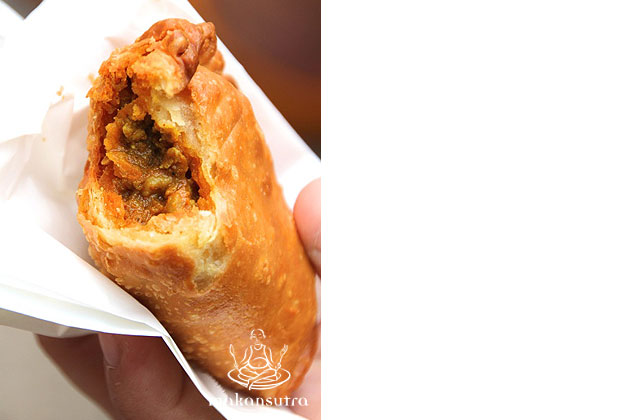 For some good curry puffs, be sure to try out the Ang Mo Kio Curry Puff located at Toa Payoh. With its crispy crust and fragrant potato chicken chunk filling, this curry puff will have you wishing for more outlets. For more on AMK Curry Puff, do give this link a visit. 
AMK Curry Puff
Super 28 Coffee Shop
Blk 184 Toa Payoh Central #01-372
Tel: 9672 6621
Monday-Sunday: 10am-9pm
Jiak Kantang
That's right, we even have a phrase coined after the curry puff filling. Translated to "eat potato", this Hokkien verb turned noun is used to label someone who is seemingly westernized in their language and ways, like not knowing how to use chopsticks, for instance. It is popular knowledge that westerners eat more potatoes as their starch staple. This phrase also is used to describe a local who speaks minimal Chinese.
Since potatoes are usually the accompanying ingredients, I thought the curry chicken dish would be a good accompanying dish. For those who are fans of homemade chicken curry, give Na Na Homemade Curry a visit. Although they are known for their curry fish head, the silky curry chicken served at Na Nais too worth a try. Completed with fresh chicken and generous potato chunks, what more can we ask for a bowl of curry chicken?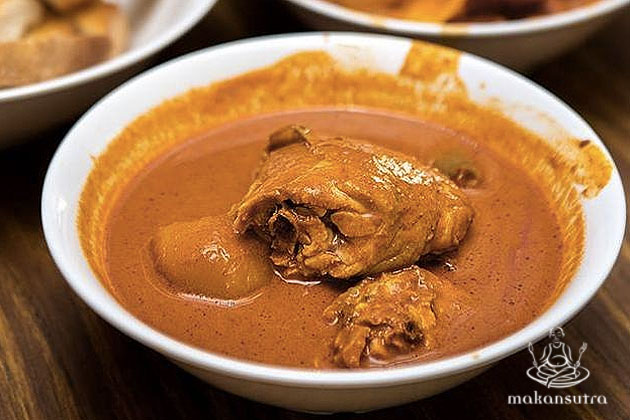 Na Na Homemade Curry
100 Tras Street #03-14
Bo He Hei Ah Hor
This Hokkien phrase literally translates to "no fish prawn also good" and is used when you have to settle for something lesser. Say you struck consolation prize for the lottery instead of the big prize, no fish (big prize) small prawns (consolation prize) also good, right? This phrase is also synonymous to the phrase "better than nothing".
For the Fish Bee Hoon lovers, I'm sure the name Xin Yuan Ji would be a familiar one. Located near Bugis MRT Station, it's signature dishes include Fish Head Steamboat and Curry Fish. Despite the milky appearance of the soup, you'd be glad to know that there was no overpowering milky taste to compromise the sweetness of the broth.
Xin Yuan Ji
31 Tan QueeLan Street #01-01
Tel: 6334 4086
Blk 107 Hougang Ave 1 #01-00
Tel: 674 7713


Jiak Zua
Another Hokkien term, "eat snake" is used to accuse someone of goofing off or to skiving. Snakes are known to sleep often and slither away when there are commotions about. Since snake dishes aren't exactly popular (or available for that matter) here in Singapore,an eel dish will have to do.
For a Cantonese dining experience, visit Man Fu Yuan and indulge in their array claypot dishes that include the Braised Eel With Garlic. Or if you're the jiak kantang kind of Singaporean, you can always head down to Chikuwa Tei for a generous portion of unagi at $20 for a Grilled Eel set.
Man Fu Yuan
Intercontinental Singapore
80 Middle Road
Tel: 6338 7600
Monday-Sunday: 11am-2.30pm, 6pm-10.30pm
ChikuwaTei
9 Mohamed Sultan Road #01-01
Tel: 6738 9395
Monday-Sunday: 11.30am-3pm, 6pm-10pm
P'ng Tang
If you're called a p'ng tang, Hokkien for rice bucket, it doesn't just necessarily mean you're a rice-lover. It can also mean you're rather dim-witted. You treat rice merely as your main feed, like some animals do.
Since rice is a food staple, here's a good tze char stall with numerous good dishes to pair your rice with. The Nonya Steamed Fish is highly recommended; imagine a freshly steamed fish soaked in a light sweet, sour and spicy sauce that comprises of lemongrass, pineapple cubes and of course, coconut milk. Pair the sauce with your rice and get ready for a trip to gastronomic heaven. The Sambal Sweet Potato Leaves is also a dish to try for those who can't get enough of spicy dishes. The sweet potato leaves are cooked just right and its spiciness is best offset with a good bowl of rice. You'd be a p'ng tang if you don't give Liang Ji Seafood a visit.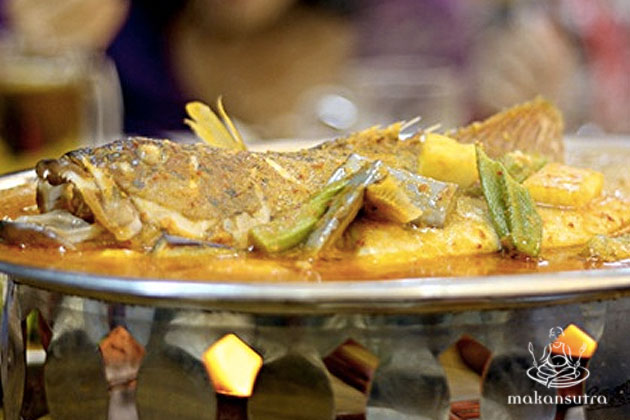 Liang Ji Seafood
Hougang Green Shopping Mall
21 Hougang Street 51 #01-51
Tel: 9026 1882
Monday-Sunday: 4pm-12.30am
Orh! Han Tze
This one is another punny phrase that is often used by one to demean the other. "Orh" in Hokkien translates to "yam" whilst "Han Tze" translates to sweet potato. It is our local practice to use "orh" as a term of surprised acknowledgement but the "hantze" follow up phrase comes into play if your "orh" is deemed an unsatisfactory answer and is used to denounce your half-wittedness.
You'd be surprised to find delicious Orh Nee being served at a coffee shop. At Ah Orh Seafood, the mashed yam is blended into a smooth consistency with visible traces of yam. Served with ginkgo nuts and soft pumpkin slices, do remember to give this all-time favourite Teochew dessert the next time you visit.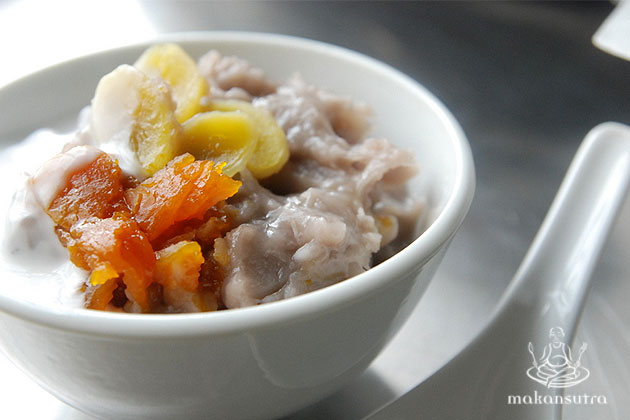 Ah Orh Seafood
Blk 22 Sin Ming Road #01-258
Tel: 9487 8150
Monday-Sunday: 2.30pm/5.30pm-9.30pm
Jiak Kueh Neng
Although it translates to "eat egg", it is of no surprise (to locals at least) that this term is used more often by old school Singaporeans than chefs. As the shape of an egg resembles that of the number zero, jiak kuey neng is usually used when a student is feeling ominous about his examination results. For example, "Wah the exam so hard, jiak kueh neng already lah." The phrase however, can also be used as an expression for anything that comes to naught.
When it comes to eggs, Liu Sha Bao (salted egg yolk custard bun)takes the egg. Instead of the usual dim sum haunts like Swee Choon, try this hidden gem that is situated along Upper Serangoon Road. This neighbourhood Dim Sum stall is easy to miss, both in terms of food and their relatively secluded location. The buns of their Liu Sha Bao are both soft and fluffy whilst the liusha was fragrant , sweet yet savoury.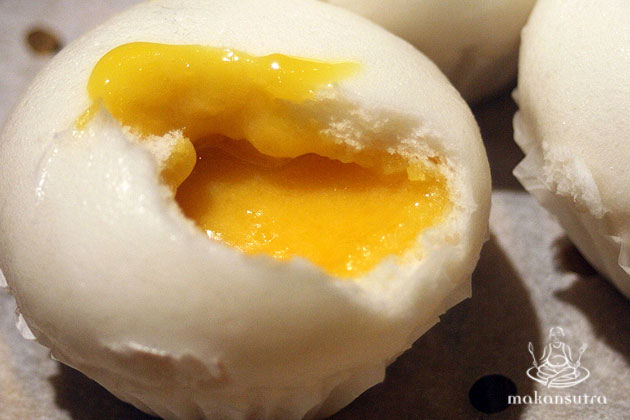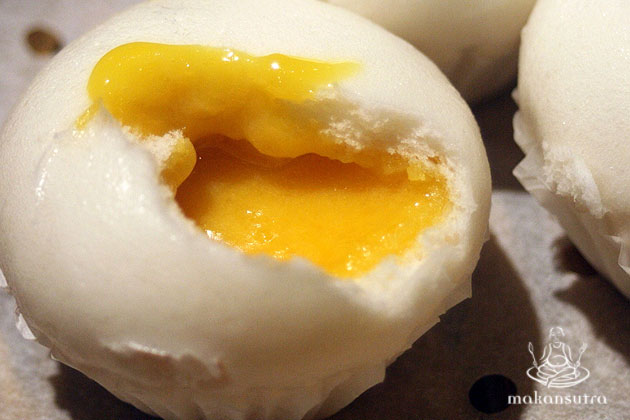 Yi Dian Xin
TeoSeng Eating House
1012 Upper Serangoon Road
Tel: 9168 5587
Monday-Sunday: 7am-6pm
Stylo Milo
Maybe it's a Singaporean thing but here's another phrase that rhymes. In any case, this drink related adjective has, you guessed it, something to do with fashion. By saying that someone is stylo milo, you're essentially referring to him as being­ stylish or fashionable. But do note that this may be used in a sarcastic manner so the true couture mavens may take offence.
If you're hoping for some recommendations for the good 'ol Milo Dinosaur, I'm sorry to disappoint. So what else is there besides the beloved Milo Peng (ice)? If you're looking to have a good catch up session with some friends, you can do so over some Milo Whisky at Ah Sam Cold Drinks Stall. Before you start picturing a small mountain of Milo powder poured over your single malts, rest assured that the Milo Whisky looks just like any other glass of whisky. Slightly weaker than the usual whisky, the Milo Whisky has a creamy Milo after taste that balances the equation.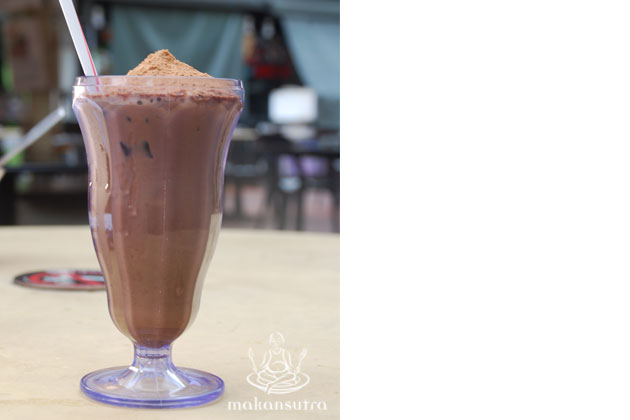 Ah Sam Cold Drinks Stall
60 Boat Quay
Tel: 6535 0838
Monday-Saturday: 6pm-2am
So not only should we cherish our street food culture in this year of SG50, we should also treasure this verbal food heritage that is uniquely Singaporean. These sayings are part of our local Singlish patio, but you have to admit that they are endearing all the same. So chin chai abit lah , okay?