Forgotten Charms of Swa Garden
By TianTianChi - Wednesday, Aug 28, 2013
The restaurant have all the well-appointed details of an old school establishment – the sheer curtains hanging over the glass walls and doors, white tiled walls, practical and sturdy furnishing, tired but seasoned white table clothes, banquet style cushioned metal chairs, and right down to the fading carpet that shouts 1970. Surprisingly, the Swa Garden has less than 15 years of history. It was founded in 1999 by a crab merchant with his friend, a veteran in Singapore's Teochew food scene and related to the oldest Teochew restaurant then (the now defunct Tai Seng Teochew Restaurant).
Chefs from top Teochew restaurants were head hunted and the target market is the middleclass in the suburbs, especially the sizeable Teochew community in Hougang, not too far away. Many Teochew restaurants cater to a motley mix of patrons, injected eclectic elements of other cuisines in their menu but here at Swa Garden, they remain hardcore and kept the faith.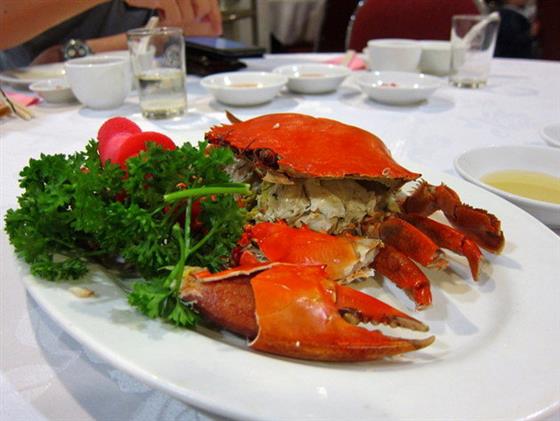 We started with their signature Cold Crab, which is done exceedingly well. Although the first generation owner (the crab merchant) had passed on, they are still able to secure the quality of crabs used (something not easy in these days of limited supplies and the demand from China). Their crabs are plump and glowing with creamy roes. Regulars would call ahead to book the best crabs, we recommend you to do the same. The Liver Roll is another starter to order. It comes moist, juicy and with bits of chopped hard-boiled egg for a little spongy feel to contrast the crunchy water chestnut bits.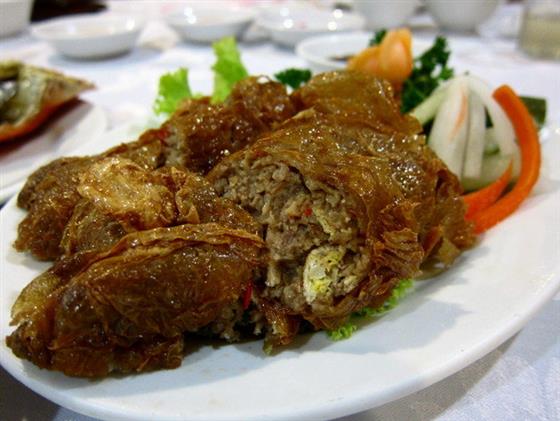 Another regular feature in Teochew eateries is the Steamed Crayfish. It goes great with kumquat sauce, but we love the Fried Crayfish with Sichuan peppers. Despite the numbing notoriety of Sichuan peppers, it is used here as an aromatic rather than flavour. The crayfish are first deep-fried then coated with dark sticky sauce blended with spices and herbs, such as scallions, garlics, shallots and pepper leaves. It has a strong flavour, but it enhances rather than distract from the lobster-like taste and texture of the sweet crayfish.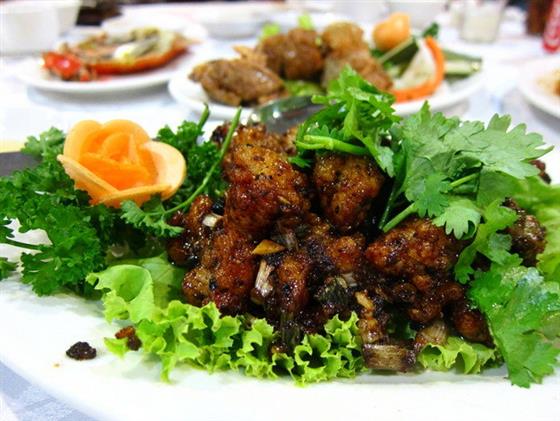 All respectable Teochew joints will have duck on their menu, and it is no exception here. The menu says Braised Goose, but the waitress makes it clear that it is duck that they are serving as goose is difficult to source here. Bigger ducks surprisingly gives a goose-like texture and has a nice gaminess. A better version of the stewed duck, however, is the Crispy Duck (again, it says "goose" in the menu). It is not fried your usual KFC style , but it is actually stewed duck that is given a flash hot oil bath that crisps the duck skin yet retain the "lor" (stewing sauce) flavour in the meat. This is a such a satisfying and comforting dish, even the kids will love.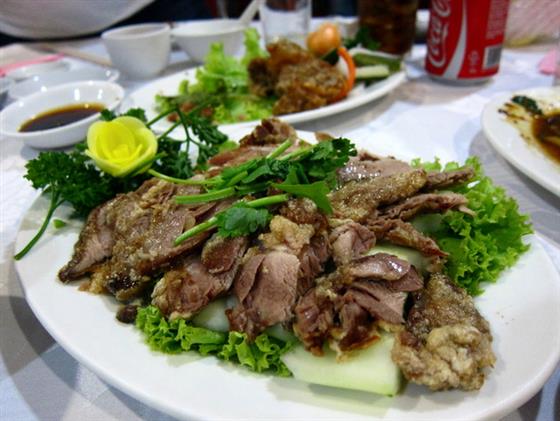 The most luxurious duck dish here is their Braised Duck with sea cucumber. You have to order this in advance as it involves a lot of elbow grease. The duck is first steamed until soft and tender, braised with sea cucumbers in a delectable brown sauce. The duck meat is fork tender with load of collagenous goodness from the sea cucumber as well as the pork skin that thickens the stock.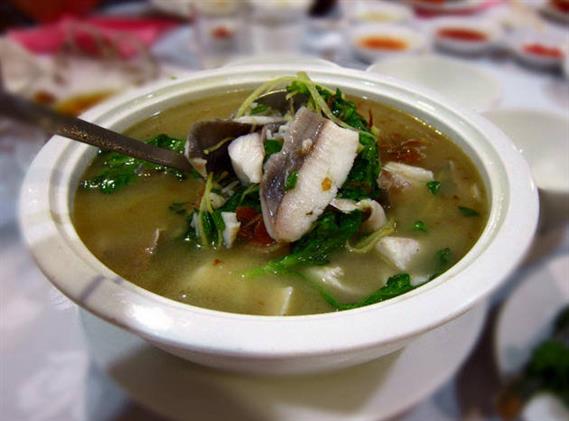 A Teochew feast is not complete without a fish dish, so we ordered their Pomfret Porridge in lieu of other staple. Tee Po (dried sole) are first browned with shallots till fragrant before stock is added and fresh pomfret fillet boiled in the soup. It is served with tang-o (garland chrysanthemum) and topped with cilantro. The soup has a sweet and refreshing touch from the fresh fish but also a deep robust flavour from the browned dried fish and caramelised shallots. The slightly herbal tang-o and fragrant cilantro balance out that richness to lighten and add depth to this dish.
For those who do not want a soupy staple may want to consider Cai Po Kway Teow (fried ribbon noodle with preserved radish). The kway teow is wok seared together with shredded cai po and diced kai lan, seasoned only with a little fish sauce. At the end it is pressed on to the hot wok to get a little crust for additional crispiness to the edge. Alternatively, order the Chives Noodle (koo chye), but we feel that this perhaps is more suitable as a dessert. Noodle is made with flour and blended chives juice and come looking like spinach noodle. It is then flattened and pan fried till crisp. Icing sugar is then sprinkled on the noodle pan cake. A strange but alluring combination of egg-iness, slight tinge of chives pungency and sweet icing sugar. A rather tedious dish to make, and thus not available regularly.
Desserts doesn't seem to be their forte. They can do a decent or nee (yam paste) but just as most places, they shunned pork lard, an essential in traditional or nee for the perceived sake of health. The dishes here may not look very refined but they are well made, hearty and comforting plus the price tags are not excessively prohibitive (averaging $30-$35 for a family of 4), which is an appealing plus point Note: Service from the seasoned local waitresses is friendly and efficient until you try to stay beyond the usual closing time.
SWA GARDEN TEOCHEW RESTAURANT
540 Macpherson Road Tel: 67445009 11.30am-2.30pm, 6pm-9.30pm