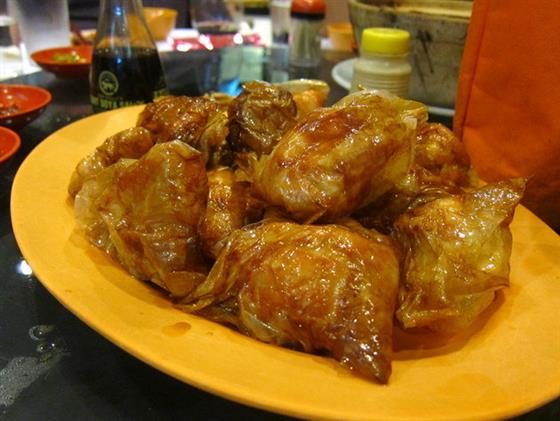 Forgotten Claypot Goodness
By TianTianChi - Wednesday, Mar 13, 2013
I always enjoy eating food in claypot. It's very comforting and its one of the best techniques to seal flavours and heat for a long time. It even invokes a smoky aroma when cooked over charcoal fire due to the porous nature of the pot. It is getting more difficult nowadays to find claypot dishes at cze char restaurants. We mean the ones that actually cook in, not just serve and warm up in them. The pot leaks and breaks easily, and it's difficult to wash (detergent must not be used). Managing the heat is also tedious and cooking can be time-consuming, adding to the cost of operations for eateries.
Hillman has been around for the last 50 years (their history is well documented in their website). They are known to be one of the few places left with a rather extensive claypot dishes menu.
We had a chance to revisit them recently and was happy they did not shove a Chinese New Year set menu in your face during this festive season. Amongst the dishes we ordered, there were hits and misses, but mostly, it passed muster.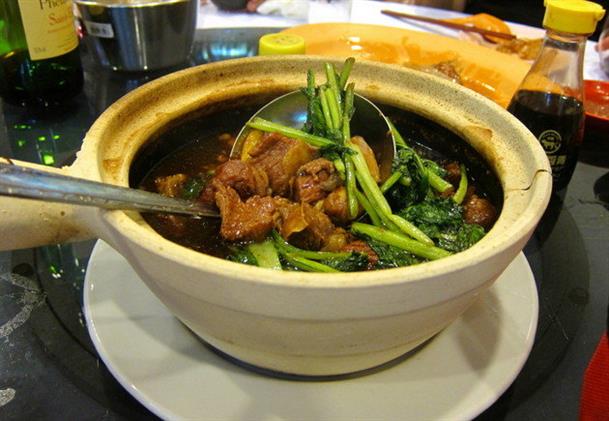 One of my favourites was the braised beef brisket in claypot. The beef briskets were chopped into smaller pieces for easier eating. The stock was distinctively beefy but not offending as lots of wine was used to calm the beefiness, making it very smooth yet rich and robust.
We also ordered the Eight Stars Pot which consisted of eight different ingredients such as mushrooms, fish, meats and all the nice things braised together, each releasing harmoniously, its more seafood than meaty essence. Moreish, especially with steamed rice.
For connoisseurs, if there is only one dish you can order here, it is their pig liver in claypot. Few people offer this dish nowadays, as it is difficult to execute. Only fresh livers will do and precision has to be practised when cooking it. It has to be served pronto, as just a few seconds off, and the liver turns into leather. We couldn't wait to ladle out our portion the moment it arrived. It came perfectly soft, spongy, creamy, tender and juicy. No bloodiness and perfectly perfumed with the browned seared ginger, fresh scallion and savoury concentrated gravy.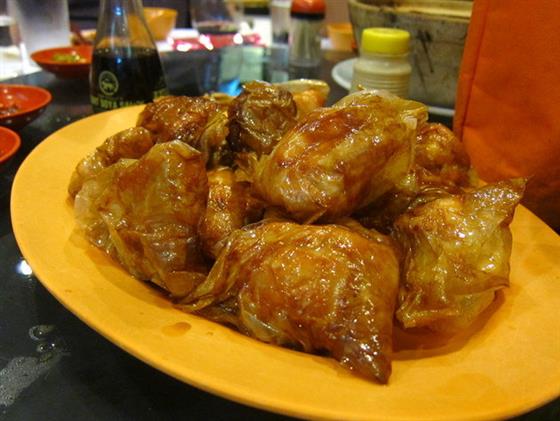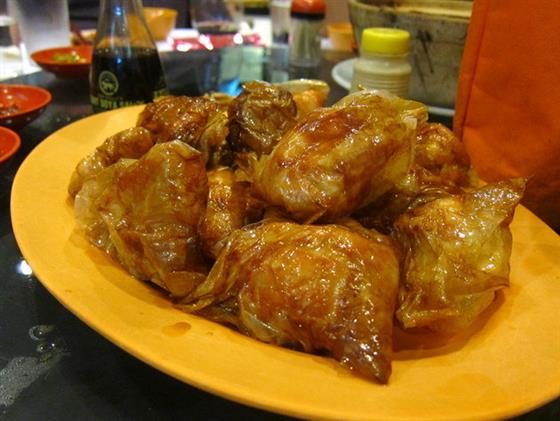 We loved the paper wrapped chicken here. Not a claypot dish but a signature nonetheless. Quite a misnomer as the chicken was actually packed in a mini bag made of parchment paper. It was easier to remove than those wrapped-up ones and the chicken didn't stick to the paper, the most dreadful part of eating this dish. They came boneless, making it even easier and delightful. The well balanced marinade was not too oily, sweet or savoury and the thigh "dark" meat was tender.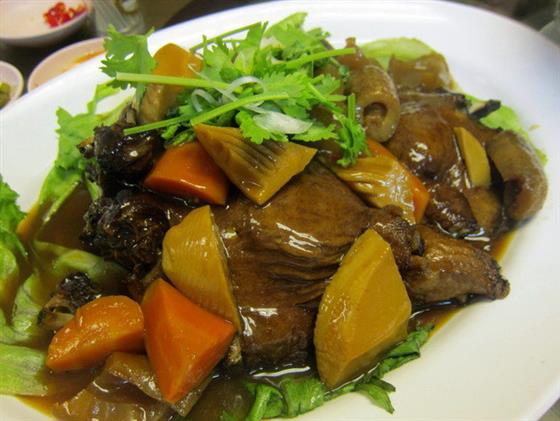 The braised duck with sea cucumber's portion was quite large. The sea cucumber was not overly soft but crunchy and the duck meat wasn't fibrous, avoiding most of the mistakes for this dish. The gravy was thick and sticky, clinging to each satisfying bite.
We were a little disappointed with their signature fried rice. Although it came well fried, each grain of the rice came loose and was smoky, but the flavour was somehow lacking and a little bland (the last time we had it, it was too salty). Yoke Lan Gai (boiled chicken with ham and kailan, a fast fading Cantonese classic) looked like ordinary steamed chicken served boneless with ham and kailan strewn over it.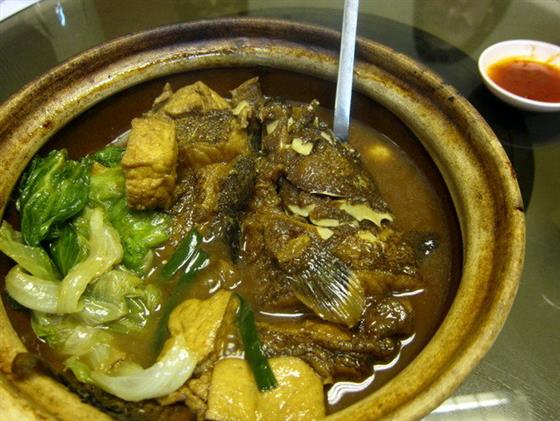 Traditionally it should be served with a piece of chicken alternating with a piece of ham, and you eat them stacked together. Not bad, for a normal boiled chicken. The Braised Garoupa in claypot was not too exciting either. The fish meat was tough and the gravy similar but paled in comparison to the Eight Star Pot. Sliced snakehead with kalian was okay but not memorable.
It is rather surreal to see besides ourselves, that the restaurant was filled with Japanese customers. They do know how to enjoy these old classic. Singaporean seems to have forgotten them though I feel the food is still good overall. Perhaps we got too distracted with the vast choices of cze cha restaurants and fancy new pies and cakes out there nowadays, or perhaps were put off with the more expensive price tags here. We spent about $350 for nine of us including beverages, in air- conditioned comfort and friendly service by the aunties. I will certainly go back again.
HILLMAN RESTAURANT
135 Kitchener Road
Tel: 62215073
11.30am-2.30pm, 5.30am-10.30pm
Branch:
MANHILL RESTAURANT
99 PasirPanjang Road
Tel: 64746835
11.30am-2.30pm, 5.30am-10.30pm