Fresh-MexOut Chow Is Here
By Tris Marlis - Monday, Apr 01, 2013
They missed the flavours of Mexico in their travels around the world so they created an eatery that stems the longing. Marcus Jilla and his partners conceived MexOut, a "Fresh-Mex" fast food eatery at Far East Square.

The eatery's concept is inspired by Chipotle, an America-influenced Mexican grill fast food joint in the United States that is famous for its farm-to-table concept, burritos, tacos and guacamole. The joint has over 1400 outlets across the country. The general manager of MexOut, Mike Burgess, tells us that they are looking forward to become the Chipotle of Asia by opening more outlets in the coming years.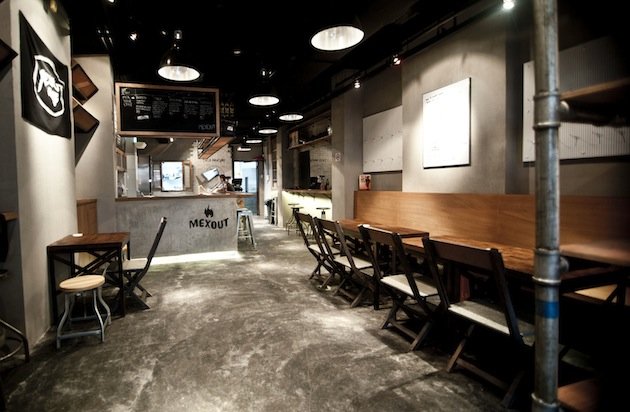 MexOut offers Fresh-Mex cuisine; fast food with fresh vegetables, grilled meat and made-from-scratch salsa. The ordering method is similar to sandwich joints where each ingredient is laid out in front of you so you can create your combination.

First, choose a burrito, taco, rice or salad bowl meal, then a filling that ranges from Carne Asada (marinated NZ flank steak in cilantro, onions and paprika) to Vegetables De La Cruz (capsicum, onions and garlic stewed in a spicy tomato sauce). Lastly, top it with your choice of salsa, like the spicy Fire Roasted salsa or the sweeter Mango Pineapple salsa.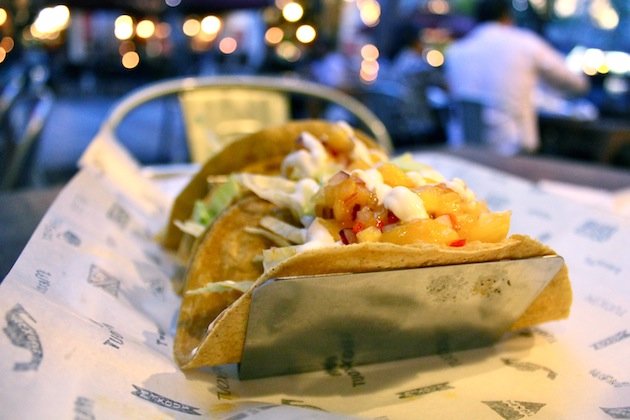 They put in just as much thought in the interior as they did in the food. It is designed with an urban-contemporary feel with a look of an underground of a house where dinner party is being prepared – think cement walls, steel book shelf and leather couch. There is also an al fresco dining area where you can enjoy a pitcher or two of sangria and margarita.

MexOut, #01-01, 39 Pekin Street, Far East Square. Business Hours: 11am- 10pm (Monday to Friday).

Happy hour is from 6- 8 pm for $7 Coronas or margaritas and $25 margarita jugs.