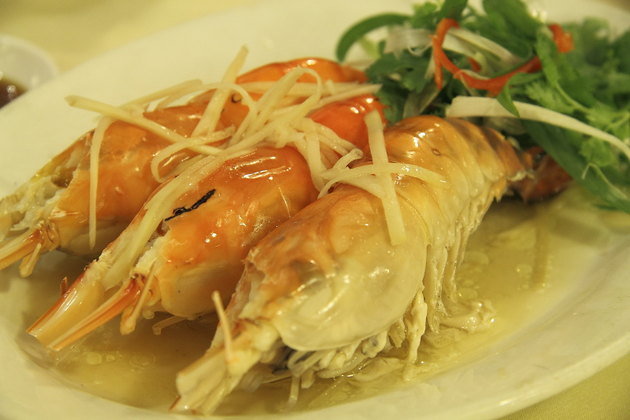 Freshwater Prawns at Mun Choong
By CK Lam - Monday, Jan 07, 2013
A food trip over to Ipoh, Perak had us visiting Mun Choong Restaurant. This restaurant commonly known as Pusing Public Restaurant is a favourite of both tourists and locals.
This restaurant situated in Pasir Puteh offers a variety of delicacies and one of our personal favourites is the udang galah (Har Lok in Cantonese). These freshwater prawns are prepared in many ways.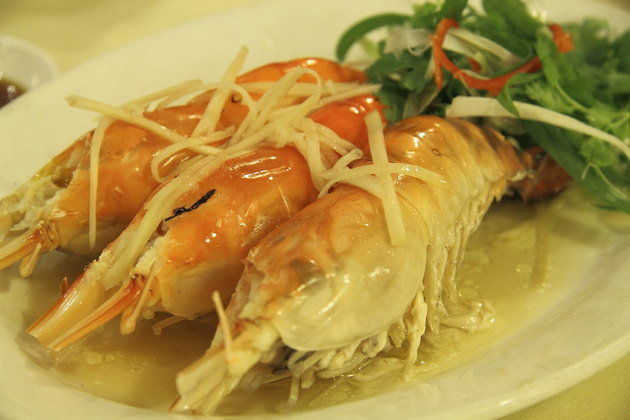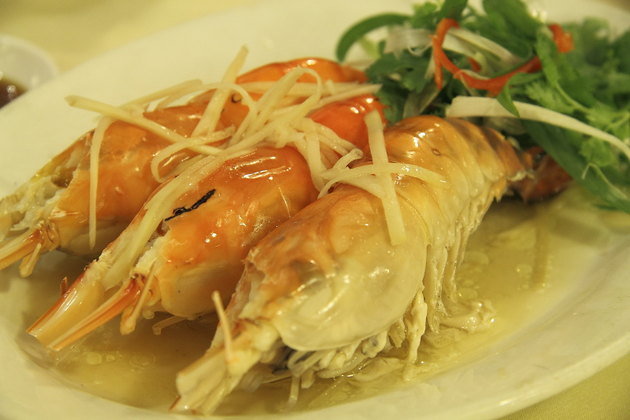 Starting with the steamed prawns, this was cooked with the heads and shells intact, using ginger, egg white and some Chinese wine. The delightfully succulently prawns came with plenty of creamy roe. We work our way with the prawns using our hands, enjoying the sweet flesh and licking the creamy roe off the prawn's head.
The second prawn dish was prepared in traditional Cantonese style. The plate of pan-fried prawns (Kon Jin HarLok) with tasty light soy sauce was served with incredible amount of fresh chives. The roes together with the firm flesh and soy sauce were perfect with white rice.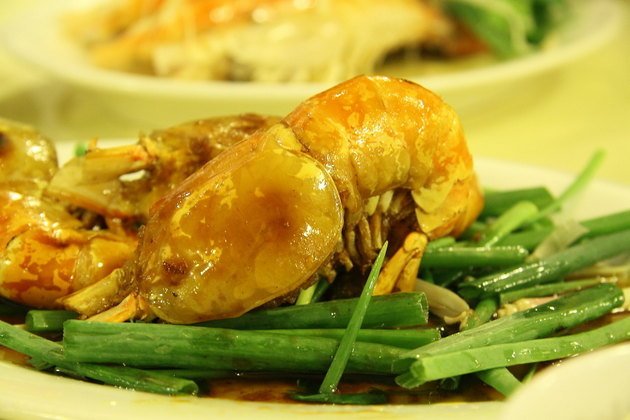 We had two other dishes to complement the meal. Nothing beats a plate of greens and meat. The chicken pieces were steamed in a plate of flavourful sauce of coarsely grounded ginger. The vegetable dish of Kai Lan was simply done with pieces of garlic.
We completed our meal on a sweet note of pudding. It came with three delightful flavours of pumpkin, dragon fruit and jackfruit.
If you are visiting Ipoh, do not pass up the chance to sample these freshwater prawns, also popularly known as large head prawns. Prices of these crustaceans range from RM70 per kg to RM80 per kg depending on the market price.
The restaurant is open for lunch and dinner daily.
Mun Choong Restaurant
No 511-517 Jalan Pasir Puteh 31650 Ipoh, Perak
Tel No : 05 3210320 & 05 3212815