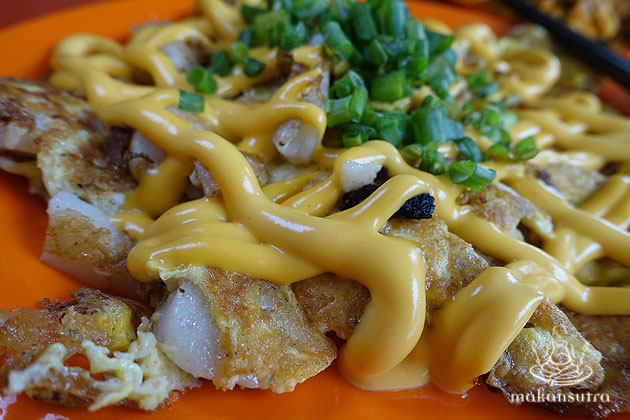 Fried Cheese Carrot Cake
By KF Seetoh - Monday, Oct 05, 2015
To the 2.2 million foreign friends and talents in our midst, you would be forgiven if you are intriqued why our carrot cake does not come like how the western styled coffee bars and cafes offer it – sweet, and like a cake, with a frosting. We make ours fried, with steamed rice flour batter and turnip, daikon or white carrot, as the Chinese calls it, hence, fried carrot cake. And for the longest time, it was nice. We fried it with sweet caramelised soy sauce or ti jio and named it the black version while the rendition done with fish sauce and white pepper, is simply called- white version. It was good for many decades. Ah Ma (granny) and Ah Kong (granddad) swore by this south Chinese street food staple. Then, it started to become boring. We yearned for more, like how the fancy hamburgers we swear by today, began humbly with a piece of salted meat clamped between bread.
Over the last two decades, this signature street food dish has evolved. We began to find all sorts of interesting techniques and things fried into or paired with Chai Tow Kway or fried carrot cake. Some fried it like a frittata, an eggy pancake style, prawns, squid, bean sprouts, minced meats and ikan bilis found its way into the dish. Who's to say lobsters and abalones won't fit into the scheme of things in future (or has it already). Now, there's even cheese, tom yam and luncheon meat version too (trust the Gen Y hawkers to do things the way they like).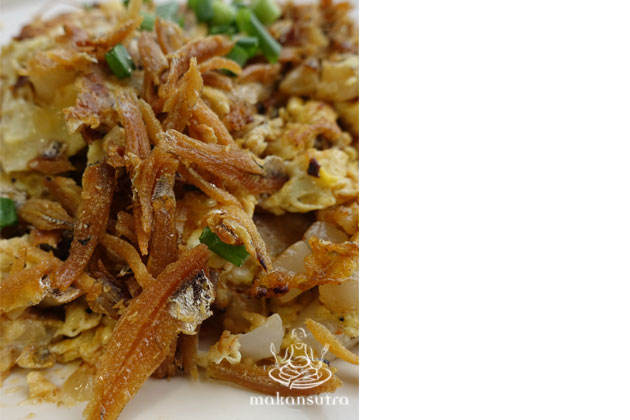 1/ Ikan Bilis Fried Carrot Cake
Katong Laksa (name of stall)
Kurau Coffeeshop. 1 Telok Kurau, 7am-9pm daily.
The old lady that started this stall has happily retired, sold her recipe and business to the kopitam (coffee shop) boss who hired James Loh to continue the heritage. The only change I noted in the ten years I had tried this, was the kway or cake was less soft than it originally was. But it was fried just as well, very tiam (with wok hei) and topped with an even better and crispier ikan bilis which is freshly fried daily. The old lady used to leave the ikan bilis head intact, which left bitter bits in the aftertaste. But James uses a version that comes sans the offending bits.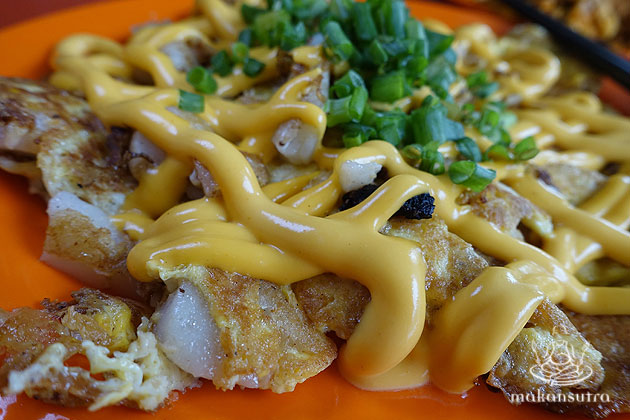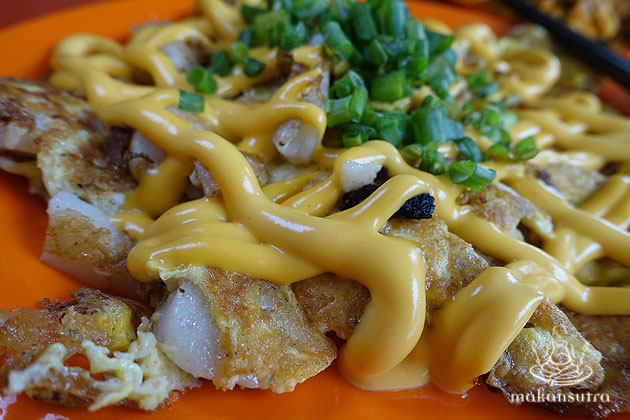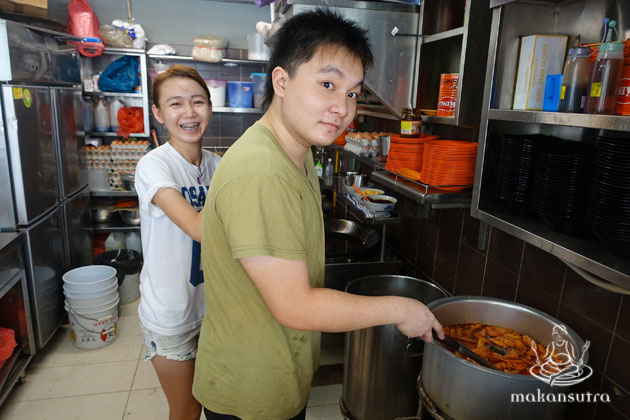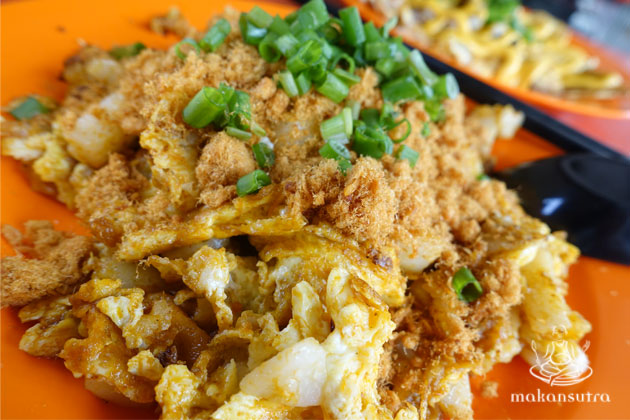 2/ Cheese and Tomyum Carrot Cake
No Signboard Noodles. Ubi 33 Food House. Blk 33 Ubi Link. 8am-6pm (Monday- Friday), 8am-2pm (Saturday), closed on Sunday.
Kudos to the two Gen Y kids, Aw Chee Wei, 23, and his girlfriend Wee Qing Xiu, 25. He studied culinary arts at Shatec, worked in western restaurants and always yearned to do local fare and be his own boss. She obtained a business degree at Singapore Inst of Management (SIM). His army mates told him just how rewarding being a hawker was and today "I struggle to make $3,000 instead of the $10,00 they told me" he laughed. Like any good chef, over chats and drinks with friends, he introduced his favourite kiddy snack, cheese fries, to his carrot cake, doused with happy squirts of liquid cheese, the kind used in a devilishly addictive Philly Cheesesteak. He fries his store bought cakes very well and thoroughly eggy and he also does a mean tom yum version topped with pork floss. There's also a kiddy favorite rendition done with luncheon meat here