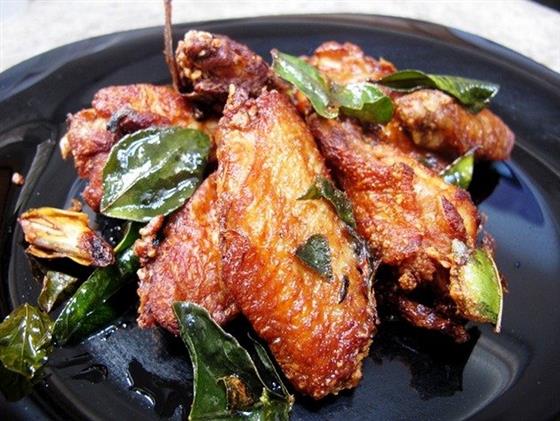 Fried Kaffir Lime Chicken Wings
By KF Seetoh - Friday, Sep 13, 2013
I once had a platter of this at an obscure little Thai eatery along the Beach Road. The lady chef spoke "no Engrish" which meant "authentic" to me. I can make out from the picture that it was fried crispy kaffir lime leaves stuck to the fried chicken wings. I knew I just had to order it. It came fried a la minute with a gentle hint of salty and savourines, headily perfumed with kaffir lime leaf and lemon grass. Wolfed down all four pieces in one sitting.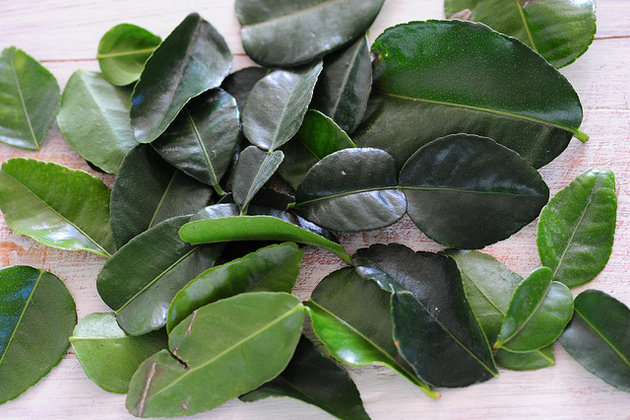 Back the next week and she was gone, along with the "love" in the dish. Another chef handled it but I was reluctant to tell her that "you've lost that lovely feeling" after eating her version. The original chef never came back. So, to continue this addictive feed, I had to DIY. After about two failed attempts… I finally came up with this recipe. Seriously, the seductive pleasures that kaffir lime leaves can offer is way underrated and underused in our local menus.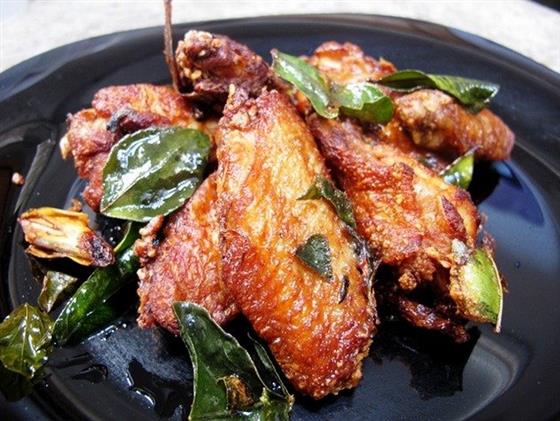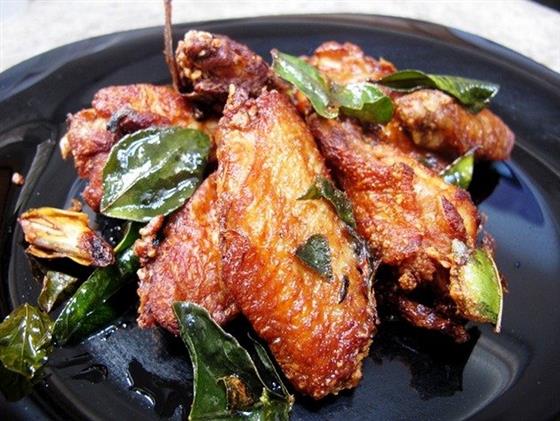 Fried Kaffir Lime Leaf Chicken Wings (for 4 greedy people)
Ingredients
• 1.5 kg Chicken wing middles and drumlets
• 12 Kaffir lime leaves 2-3 inches in size each (rolled up and cut very finely, about 3mm bits, for marinade)
• 3 stalks Lemon grass (cut fine and coarsely only the thick white part, for marinade)
• 4 tbsp Soy sauce
• 1 tbsp Sugar
• 3 tbsp Rice flour
• 12 Kaffir lime leaves and 6 stalks of lemon grass white part only (to perfume the oil before frying)
• Oil
Methods:
1) In a zip lock bag, marinate all the chicken wings with the kaffir lime leaves and lemon grass bits, together with the soy sauce and sugar. Do not use too much kaffir lime leaves as it will get bitter if overused.
2) Leave in fridge to marinate overnight or at least four hours. Remove later and mix in the two tbsp of rice flour evenly.
3) Heat up about 1.5 inches of oil in a pan over medium heat. Now put in 12 pcs of rough hand crushed kaffir lime leaf and 6 pcs of crushed lemon grass stalk (white part only). Let it fry for about a minute to perfume the oil, stirring gently and slowly to release the aromatics.
4) Now fry the chicken wing parts for about five minutes, turning it over every 2.5 minutes. When the leaves and lemon grass brown up nicely, remove and reserve it to be served and topped over the fried chicken.
5) Eat it on its own, as any sambal or chilli sauce will only foil the gentle aromatics. Bite into the crispy leaves to max the pleasure.