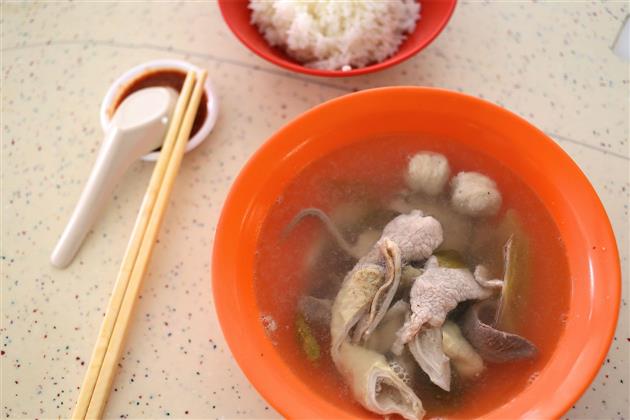 From one generation to another (Tiong Bahru Hawker Centre)
By Cecilia Joven Ong - Friday, Jun 27, 2014
They were once itinerant street food vendors around the Tiong Bahru area before relocating to the old defunct "triangle square" hawker centre there. They are still here today in this fairly new and refurbished centre. Here is a list of the stalls that were passed down from the 1st generation to the 2nd generation owners. Some of these stalls have been around for more than 50 years. You might be wondering how does it taste now and is it still as good as it was.


Jian Bo Shui Kueh (#02-05) 
Though it has lost its glory and gone is the forever-long queue, the original owner is no longer running this stall thus there is a slight drop in the standard. It had lost some intensity in the chai po toppings. Their preserved radish (chai po) with sesame seeds is slightly sweet, not as salty and as fragrant as compared to my regular choice. Their chilli tasted a little too sweet and lack of spiciness.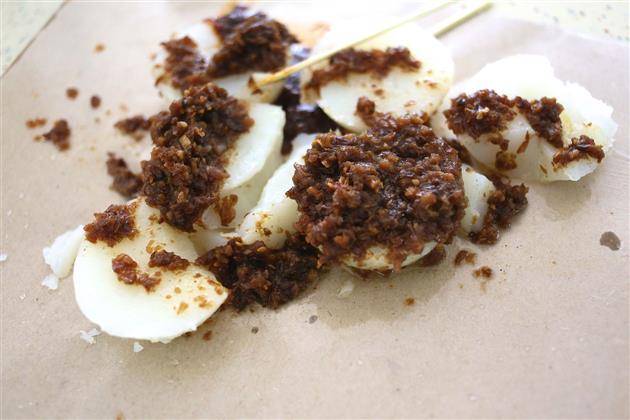 Tow Kwar Pop (#02-06)
Their Rojak Set is available at $3 / $4 and the Tau Kwar Pop is at $3. Their Tau Kwar Pop is still as popular as ever. They took pride to grill the tau pok over the charcoal to give it a desired crispiness before stuffing it with bean sprouts and cucumber then served with their special sauce and a handful of grounded peanuts. It is good to eat even without the accompanied chilli sauce. Their fancy signboard gives you no indication of their long heritage.



Tiong Bahru Fried Kway Teow (#02-11) 
Although the stall is now run by his daughter and son-in-law, you may, if you are lucky, still get your kway teow perfectly fried by the 86 years old Uncle Tay. It has an indefinable touch- better "wok hei" you may say. You have the option to order the $2, $3 and $4 portion, the $2 portion is particularly good value for money and you are not likely to get this elsewhere. I have tried the version done by his son-in-law, which could not quite match up to his father-in-law's standard yet. It tasted simple with ingredients like lup cheong, fish cake slices, cockles and egg. I adore the old school taste.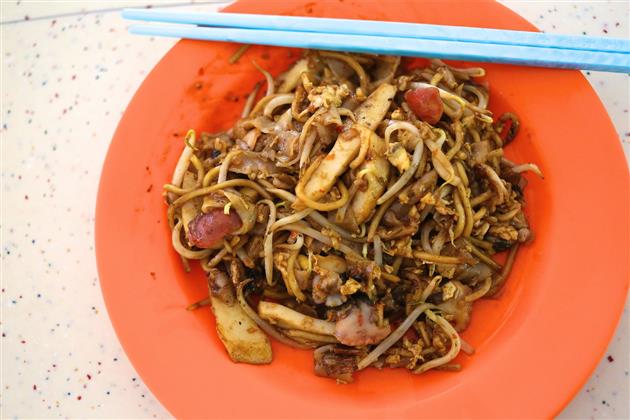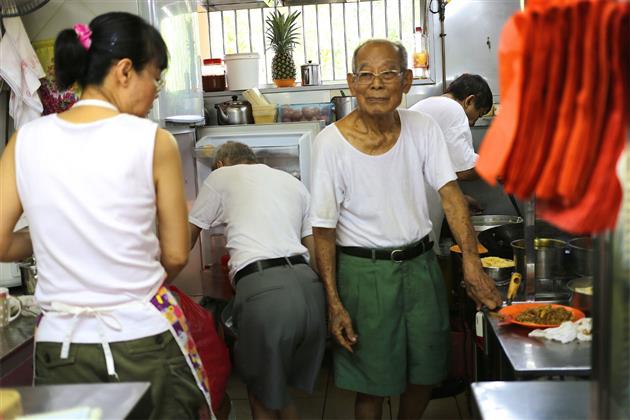 Tian Tian Yuen Dessert House (#02-15) 
This is a popular stall for different types of hot and cold desserts. The must try item has to be their Ice Kachang, at only $1.20, probably the cheapest in any food centre. The stall is run by the 2nd generation that managed to maintain its standard well. Their Cheng Teng is another recommendable item for $1.50.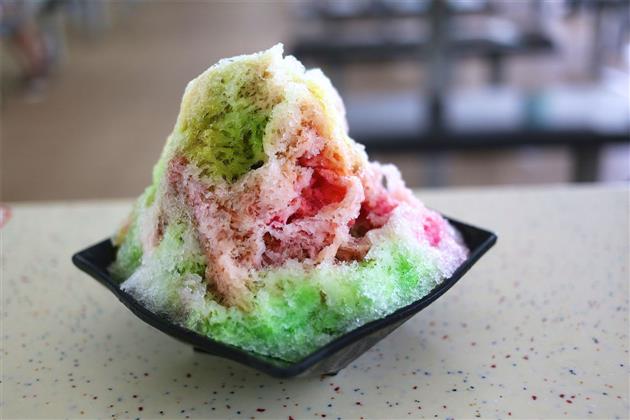 Tiong Bahru Fishball (#02-20) 
Their fish balls and fish cakes are still a tasty choice. Their stuffed tau kwa with fish paste is one of their most sellable items that always sell out first. It offers a great alternative for snacks or side dishes. The items are re-fried and served hot if you are eating there.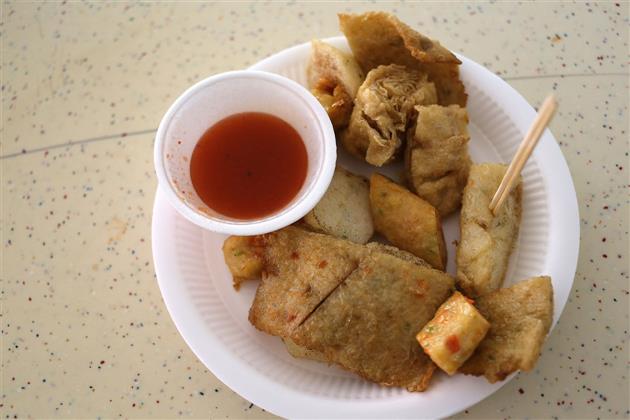 Koh Brother's Pig Organ Soup (#02-29) 
This is one of the stalls with a consistent queue. It used to be operated by 2 brothers but one of them has already passed away. The other brother is recovering from stroke but is still helping out at the stall with his son. The pig organ soup is at $4 and $5 now with rice at 0.50 cents per bowl. It is still as good as before even without the pig's blood cube and many other offal and parts. The must try item here is the intestine stuffed with glutinous rice and chestnut. It is rare, very popular and likely to be sold out before 1 pm.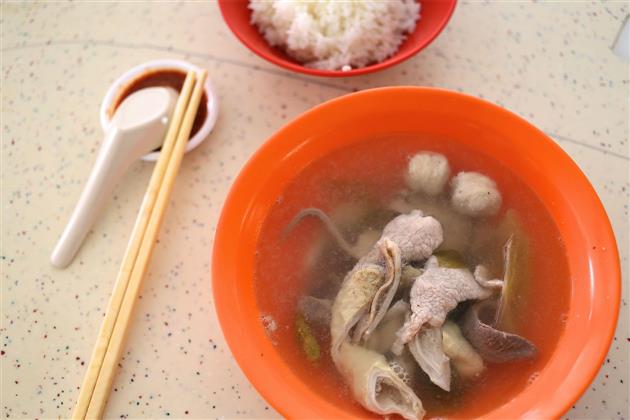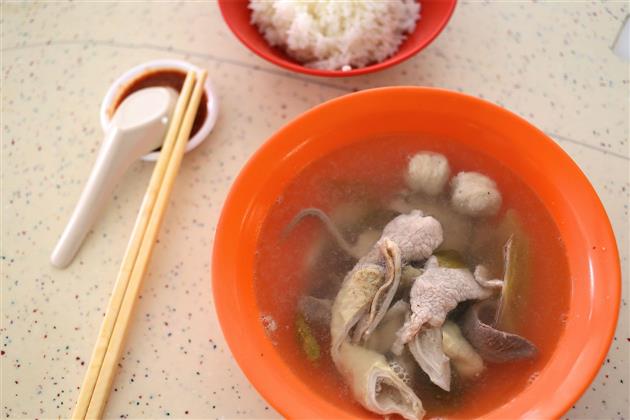 Hui Ji Fish Ball Noodle, Yong Tau Fu (#02-44) 
They are usually sold out before 2 pm or earlier. The regular choice is fish ball noodle at $2, $3 and $4 but you can opt for additional pieces of freshly made Yong Tau Foo for a little more. Despite its messy presentation, the taste is unexpectedly delightful.