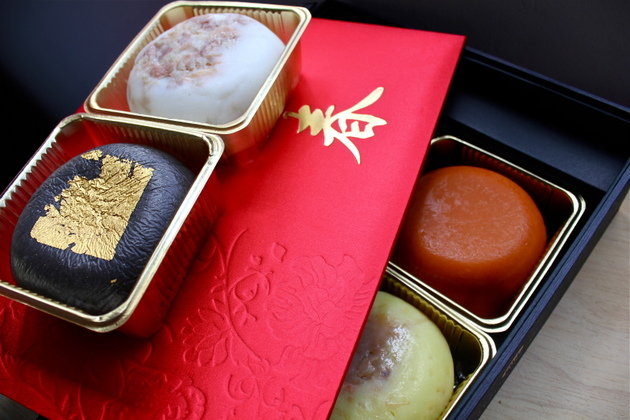 Fusion Nian Gaos for this Chinese New Year
By Tris Marlis - Thursday, Jan 24, 2013
"Nian gao" or sticky rice cake is a de-rigueur at Chinese New Year, as it's believed to glue up the Kitchen God's mouth so he can't bad mouth about our family's bad deeds to the Jade Emperor. It is also an ideal gift for relatives and friends, perhaps for the same purpose. Every year, Chinese restaurants in Singapore will create novel Nian Gao creations to attract the jaded customers. Their approaches are interesting but with a few hits and misses. If you are looking for something unique for your Emperor or relatives, here are five that will surely catch their attention and perhaps buy their silence…
1. Chef Leong of Jade Restaurant, had an idea of a nian gao that's easier to eat and share, so he created Oven-baked Nian Gao Tarts. The buttery biscuit crust of the tart is slightly savoury which balances out sweetness of the cake and adds a soft crunch to its texture. $28 for a box of 8 pieces.  Jade Restaurant ,  Fullerton Hotel,1 Fullerton Square, Tel: 6877 8178.
2. From Peony Jade comes a layered cake signifying "Steps to Greater Success & Prosperity" or Bu Bu Gao Sheng, made of traditional nian gao and generous amount of real durian meat. This is strictly for durian lovers who need an excuse to tear into their favourite durian fruit during Chinese New Year. $68.88+ for a box, serves up to 12 persons.  Peony Jade,  Clarke Quay Outlet,  3A River Valley Road #02-02, Tel: 6338 0305.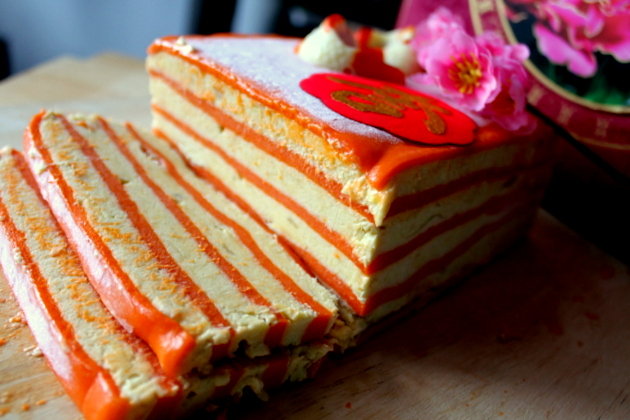 3. Another interesting creation is Peach Blossoms' Bubble-gum Flavoured Nian Gao that comes in bite size. It is chewy and tastes exactly like bubble-gum, fruity and a little minty. For a moment, we were not sure if we should swallow the cake! $30.80+ for a box of 12 pieces.  Peach Blossoms ,  Marina Mandarin, 6 Raffles Boulevard, Marina Square, Tel: 6845 1118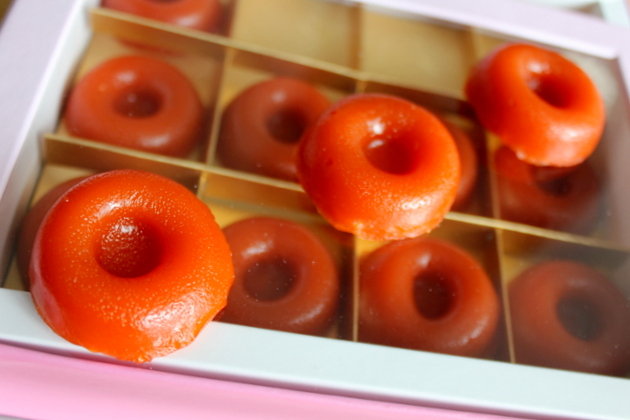 4. If you still prefer to stick with the traditional nian gao, then you may try this almond flavoured nian gao from Carlton Hotel. This version is less sweet and has a slight aroma of almond. It is also served pan-fried at their restaurant, Wah Lok, as part of Chinese New Year menu. $16.80 for one piece.  Wah Lok Cantonese Restaurant ,  Carlton Hotel, 76 Bras Basah Road,Tel: 6349 1292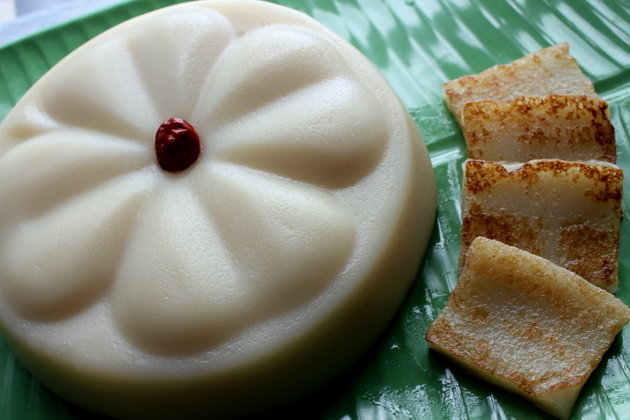 5. For those who like variety in a box, Marina Mandarin Hotel offers "Four Treasures," a selection of mini nian gao; Traditional Nian Gao with Gula Melaka, Black Sesame, Hokkaido Pumpkin and Carrot Cake with Chinese Sausage. The pumpkin and carrot cake versions are savoury nian gao, an alternative to those who don't like it sweet. The Chinese sausage, dried shrimp and scallop in the latter bring a wonderfully umami flavour to the cake. However, it remind us of regular carrot cake, not so much a nian gao. $48.00 for a box of four pieces. 
Mandarin Court
, 
Mandarin Orchard, 333 Orchard Rd, Tel: 6831 6285.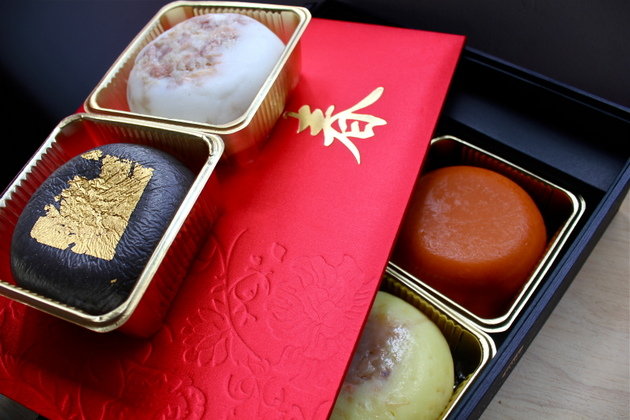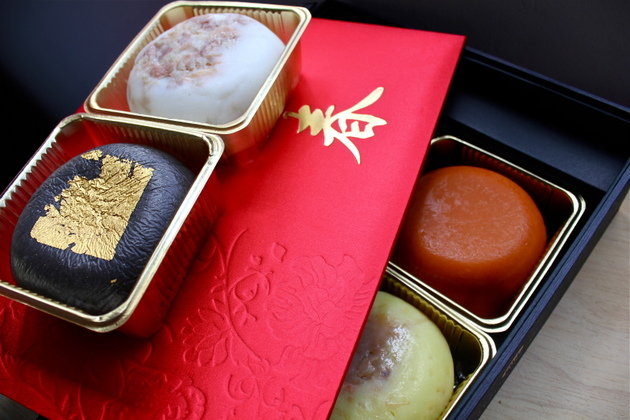 All Chinese New Year goodies require up to three days advanced order.