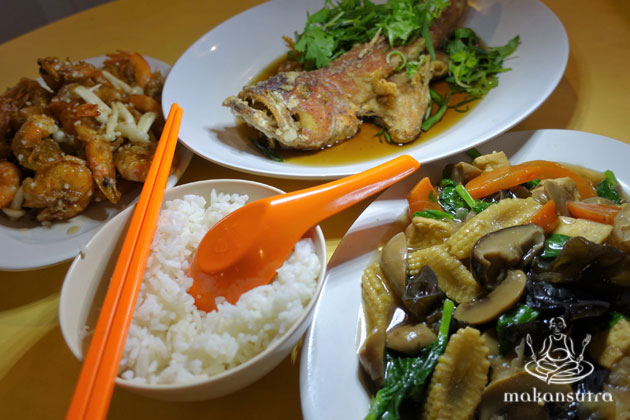 Gang Shi Xiao Chao: A little Cantonese makan fair
By KF Seetoh - Sunday, Nov 20, 2016
Chinese food is getting more westernized and I don't mean things like mugugaipan (some American mushroom and chicken dish), Singapore Noodle or chow mien appearing commonly in our menus these days. Chinese restaurants are just that- they offer a rojak of anything Chinese people here eat- from sambal something to truffle oil this and that. We are quickly losing our grandma's makan heritage. Back in the day (and that's not so long ago), we visit Hokkien, Cantonese, Teochew, Hakka or even Hainan eateries, but all that is almost lost these days, unless you visit the expensive fine dine set ups (which too, often has some "alien" fare in the menu).
So it was a very pleasant discovery when buddy and 18 Chef restaurant boss Benny Se Teo told me about this little spot in Toa Payoh. It's an all Canto cze cha hawker stall and the owners will happily take your orders in Pai Hua (Cantonese), and of course, English and Mandarin will do too. Three very important factors stand out here- the dishes are all hard core comfort Cantonese fare and you won't find sambal in the menu. Plus, and this is a big plus, the owner chef is very easy on salts- so better to taste and appreciate the ingredients ( I tried this on two occasions and it was all salt-easy). All dishes are done ala minute lightning speed with that one wok and a steamer stall kitchen operation.
The hearty plate of fried garlic and salt prawns with golden mushrooms came was done with soft shelled prawns (banana prawns). It was soft yet crispy right through and very lightly salted. So easy to let one whole prawn disappear into the mouth.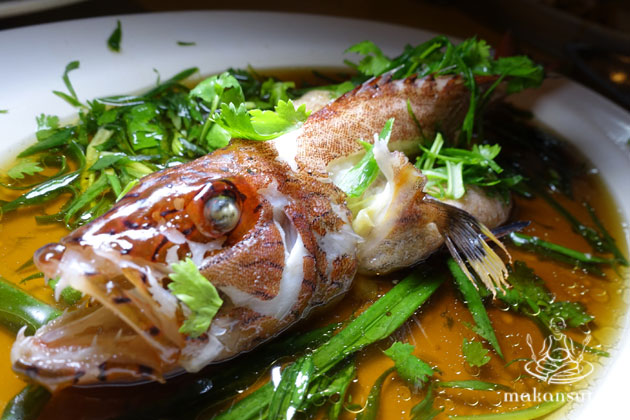 The also offer two type of fish, usually the red garoupa variety, done Yao Chum (deep fried and with light soy ginger sauce) or steamed with that same sauce. The key here was the freshness of the fish.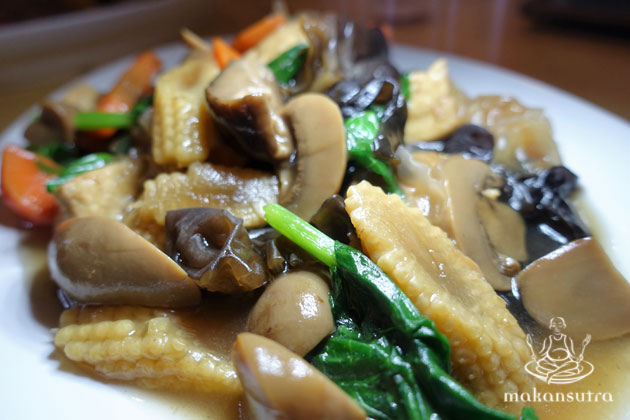 Almost every customer had an order of the Lor Hon Chye vegetarian dish– the garden platter of black and button mushrooms, baby corn, wood ear fungus, carrots and chye sim was done expertly in that single high fire wok inside that tiny stall space. The antithesis to that was their Ha Chong Kai (prawn paste chicken)– executed old style with nary any batter and heavy on flavour and light on salt. The chicken chunks was fresh and juicy, which meant they don't pre-fry just so they can speed up order time. Yet, the 9 dishes we ordered, all came within 15 minutes and every dish was done ala minute over that jet fire wok.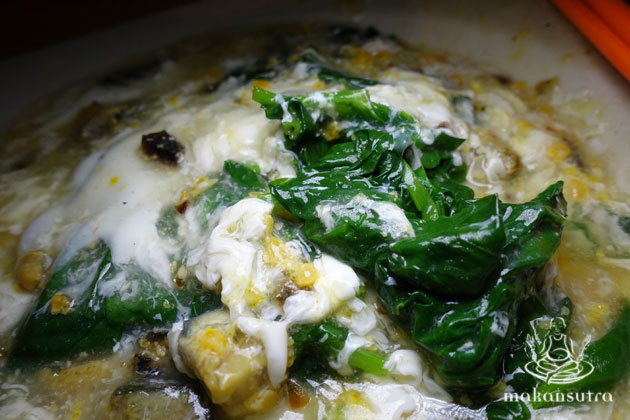 I also love their Sum Wong Tan (3 egg spinach). The half-done slippery egg slathered over the blanched greens with hints of salted and century egg was a refreshing turn from the same ol' soupy types. Their Yoke Pang or steamed minced pork patty was really light on salt (and these things are usually quite so). You could taste the sweetness of the pork and the bits of water chestnuts, flavoured with a gentle splash of wine .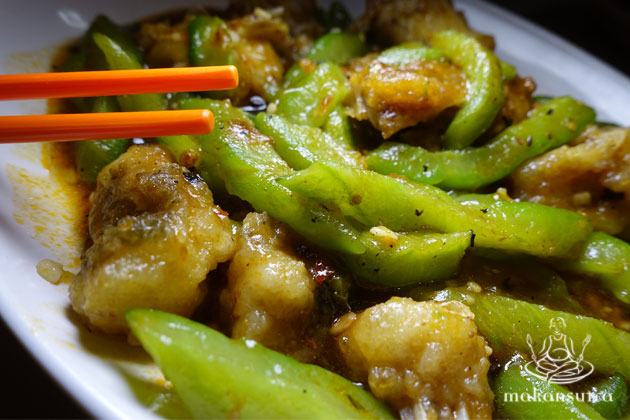 Their specialty is Bitter Gourds, proudly Cantonese and touted in the signboard. We had those juicy gourds plainly done with black bean sauce and with fish head chunks. Have that with a humble bowl of their steamed rice and any Cantonese soul will cry " Ah Ma, ngor oi fan leh keen leh" (Mum, I'm coming home to visit you) as in "I miss you mummy!". The prices in general was bordering on cheap- that steamed garoupa set us back by $12.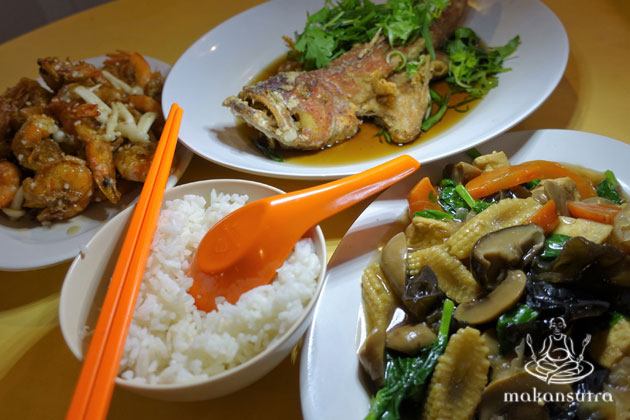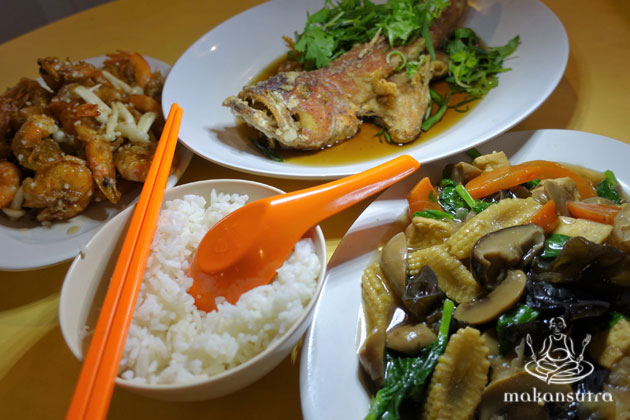 Mummy, I will take you there soon.
Gang Shi Xiao Chao
Blk 93, Toa Payoh Lor 4 Food Centre
01-44.
12pm-2pm/5pm-8pm
Close on Monday