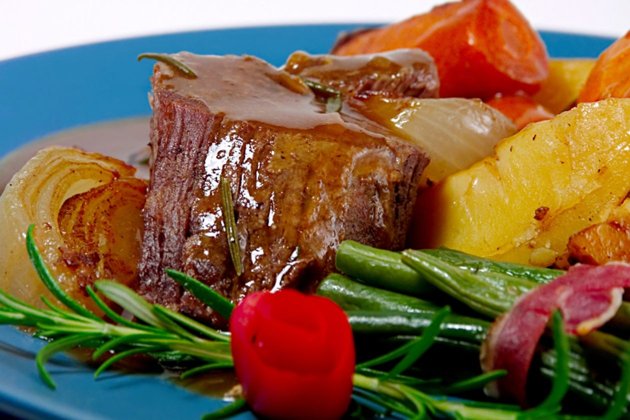 Getting Hot and Sweaty This Valentine's Day
By Jade Hu - Tuesday, Feb 11, 2014
They are getting hot and sweaty for you this Valentine's Day. Swapping out flowers, wine and candlelight, or a well-deserved quiet evening after a long day in a mad cookhouse, for a steaming kitchen where tensions run high. Five couples, from fresh-faced young lovers and partners in the kitchen to F&B veterans, are sacrificing the "day of love" to serve other couples on that day, with love.
Here, they share their love stories, what they think of Valentine's Day and how their relationship influences their culinary magic, and how the love of food keeps their flame alight. Of course, they also have Valentine's Day specials.
Kim Blangsted Henriksen & Stinne Hoffmann
Gaest, 21 McCallum Street, #01-01 The Clift, 7.30am – 4pm (until further notice), Limited menu on Saturdays, Closed Sundays, www.gaest.com.sg
This Valentine's Day, Kim Blangsted Henriksen, 34, and Stinne Hoffmann, 29, are not going anywhere –
they have a two-month old 'baby' to take care of. Self styled "untrained bakers", Kim and Stinne knew since day one that this was what they wanted to do. Combining the Neo-Nordic philosophy that is gaining traction in Denmark and a desire to bring good-quality bread to Singapore, they offer "a modern take of Danish food, featuring Scandinavian flavours". "Crazy stupid love" and a sense of adventure are instrumental to the birth of Gaest (meaning "guest" in Danish). They pride themselves in their fresh, all-natural menu, especially the sourdough bread "made by hand, in a real, artisan way". Just like their relationship, there is no fixed recipe for the breadmaking — Kim and Stinne are often excited yet anxious about how the bread would turn out, because the outcome "depends on how it (the bread undergoing the fermentation process) reacts". Since Valentine's Day is not a big thing in Denmark, this handsome couple's plan for the day is to serve as many customers as they can. The next big thing for the baby would be Danish microbrewery beers, though the exact date has yet to be set. Meanwhile, their open-faced sandwiches are garnering its own fan base among health-conscious office workers and expatriates in the Tanjong Pagar/Raffles Place area. Steal away with your love to a wholesome lunch date, perhaps a roasted pork sandwich with orange marinated red cabbage with parsley, red apple and mustard mayonnaise.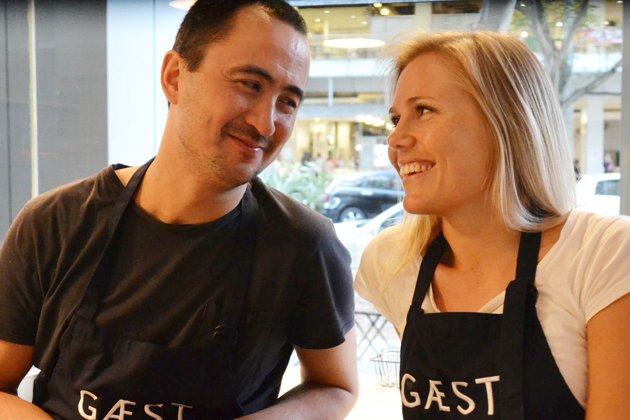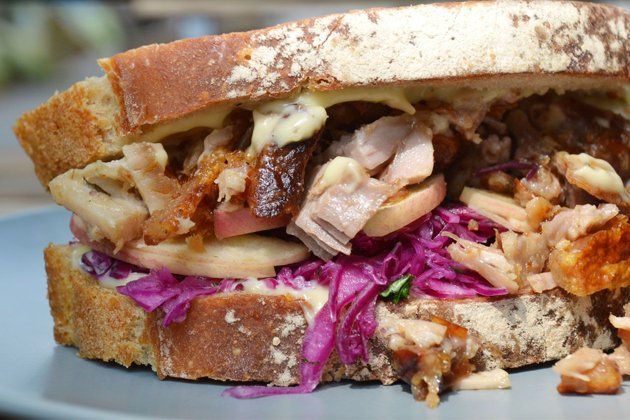 Jeremy Choo & Christine Soh
Vis-a-Vis, 101 Jalan Kembangan, Tel: 6468 7433, Hours: 11.30am – 2.30pm, 6.30pm – 10.30pm (For Valentine's Day, there is one seating available started at 6.30pm), http://visavis.com.sg/
Boyish and energetic Jeremy Choo, 57, and Christine Soh, 47, are not going gaga over the idea of Valentine's Day either, but when it comes to their lovestruck customers, they are pulling all the stops. Jeremy is one of the first local pioneers to venture into French cuisine, way before the likes of Justin Quek came up with Le Amis. When they started Vis-a-Vis together 22 years ago, Jeremy bought a pot of seasonal fruits soaked in alcohol, similar to "confiture de vieux garçon" (or old boy's jam), on a trip to Dijon in France, and it now sits on the restaurant counter as a reminder of their days forging their careers together. French cuisine is often associated with romance, and Jeremy prefers to be involved with the actual cooking, especially for an occasion like Valentine's Day. So what's the most romantic thing that has happened at Vis-a-Vis? Jeremy has only once witnessed a man proposing to his girlfriend (she said yes) in more than two decades of being a chef in his French restaurant. He recalled taking Christine on a month-long trip around France to introduce her to the birthplace of his culinary universe. Their Valentine's Day menu features sweet and spicy flavours, with a baked Alaskan crab as a teaser dish. To Jeremy, he picked the Alaskan crab precisely because it is a culinary challenge to extract the right amount of sweetness from the meat, similar to nurturing a relationship. For the meat lovers, the oven-roasted beef tenderloin with black truffle sauce, served with chanterelles sautéed in white truffle cream, is bound to get you in the right mood.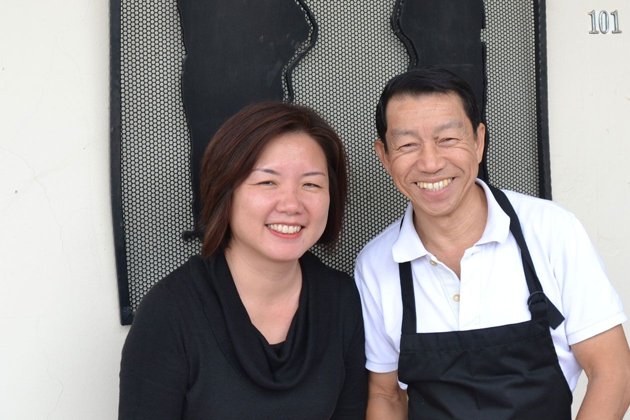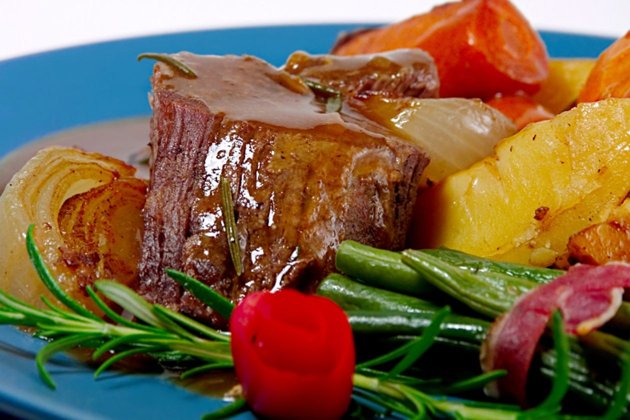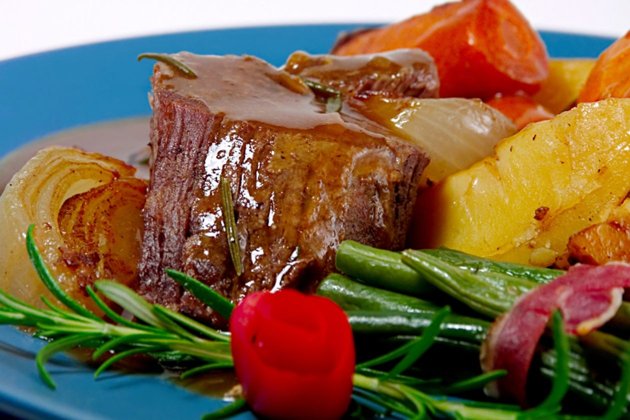 Werner and Nancy Hochbaum
Werner's Oven, 49/51 Joo Chiat Place, 8.30am-10pm, http://www.wernersoven.com.sg/
Married for 42 years, Werner, 70, and Nancy Hochbaum, 64, of Werner's Oven have proven that they have what it takes for longevity in the cutthroat F&B business here.  A husband-and-wife team for more than three decades, Werner is now taking a backseat in their German restaurant's ground operations. Nevertheless, Nancy looks to him whenever she needs advice for all things food-related. Here's a story of chef meets girl, becomes chef's assistant, and they open a restaurant together (fell in love and married somewhere along the way). Nancy, a Teochew Singaporean, picked up German cooking skills quickly with her nimble hands and culinary talents, eventually becoming partners alongside her husband who already has experience in the catering business. The Farmer's Sausage is an original creation by Werner, a trained confectioner, chef and butcher. Infused with garlic and chilli, this menu mainstay and favourite pays homage to Nancy's local heritage, "because Singaporeans love these two flavours". It is available as part of the "Wurstplatte for 2" (Sausage platter for two, which includes a half pork knuckle, mashed potato and sauerkraut) this Valentine's Day. They have been through too much to be fans of love on Valentine's Day. To them, everyday is a day of love – Nancy still serves breakfast in bed for Werner every morning.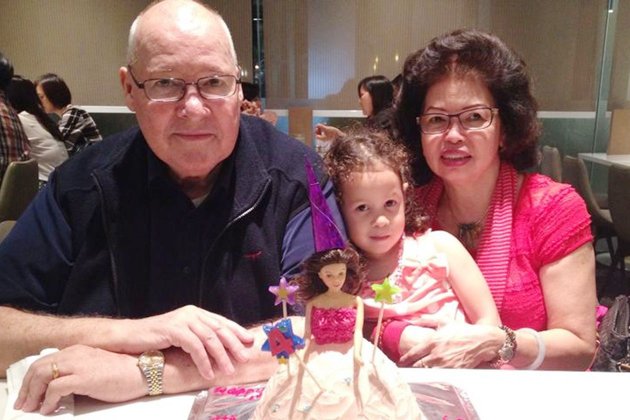 Ashraf Alami & Syaira Suhimi
Fluff Bakery, 12 Jalan Pisang, Noon till sold out, Wednesdays to Sundays
The way to a man's heart is indeed through his stomach, and Ashraf Alami, 32, and Syaira Suhimi, 26, the proud owners of Fluff Bakery, is a fine specimen of that adage. Introduced by a mutual friend, she first baked him a box of cupcakes, and upon tasting them, he's sold. Now they are sharing their token of love with the rest of the world. For Ashraf and Syaira, it was a perfect match — Ashraf is good with balancing the books, and Syaira is a genius in the kitchen and the "face of the business". All they want to do is kick back and relax on a quiet evening, after an exhausting 12-hour day. Their shop is barely four months old and they have yet to go on a "proper honeymoon" since their opening last November. Pardon this young and ambitious couple for not scaling up their business despite the constant and unrelenting lines outside their bakery each day, but they "don't want to become 'robots'". They just want to make good cupcakes and spend quality time with friends and loved ones after hours. For Ashraf and Syaira, the Lemon Meringue flavour best represents their marriage with its perfect harmony of sweet and sour. For all diehard romantics, stay tuned for a new flavour coming up — cupcakes with pop rocks to give a fizzy fuzzy sensation reminiscent of first love tingles.
Emmanuel Stroobant & Edina Hong
Saint Pierre, 31 Ocean Way #01-15 Quayside Isle, 5.30pm-midnight (Tuesdays to Sundays & PH; last order at 9.30pm); 11.30am-3pm (Sat, Sun & PH); Closed Mondays and no lunch service from Tuesday to Friday
*For Valentine's Day, the first seating (4-course menu at $138++/person) is at 5.30pm and the second seating (7-course menu at $158++/person) is at 9pm (fully booked).
Every romance is heading for their own version of a fairytale ending, but for power couple and culinary mavericks Emmanuel Stroobant, 46, and Edina Hong, 41, it started with a Hollywood movie-esque beginning. Emmanuel needed to get acquainted with the restaurant business in his early days as a chef in Malaysia, when along came Edina, adept at PR and marketing, to his rescue. A water pipe leak in Edina's apartment, a spare room at Emmanuel's place, one thing led to the next… and she stayed on ever since. What started out as quid pro quo arrangement, turned out to be the start of a wonderful romance and collaboration. Emmanuel quips that working together with his wife, nearly 24/7, makes him feel like they have been married for 45 years, rather than fifteen, because they spend thrice as much time together than a regular couple. With ten restaurants and cafes under their belts, the recipe of their success is to compartmentalize their roles at home and in their business — Edina deals with the PR and finances, while Emmanuel does the design and menu creation. Central to this year's Valentine Day's menu at Saint Pierreis the lobster, a dedication from Emmanuel to Edina, commemorating the memory of a dinner they had in Paris. This year, they have two dinner seatings, with the second already fully booked weeks in advance. Besides the lobster element in the menu, a sweet surprise to look out for would be the "Robert Indiana", a sweet mystery Emmanuel is creating for all doe-eyed diners.