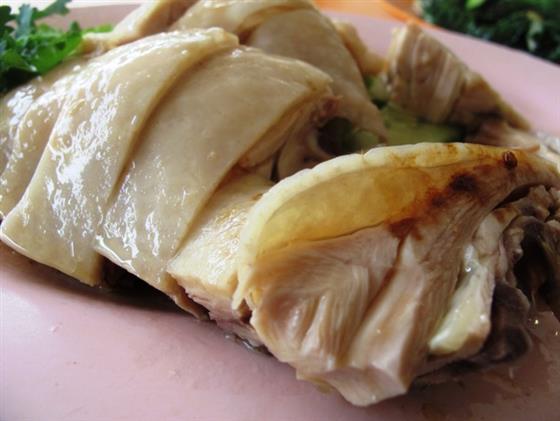 Getting Under the Skin
By KF Seetoh - Monday, Sep 16, 2013
"As if Gordon Ramsay stood a chance" was one comment whispered amidst the crowd that attended the recent hawker food throwdown between this Michelin star studded chefs and some of our top hawkers. His chicken rice effort was no match for Tian Tian Chicken Rice's version. Well, to be accurate, Ramsay enlisted the help of a popular local food caterer. But still, the difference was obvious.
Chicken rice culture provides all sorts fodder for drama. Families have squabbled over business inheritance, a Chicken Rice War movie was made, it is very often used as visual icon by the tourism folks to sell this little red dot as a culinary destination and many hawkers have become millionaires just selling this. Chicken is the de-facto national dish of Singapore. Everyone is a critic of this dish and they think nothing of what international celebrities say about it here. They know better.
Just how endearing is the chicken rice? Let me count the ways. For starters, this is about the only dish which is rated not just by the chicken – if it's smooth, fatty or has a silky skin texture, nor by the rice – whether fine Thai jasmine grains are used, and enough or lack of oils are introduced into it. They also factor in another very pertinent component – the chilli sauce. Ironically, many reviewers and bloggers will thumb a good plate of chicken rice down just because the chilli sauce can't make the cut. "The tanginess is tame", " too watery", "not enough garlic" etc.. .are just some comments for a chilli alone.
It is believed that Hainanese chicken rice was first hawked by a shoulder food cart peddler pounding the streets in and around Middle Road, almost a century ago. It caught on and today it's a national soulful staple and I have not yet met a bloke or a lady who has disdain for this dish.
Cantonese Chicken Rice
Chicken rice has many incarnations. From ayam penyet to fried chicken wing rice (made famous by the Corona Chicken Rice folks), stewed chicken rice, Hainanese and the Cantonese versions. If you are hard core about it, you'll notice that the original Hainanese version (the last one I knew, the defunct, Peng Kee Chicken Rice along Balestier Road) comes hardy and robust. The legendary old name of chicken rice, Swee Kee, then at Middle Road offered this version too. They simply steam or poach the fowl, chop it up and serve with oily and richly flavoured chicken rice. No fancy soy, sesame oil and oyster sauce combo sauce, which is a hallmark of the Cantonese kitchen. They call this "wat kai" or smooth chicken.
"My family is Cantonese and my later father just figured out the recipe and tweaked it along they way," says Niven Leong, one of the second generation sibling that continued the Sin Kee Chicken Rice heritage. He says when his father, who founded the business, passed on in 2008. The business, he adds, but not the name, was sold as the brand was not a registered trade name or mark, said Niven.
So now, Niven runs Uncle Chicken (former Sin Kee) and his brother Benson helms the old stall at Mei Ling Street Food Centre under the old name and another independent party, who bought the business, operates Sin Kee Chicken Rice at Commonwealth Ave. So, did they all stick to the same recipe and who's doing what?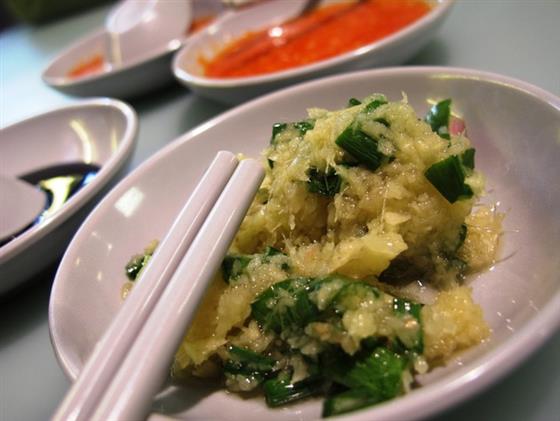 1/ Uncle Chicken (former Sin Kee at Margaret Drive), 01-74, Alexandra Village Food Centre, Blk 120 Bukit Merah Lane, Hours: 11am-8pm
This outlet is run by Niven. The chicken is cut chunky and is ultra-smooth. His chicken sits in cold water so no oils escape, until it's ready for the chopping block. It's the way he chops the fowl that gives it an edge… clean and precise. His other edge is his ginger sauce, still done the way his father did so then – rough, with a light blend of dried ginger, sesame oil and chopped scallions. Only some salt is added to season it. I love the ginger dip, I skip his sweetish chilli sauce altogether. Truly Cantonese in style.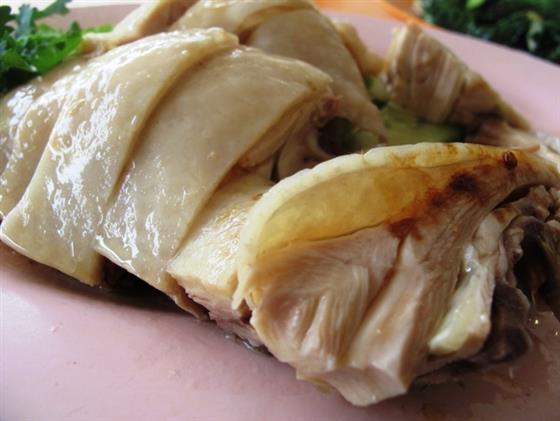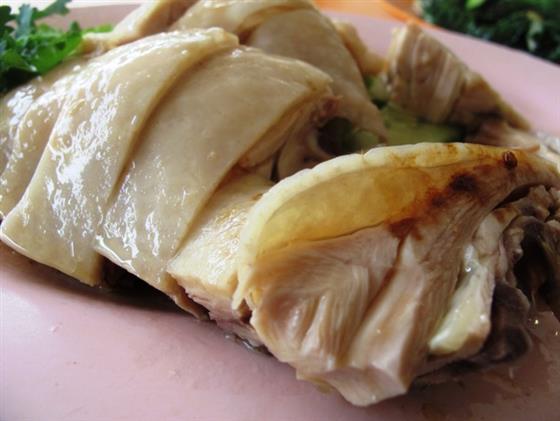 2/ Sin Kee Famous Chicken Rice, 02-22, Mei Ling Food Centre, Blk 159 Mei Ling Road , Hours: 11am-3pm (Tue – Thu), 11am- 5pm (Sat & Sun) (Closed on Mondays)
NIven's brother, Benson, helms this double hawker stall. His operation is slick and very confident. His cleaver skill is as good as his brother's and the result shows. He stands out front of the stall, chops non-stop till the last bird is off the shelf, and the queue is endless. Chilli, just like NIven's, has a light sweetish fragrance but is altogether robust. It's as if lemon, and not calamansi lime, was used. But the ginger dip comes sans the scallions, as "many of our customers today are not fond of spring onions, so we did away with it," says Benson. Rice is similar to his brother's version, not too oily and has a bold flavourful edge.
3/ Sin Kee Famous Chicken Rice (Commonwealth), 01-02, 38 Commonwealth Ave 2, 9am-9pm (Closed on alt Mondays)
The new owners have turned this hawker stall brand into a little café of sorts, dishing out some additional side dishes to accompany their signature chicken rice. But it feels nothing like the original Sin Kee, whose recipe these new owners are said to have bought. The chicken is cut into smaller pieces. It's above average overall, but not quite in the league of the other two stalls run by the brothers. Sadly, all three do not offer up a chilli sauce that will rock my socks off. It's one notable glitch. Perhaps that's how the original was, but it does not wake the palate.