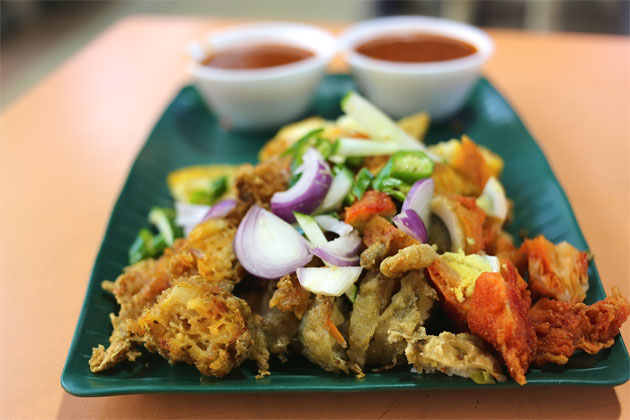 Geylang Serai: Yearly Feasting and Shopping Frenzy
By Cecilia Joven Ong - Thursday, Jul 24, 2014
This is the time of year when Geylang Serai comes alive with a big-scale night market for a full month before Hari Raya. Hari Raya literally means "Day of Celebration". It is about the coming together of friends and family, forgiveness, a new beginning, sharing, rejoicing, and celebrating over food and drinks.

If you've not had the chance to check the main bazaar at Geylang Serai, or are simply clueless about what's in store at giant pasar malam, then you owe it to yourself to experience this yearly phenomenon. It's all shopping and food, with lots of people. There are many makan options in Geylang Serai during this period; you can try the different types of street foods as you walk down the night market or proper meals in the nearby food centres. One of the options is at famous stalls like Sinar Pagar Nasi Padang, Hajjah Mona Nasi Padang, Geylang Briyani, and queues form for desserts and snacks at the Chendol Geylang Serai, Rojak & Mee Siam stall. There are also many other delicious gems at this fair and its surroundings, which ends in fewer than two weeks.

HAIG ROAD FOOD CENTRE

HJ. WALITI HJ. MAZUKI #01-18:  They serve a good range of traditional Malay fare like Mee Rebus, Soto Ayam, Bubur Ayam, Mee/Soto Bakso and many more from $2.00 to $3.00. The most popular dish that their customers order is Mee Rebus for $2.50 (with egg) and $2.00 (without egg).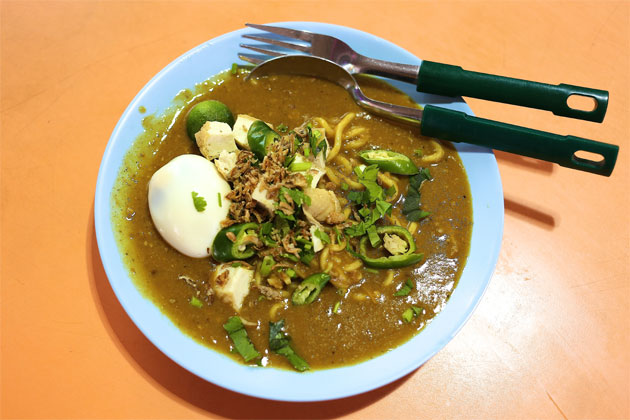 SINAR HARAPAN #01-12: This stall offers a wide variety of Nasi Padang dishes. Customers' favourites include Assam Fish, Sambal Egg and Tempeh with French Bean. Lontong ($2.50) and Nasi Lemak ($3.00) are also served here.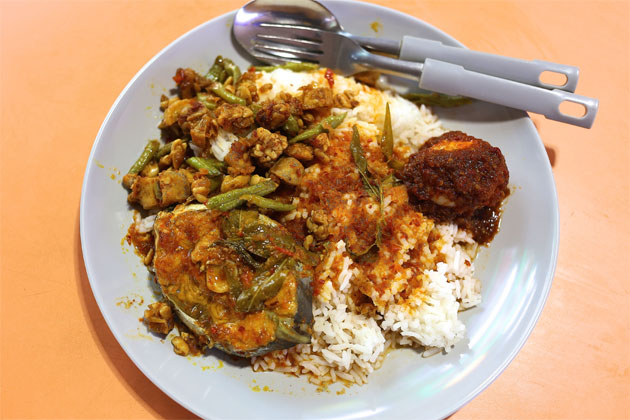 SATAY SEJATI #01-23: They still grill their satay over charcoal fire for 50 cents per stick. The nicely marinated and grilled chunky meat on the skewers tasted slightly sweet with a noticeable smoky aromatic taste and distinctive flavour. The flavorsome satay sauce is rich with bits of chunky peanuts. The available choices are beef, lamb and chicken. They also offer offal satay when available.

INDIAN ROJAK SERBANEKA #01-13:  This stall offers standard fried items like tepong kosong, tepong telur, tepong kantang and prawn fritters. The selected items are re-fried then chopped and served with bits of green chilli and the slightly sweet, spicy, and pink sweet potato gravy.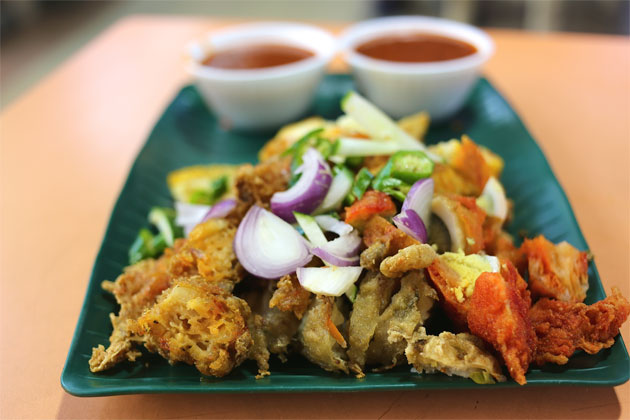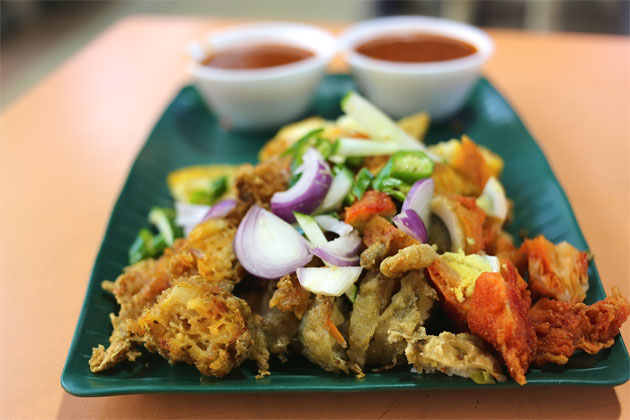 TRADITIONAL HAIG RAOD PUTU PIRING #01-08: This very popular stall sells only Putu Piring, the soft Malay version similar to Kueh Tutu. The filling is good quality Gulu Melaka placed in a steamed flour cake made with rice flour. A packet of 5 pieces steamed Putu Piring is served with the lightly salted, freshly steamed shredded coconut for $2. Expect long queues.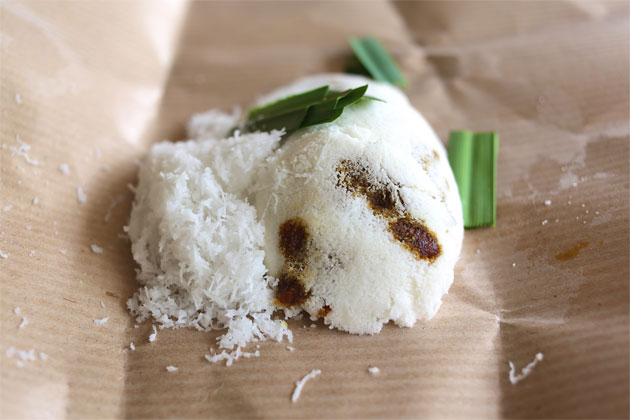 GEYLANG BAZZAR
There are a few Bazaars all over Singapore during this period; the most famous one is the Geylang Bazzar with other smaller scale ones in places like Woodlands and Arab Street. Most of the stalls at Geylang Bazaar begin operation by noon, preparing and cooking to feed the hungry hoards looking to break the fast in the evening.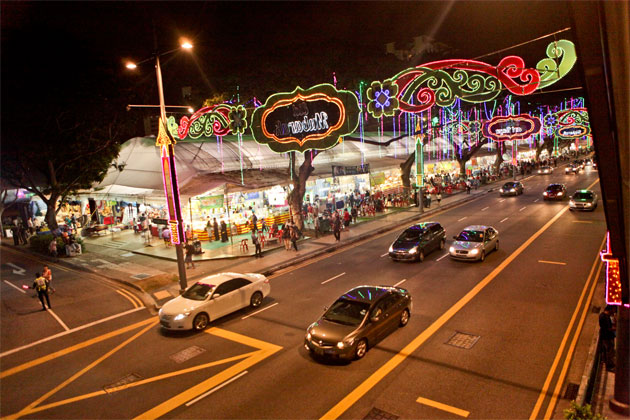 On the left side of Changi Road  towards Geylang Road, you can find many street food stalls selling Ramly Burgers, Japanese Takoyaki, Grilled Minced Chicken Meat, Turkish Kebabs rolls, Nasi Briyani, pizza, Otak Otak, Grilled Sweet Corns, Roti John, Grilled Seafood like fish and prawns, not forgetting the traditional Malay kueh and the festive goodies.

And, of course, there are bargains on apparels, accessories, shoes, decorations, home accessories, household items, furniture, carpets, curtains, and bedding near the Haig Road Food Centre and Tanjong Katong Complex open carpark.

TIP: Go during the day if your aim is to shop, as the crowd thickens to a mad frenzy by evening (though that's a fantastic way to soak up the truly incredible festive and feasting atmosphere).