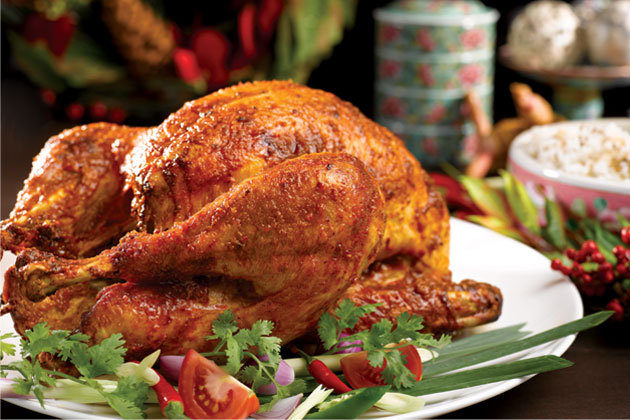 Go Asian this Christmas
By Catherine Ling - Thursday, Dec 12, 2013
Christmas is coming! So soon, you ask? You still remember being overly surfeited from last year's turkeys, stuffing, Gammon ham, cranberry sauce, stollens and yule logs. Yes, it's possible to be sick of festive fare.
So, if you're not exactly thrilled with the traditional Christmas feast, perhaps it might be good to take a look at doing it differently this year. Something lighter, perhaps…Asian style.filling which comes in small amount, but just enough to hold the pastry together.
Look to the sea for its bounty. Mikuni at The Fairmont has a Christmas kaiseki menu (S$250++ on 24 and 25 December) featuring Ise Lobster Sashimi with Shio Ponzu. This comes presented in a conical glass bowl on bed of ice, and you'll also get a selection of seasonal tokusen (premium) sashimi. The set also includes Globe Fish (Fugu) Clear Soup with Mushroom, a steamed Hokkaido Kegani Crab with Shiso Ponzu, and a stellar Robatayaki style Miyazaki Wagyu with Garlic Soya. You could also do festive takeaways of sushi or sashimi platters (above).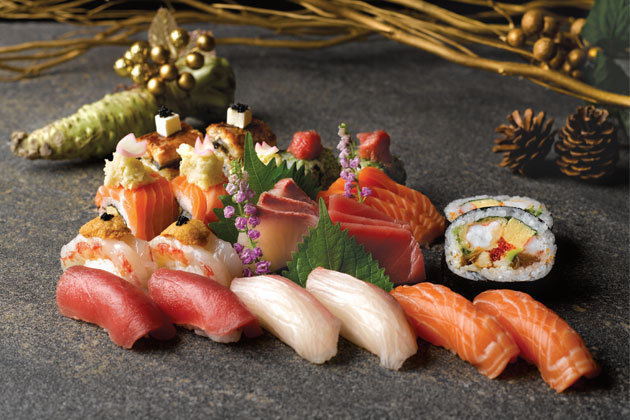 Li Bai at Sheraton Towers has come up with comfort Chinese food for Christmas too – Lobster Salad, Baked Abalone Rice in Mini Pumpkin, Double-boiled Clear Broth of Bird's Nest with Morchella Mushroom and Guinea Fowl, King Prawns done two ways – Baked with Homemade Cream Sauce, and Stuffed Prawn Head with Taro. Chilled Glass Jelly and Orange make for a lighter dessert than traditional Christmas fare. The Christmas Eve and Day special set menus are S$148++ per person.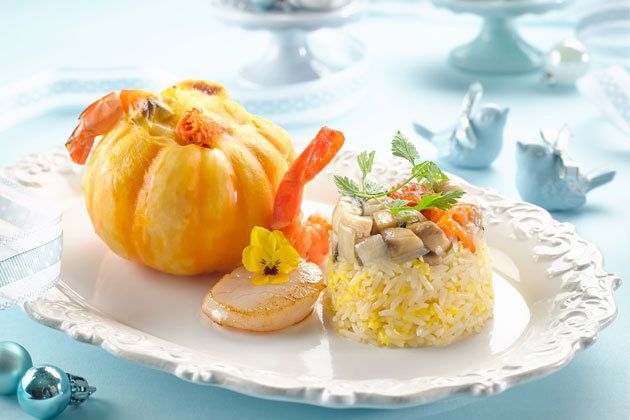 Chef Claudio Sandri has given the classic French roasted pigeon a piquant Asian twist at Spathe Public House. The Traveller (was this a homing pigeon?) is marinated in a local sambal paste for a good 24 hours before being roasted to achieve a crisp exterior. This spicy roast bird (S$28) should prove much more interesting than regular turkey. And it comes with Spathe's addictive garlicky French fries. For dessert, there's a Singapore-inspired Durian Log (S$18) showcasing a velvety puree of premium San Ba Wang durian rolled between vanilla sponge layers and then drizzled with luscious caramel sauce.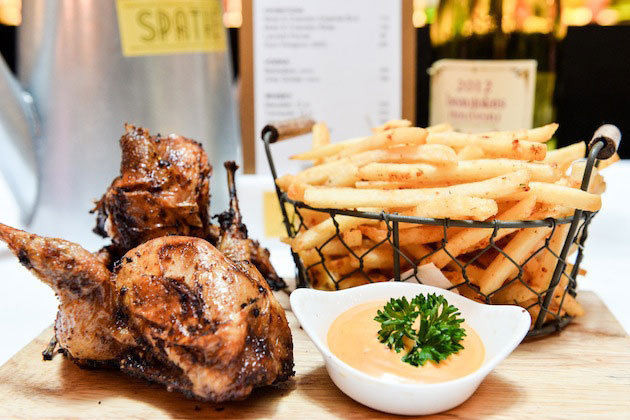 But if you still want turkey but done in a mindblowingly different way, try the Nyonya Assam Chili Turkey from the InterContinental Singapore. This bird is marinated in a blend of spices for 24 hours, braised until tender and then baked to a golden brown. You'll barely recognise that tender and juicy meat as turkey. As a final flourish, it is served on coconut scented basmati rice. The gravy is almost like a curry but one that will have you craving for more, even when you are full! It's available at their Festive Wonderland Shoppe at S$140+ per 5kg.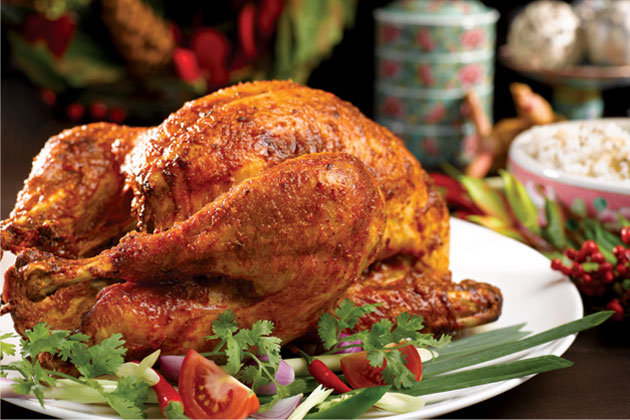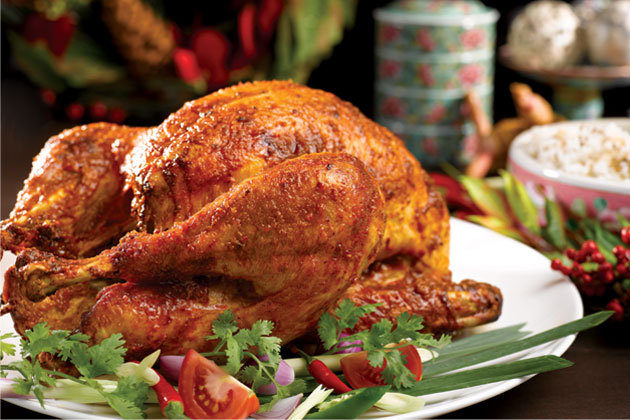 Turkey ngoh hiang? What a creative and possibly a much more delicious way to use turkey breast – all chopped up in small pieces and mixed with yam, water chestnut, carrots and prawns, Canadian streaky bacon (bacon!) in a handmade crispy roll. The lovely smoked flavours give the ngoh hiang a festive touch. As small bites, they are perfect party food, and are bound to be a conversation piece. Look for this at the 
Goodwood Park Deli
 ($28 for two rolls).