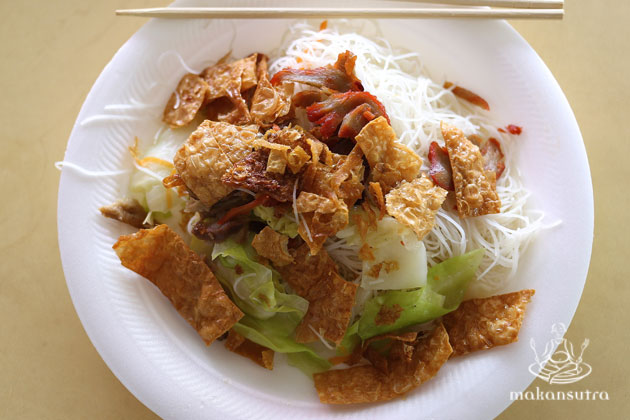 GO VEGETARIAN ON VESAK DAY
By Cecilia Joven Ong - Sunday, May 31, 2015
People are drawn to vegetarianism for different reasons these include health, religious, compassion for animals and environmental concerns. Most vegetarian diets have often been accused of being boring and bland but if done right can be very satisfying.
Listed below are reasons to get excited with these delicious, diverse and colorful vegetarian cuisines on this Vesak Day.

AFTERGLOW BY ANGLOW
24 Keong Saik Road Singapore 089131
Operating Hours: 12.00 pm to 3 pm / 5.30 pm to 11.00 pm
This is a vegan eatery that focused on healthy living and promoting organic plant-based food without the pretense. Everything is made from scratch including their cold pressed juices and nuts cheese. One of their most talked about dish is none other than their Raw Lasagna for $20. It consists of layers of zucchini sheets with cashew nut cream cheese, pine nuts and mixed herbs pesto with dehydrated cherry tomato sauce. The marinated baby spinach and shitake mushrooms are in between the layers of zucchini sheets. Other than the usual salads, soups and wraps, they aslo serve deconstructed sushi bowls.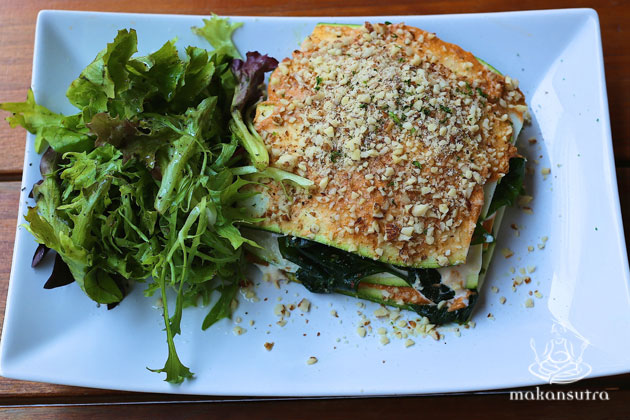 VEGANBURG
44 Jalan Eunos Singapore 419502
Operating Hours: 11.30 am to 10.00 pm (Monday to Saturday)/10.30 am to 10.00 pm (Sunday)
VeganBurg is a fast food outlet with an interesting concept, their unique burgers make it possible to not only have plant-based diet but also contribute to environment sustainability. Every burger is natural and filled with the real flavor. Cracked Mayo Burger ($5.90) is the most basic burger on their menu. The burger consists of crisp soy patty and served along with fresh lettuce accompanied by the egg-free mayonnaise. The choices for side dishes are Seaweed Fries or blanched Broccoli that slightly tossed with salt. They do not serve the usual soft drinks but fruit punches. Those craving for their fast food fix should give this healthier alternative a try.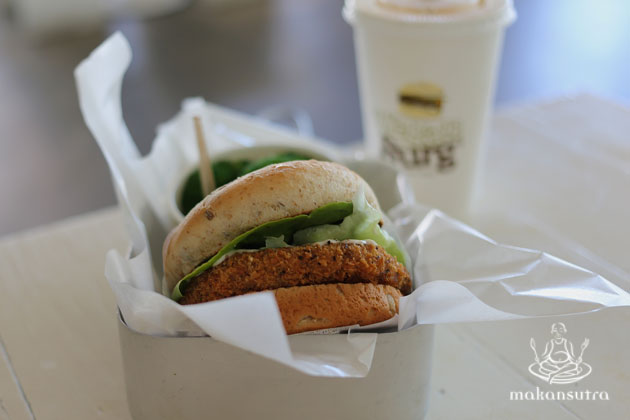 BAO BAO VEGETARIAN FOOD
Block 58 New Upper Changi Road #01-148 New Upper Changi Road Food Centre Singapore 461058
Operating Hours: 7.00 am to 1.00 pm (Closed on Mondays & Thursday)
This popular stall is often seen with constant queues and is usually sold out before noon. They serve only this rare vegetarian bee hoon for $2.00 or $2.50 per portion. The distinctive difference is that their bee hoon is white in color, looking bland but, distinctly not to the palate. You are not able to choose what toppings to add as each serving include blanched cabbage and crispy beancurd sheets and sweet mock char siew. You could choose to have it with the red chilli sauce or just green cut chilli. This is a simple but good choice for breakfast.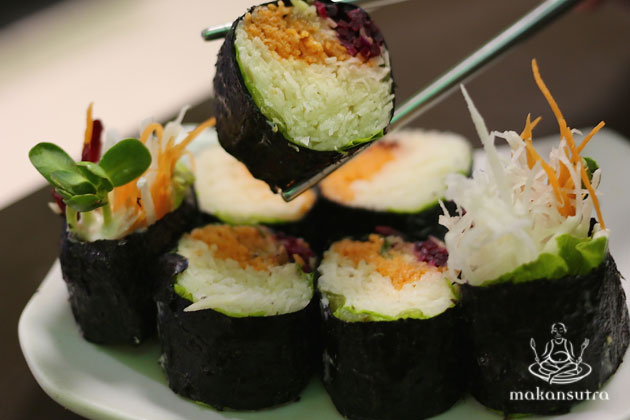 NEW GREEN PASTURE CAFÉ
190 Middle Road #04-22 Fortune Centre Singapore 188979
Operating Hours: 11.00 am to 8.00 pm (Closed on Mondays)
This café was one of the first vegetarian food outlets opened in 1996 and their menu consists of Asian Fusion fare. Their location is just a stone's throw away from the famous Kwan Im Thong Hong Cho Temple at Waterloo Street making this a popular café for Buddhists observing a vegetarian diet. One of the highly recommended and must-try items is their sushi rolls for $7.50. It is not the traditional sushi rolls that you are expecting as the rice has been replaced with assortment of vegetables to give it a healthier alternative. The rolls are packed with shredded radish and carrot together with bits of beetroot. They drizzled a bit of vinegar-like sauce as dressing before firmly wrapping the ingredients in a piece of seaweed. The plus point is the ingredients used are organic and tasted absolutely fresh.