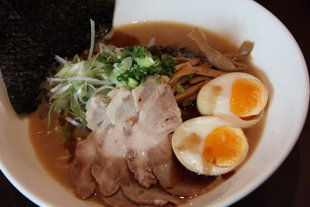 Goku Raku Ramen, Gurney Paragon
By CK Lam - Tuesday, May 01, 2012
Another dimension is added to the ever growing Penang culinary scene with the launching of Goku Raku Ramen at Gurney Paragon. With its casual Japanese dining ambience, Goku Raku Ramen brings their specialty Horikiri Style noodles to Penang.
There are three types of soup bases – Tonkotsu (pork-based), Shoyu Tonkotsu (Japanese soy sauce) and Miso Tonkotsu, all freshly made, and simmer for 17 to 30 hours.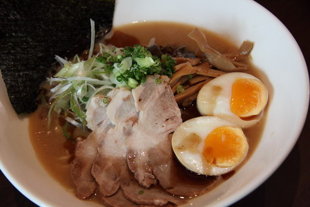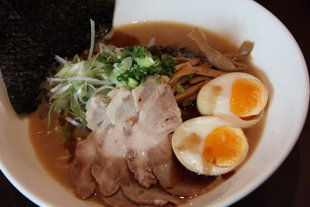 The signature dish from the menu is aptly named the Signature Goku Raku Ramen, with a heart rich broth consisting of a complex blend of pork, chicken and fish. A standard bowl is topped with Char Siew slices, flavored egg, onions, Japanese leeks, bamboo shoots and seaweed. Add-on of toppings is available. The most popular add-on is the flavored egg with velvety yolk.
Best way to eat the ramen – adapted from Gokuraku Ramen
1 Indulge your sight and smell receptors with the appetizing aroma of the rich broth.
2 Scoop, sip and savour generous amounts of soup to start off. The soup is the most significant element of any Ramen dish, so enjoy!
3 Mix the noodles and soup well. Take note not to mix the seaweed together as it will dissolve!
4 Next, slurp away! The noodles are best consumed with the soup while it is hot, approximately within 7 to 8 minutes after it is served.
5 For that extra tasty kick, eat it with the accompaniments and added toppings.
6 By now, the soup will have reached its full-bodied flavour. Finish up by gulping it, down to the last drop!
Goku Raku also offers several variants of rice meals, with the crowd favorite being the Stamina Don, which is essentially pan-fried pork slices in special sauce on rice with soft boiled egg, lettuce, Japanese leeks and decorated with thinly sliced chili. Another dish is the Ishiyaki garlic rice, fried with minced pork and fresh egg served in a stone pot.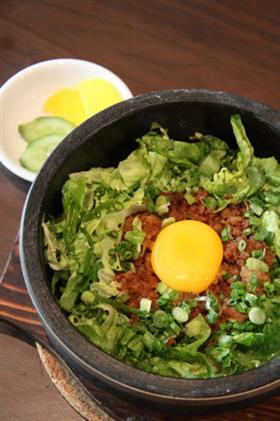 As with the common norm of Japanese cuisines, the main meals at Goku Raku are accompanied with appetizers. An excellent order would be the Pirikara Negi Char Siew. Flavorful pieces of Char Siew are laid on a bed of romaine lettuce and Japanese leeks, garnished with homemade spicy sauce, sautéed onions, spring onions and deep-fried garlic bits.
There are a number of side dishes to go hand in hand with the noodles. Recommended item include the Gyoza, which is seen on most tables. The dumplings are filled with a delicious mix made from minced pork, cabbage, onions, chives, Japanese leeks and Tonkatsu Soup!
Rounding off the meal is a selection of desserts, with the most popular being the Annin Tofu and the Rare Cheesecake. Both are relatively light and enjoyable, especially with the smooth and silky texture. As with most Japanese restaurants, the drinks list is dominated with Green Tea, Honey Lemon Tea as well as several Japanese beers.
Goku Raku Ramen is located on the ground floor of the East Wing of Gurney Paragon. It is open from 10.00am to 10.00pm daily.
Goku Raku Ramen Lot 163-D-1-05, Gurney Paragon Mall Gurney Drive 10250 Penang
Tel: 04-226 0961