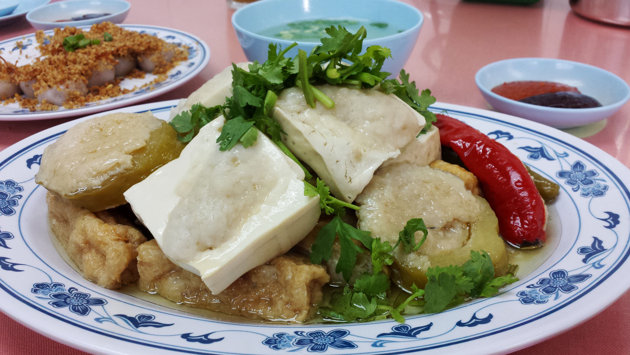 Goldhill Hakka Restaurant: A Hakka Restaurant Extraordinaire
By TianTianChi - Friday, Apr 25, 2014
There are only 6 items on the menu and even the signature yong tau foo has only a limited selection of 7 items. This however does not deter the throng of customers scrambling for tables the moment they open for business at 11.30am even before the shutter is fully up.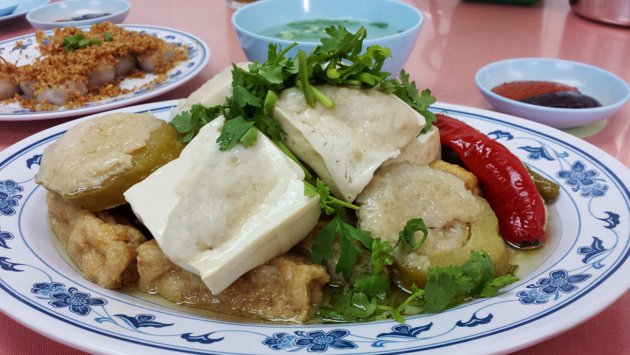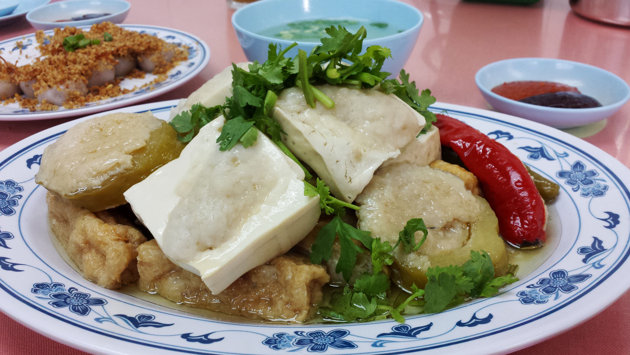 Steven Lee has been helping his father at their pushcart stall since his teenage days. They moved into proper premises in the 70s after his father's passing and renamed the current stall after his own name (Jin Shan which means 'gold hill').
Today, he still lords over the kitchen, scrapping and kneading the ikan parang (wolf herring) into the paste as filling for the Yong Tau Foo. It's all elbow greasework and it's evident. The firmnesscomes with bits of fish meat embedded in the fine paste, a deliberate attempt to provide some texture for a better bite. I thought for a moment there was pork in this but it's all fish.The standard 7 yong tau foo items (smooth doufu, taupok (doufu puff), green chilli, red chilli, fish ball, bitter gourd and fish finger) are served on a shallow plate with just a light drizzle of sesame oil and little soup- encouraging pleasures of the three senses – looks, aroma and taste. Steven told me the recipe has not changed since his father's day.(from $5) He is probably not exaggerated seeing that many senior customers are still loyal patrons.
While the yong tau foo is very good, there are other reasons why you should come here too. Hakka abacus seeds (yam gnocchi) are not common and a good one is hard to find. A lot of work goes into making this. Many come too springy, a result of using too much flour. Theirs is very well kneaded with just a soft resilient texture that a good gnocchi has. While most Hakka abacus seeds are traditionally served with a moist topping of savoury shredded meat and mushrooms, they served it buried under a bed of golden "sand" made from minced salted fish and hae bi (dried shrimp) deep fried and shredded dried cuttlefish. The combination of sweet, savoury flavor and appealing, gritty texture over the abacus seeds is nothing short of sensational. Steven told me that this is his own concoction, a brilliant solution to keeping the topping fresh for longer and they can serve is up faster. ($3 and up)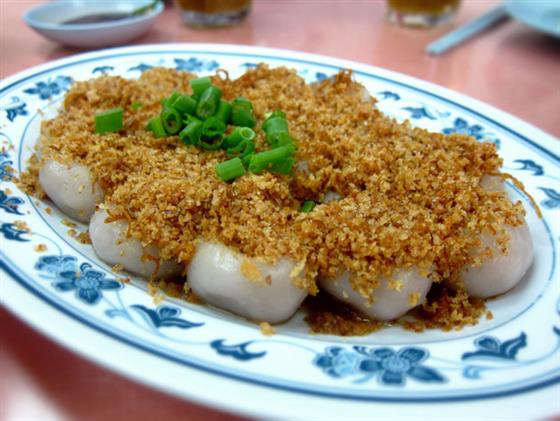 Another must-order is their raw fish. This dish that can be found in many porridge stalls but theirs is given a minimalistic treatment. Just a little soy and sesame oil and garnished with spring onions, shredded ginger and chilli, suffices to balance the sweetness of the fresh ikan parang slices, enhancing that jellyfish-like soft, slightly crunchy bite sensation. ($6 and up) Fans swear by the steamed la-la (Manila clams) here. They don't season it and steaming it alone extricates theintense umami flavor of the shell fish. Some ginger and fresh chilli are used to kick it up a notch. A generous splashing of Chinese wine sealed the deal. They could well rename this 'Drunken la-la'. ($12 and up).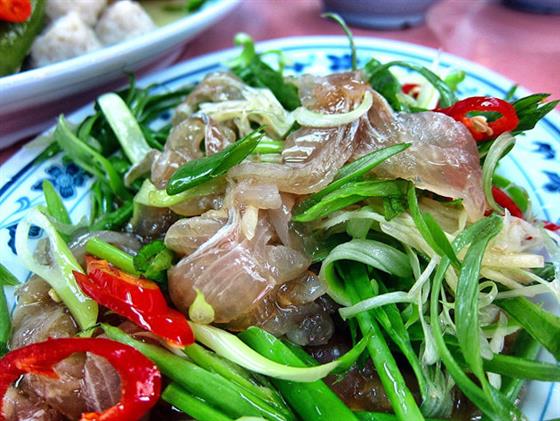 Unusual for a Hakka restaurant – where many people will associate with yong tau foo, mui choy pork belly(which they do not serve) and abacus seeds, is their steamed fish (highly rated by Makansutra). They offer only a few types of fish– threadfin (ikan kurau), pomfret and gelama (huanghuayu).There is no fanciful way of steaming, just done with some stock and no fancy sauces. But that touch of just a dash of fragrant oil and soy sauce, is absolutely comforting. The natural flavour and sweetness of the fish dominates. Steven personally shops for the fish every day at the markets. (Market price)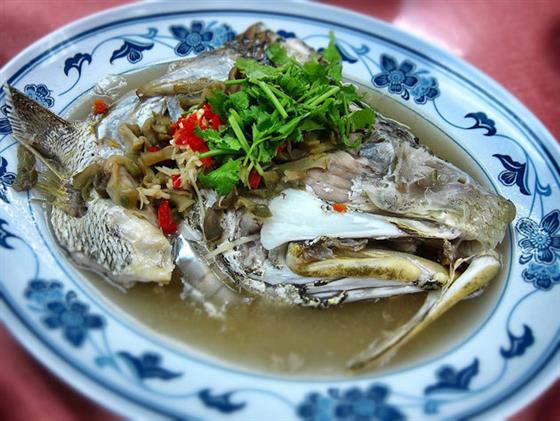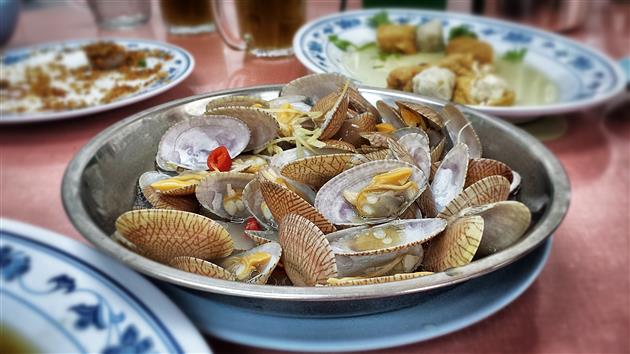 The restaurant is only opened for 5 brisk business hours each day. We asked if he ever considered extending the hours? "It is too much hard work. I get to work at about 3am and work non-stop till late afternoon. Buay tahan lah!" I noticed when I visited a few times during weekends, his son Wen Long was there to help out. Will he possibly be taking over? . "He is a university graduate and has a brighter future, it all depends whether he is interested but this is hard work." father says but Wen Long responds, "If daddy is willing to pass me his skill, I will certainly consider!"
Well, our take is, more people have graduate certificates than those with traditional artisanal culinary skills. The latter is way more meaningful and has a loyal customer base already. Go figure.
Goldhill Hakka Restaurant 1997
299A Changi Road
Hours: 11.30am-4pm (closed on Mondays)