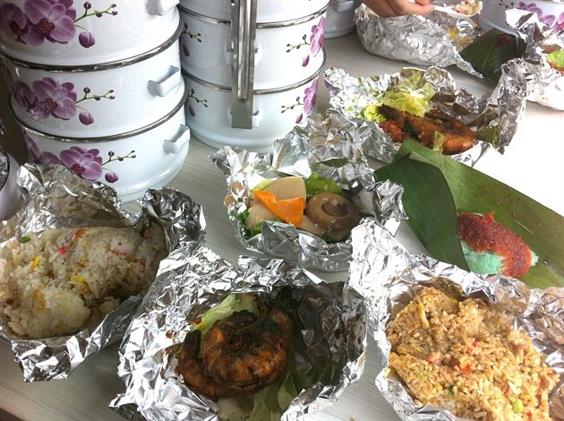 Good Cruising But Not So Good Cuisine
By Sheere Ng - Tuesday, Jul 24, 2012
River water swishes under my feet. Wind brushes my hair, providing a slight relief from the tropical sun. On the river bank, bronze statues of children jumping into the river come into view. The boatman, who has been silent all this while, casually remarked that he used to swim in the river when he was a kid. Now in his sixties, he ferries tourists in a bumboat along the very same river that now presents a different sight – skyscrapers, magnificent architectures and what remained of the old riverside warehouses that have now been turned into a food and wine destination.
I'm on a Singapore River Tiffin Cruise as part of this year's Singapore Food Festival. And since it's a celebration of Singapore food, there must be some kind of gastronomic treat that also reflects our heritage.
On the wooden table in front of us (the invited guests and media) sat about four or five tiffins, or what the older generations know as tingkat. These multi-tiered round metal containers were used to carry and doggie-bag food back in a greener era, but are now found in museums or on the display shelves at Peranakan restaurants.
Each of these tingkats is filled with food that echoes the festival's theme, which is seafood. For ease of handling, the organisers very considerately but untraditionally packed each dish with aluminum foil inside the tiffin. Perhaps so that the flavours do not get tainted by one another; or perhaps to save the guests from the trouble of washing the tingkat, which can be taken home.
As the boat cruises for 30 minutes, we savour stir-fried kailan, sambal prawns, seafood fried rice, mussels and calamari – fairly decent but did not float my boat. Ideally the food should follow through on the pieces of Singapore history that the river and tiffin convey, but they fell short of completing the multisensory experience expected. The food do not have a true blue, honest to goodness, uniquely Singapore tone.
To tell a better Singapore story, wouldn't wasabi prawns – a cze char dish created by local chef Sam Leong, Laksa Pesto Spaghetti – a Mod Sin creation by chef Willin Low, or yu sheng – the lo hei type introduced by the four culinary heavenly kings, do a much better job?
Perhaps the organisers could have apportioned a bigger chunk of the $68+ price tag to food, for it's the Singapore Food Festival anyway. The setting was right, and so was the prop. But the food, sadly, lost me at fried rice.