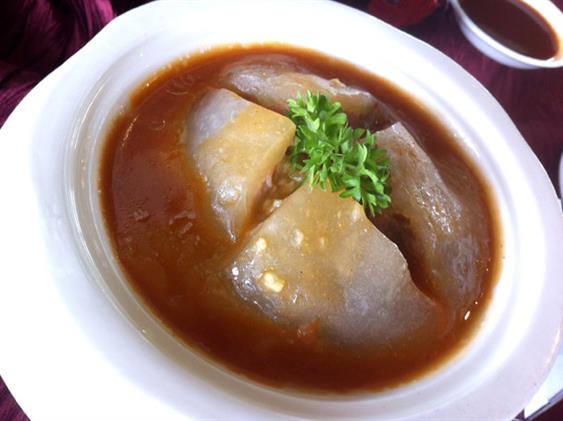 Good Taiwanese Street Chow in a Restaurant
By Sheere Ng - Wednesday, Oct 24, 2012
Crispy fried chicken, oyster mee sua, and Taiwanese sausage have been popular in Singapore for years, but decent versions of these Taiwanese street food are few and far between.
At pasar malams (night market), snack bars, hawkers or restaurants that tout this foreign street fare, the crispy chicken is coated with a ridiculously thick and half-heartedly crispy batter skin; the oysters was sickly even before their unfortunate demise and then dunked it a mee sua soup that is at best a desperate blend of water and oyster sauce; and the sausage tasted waxy and oily.
Now there is an honest interpretation of these authentic street chow in town. The catch is, although it comes very close to Taiwan street stall quality, it does not come close to those street prices.
In early October, Shin Yeh, a restaurant that touts Taiwanese cuisine, added street food to their menu. It includes the above mentioned dishes, to the lower profile snacks that only Taiwanese (and fans of Taiwanese TV programmes) would know.
Makansutra tasted them during a media tasting – they were, of course, decent. But it was at another trip back there, incognito, that we base this review on.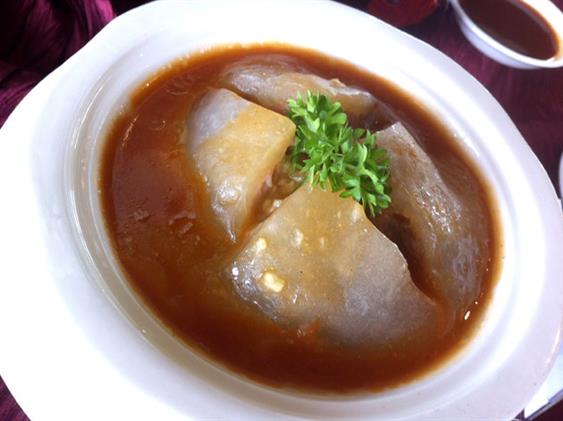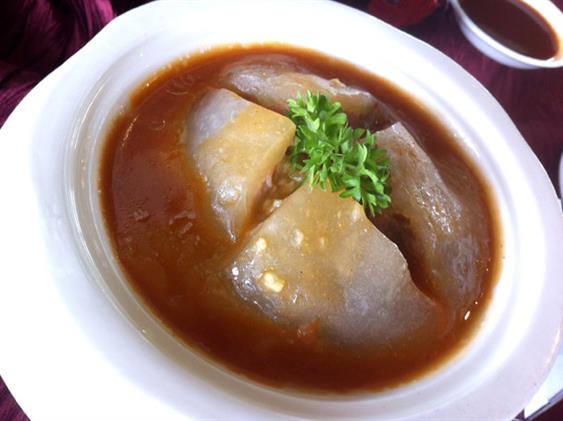 Zhang Hua Meatballs
Zhang Hua is a northern city in Taiwan. It was said that about 180 years ago, the city was hit by a massive flood that resulted in food shortages. The survivors gathered sweet potato and created dishes out of them. One of which is the Zhang Hua Meatballs. The translucent sweet potato flour skin that wrapped around the marinated meat was thick but soft, chewy and not sticky. It came with a sweet, tangy and garlicky sauce that would have been a greater complement if they had given more.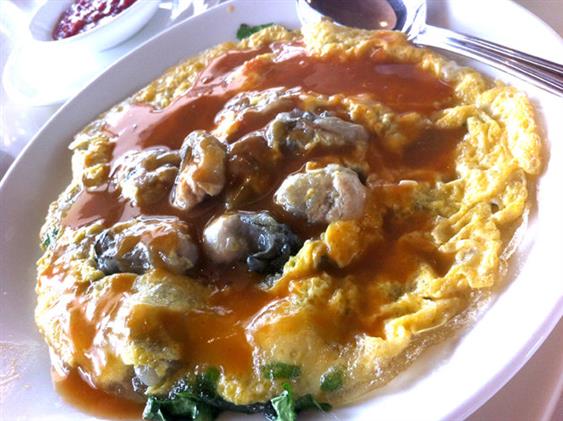 Oyster Omelette
Taiwanese oyster omelette, unlike our local Teochew version, is done moist and slathered with a layer of "hai san jiang", literally translated as "ocean's three sauces". This sauce is sweet, tangy and slightly spicy. While Shin Yeh's version didn't sting as much as we would liked, it came with a layer of omelette over another layer of chewy fried potato starch and topped with the sauce. A nice mix of textures and flavour. The oysters atop were big, fresh and briny.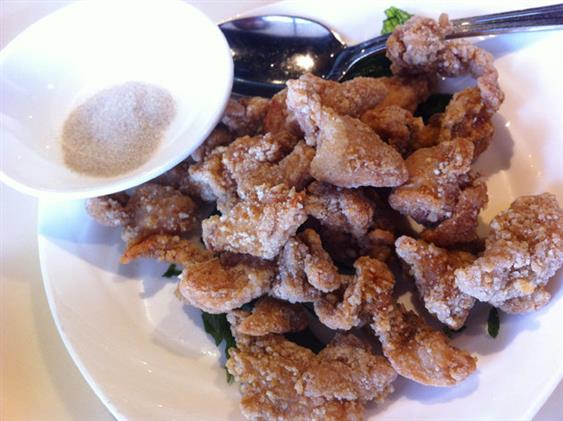 Crisp-fried Chicken
One of the best versions we've had in Singapore. The fried floured skin was thin, light and crispy while the meat was juicy. It came with a salt and pepper dip on the side.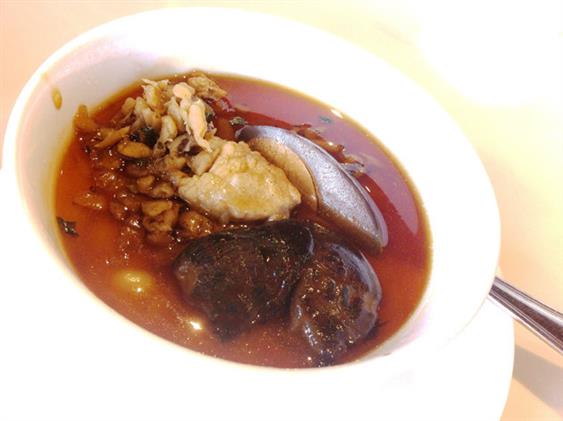 Tai Nan Wah Kueh (Bowl-shaped rice cake)
Rare in Singapore but widely popular in Taiwan. Grounded rice and water mixture was steamed in a small rice bowl and then topped with soy sauce, meat, egg and stock. Instead of using ready-made flour, the Shin Yeh folks blended their own rice to produce soft, dense but cottony rice cakes.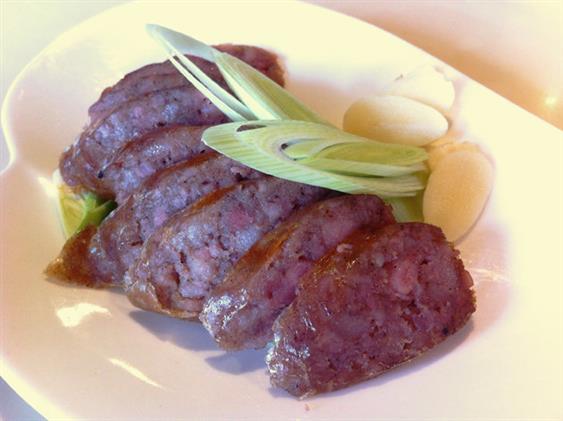 Taiwanese Sausage
We've all had, or are familiar with fried or grilled Taiwanese sausage at pasar malams and at home parties by now. But have you tried the steamed version? With the absence of oil (from deep-fry) and smokiness (from grilling), the taste of the meat and five-spice powder stood out clearly. A manager there said Taiwanese sausage, compared to the Cantonese lap cheong, is sun dried for a shorter period, hence, the meat and contents are juicier.
Mr Ricky Ng, chief operating officer of Tunglok Group, the organisation behind the restaurant, said that they hope to attract younger people with the new menu items. While these dishes are sold at restaurant prices, they are reasonable, comparable to the mid-range restaurant's dim sum prices – Zhang Hua Meatballs costs $4.80, Crisp-fried Chicken at $6 and bowl cake at $4.80 (before tax and service charge).
If the yearn is there but not the time nor will to travel to the Shilin Night Market in Taipeh, this can be a good temporary fix here.
Shin Yeh
#02-19 Liang Court Shopping Centre
177 River Valley Rd
6338 7337 (Taiwanese street food fare available during lunch only)