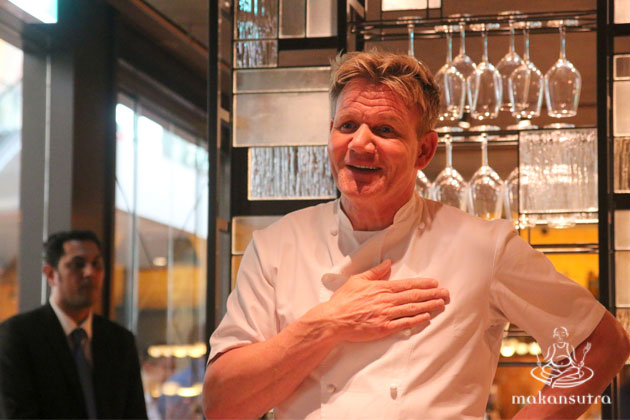 Gordon Ramsay: Is it worth the hype
By Catherine Ling - Wednesday, Jul 01, 2015
Gordon Ramsay has finally brought his cuisine to Singapore. No, not the three-Michelin star fare from his eponymous restaurant, but a much more casual (read affordable) bistro and bar.
Bread Street Kitchen (BSK) at Marina Bay Sands is casual and lively, much more inviting than a stuffy fine-dining establishment. "I've watched how different concepts perform. Some do well, some are teetering. I want to play safe and steady and strong," he says honestly.
"I have been asked – why not a new concept? To which I have this to say, 'Do you know how f*cking difficult it is to create a whole new concept?'" he jokes.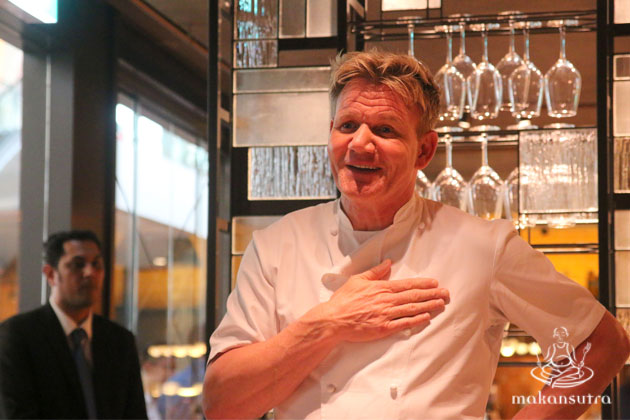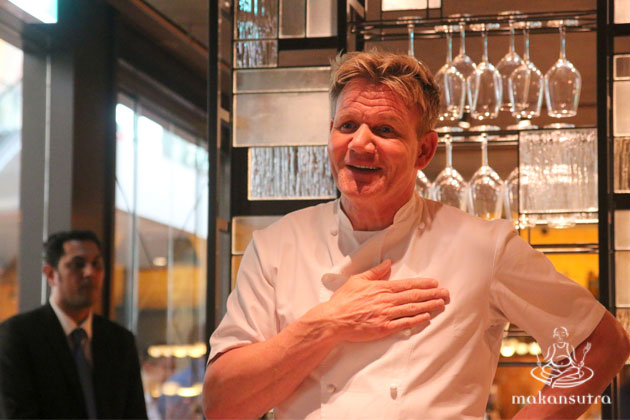 It's at the southern promenade and takes over the two-storey space formerly occupied by the Moluccas Room. You'll be greeted by industrial warehouse chic that's more polished than edgy. Glossy black subway tiles and tungsten lighting fixtures anchor the intimate private dining space. Meanwhile, wooden communal tables and mood lighting add warmth to the cosy kitchen dining area. Upstairs you can sit at the waterfront bar interacting with the mixologists, and enjoy the much vaunted Marina Bay view.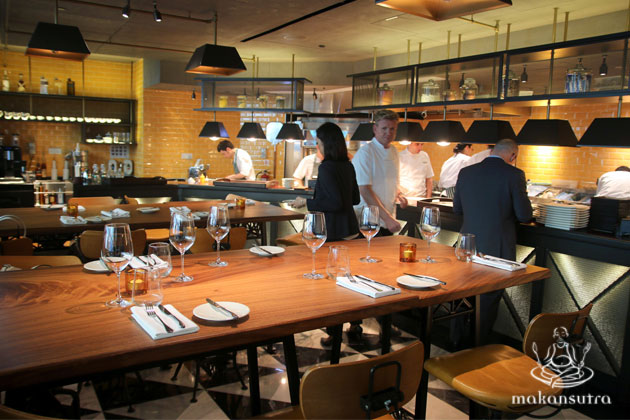 They have kept the menu simple and short at BSK – only three pages from starters to desserts. The cocktail and drinks menu though is a sizeable booklet.
Foodwise, they do seem to be playing it safe and to their strengths. It's classic British-European fare – traditional favourites given a little modern twist. Veal carpaccio. Shepherd's pie. Fish and chips. BSK Burger with Monterey Jack and sriracha mayo.
Some of it can be hit and miss though- and we're being polite here (we have seen many bluntly honest reviews online) as it is early days yet.
The spicy tuna tartare while smooth and savoury, didn't deliver on the spicy promise. The lamb chops were well-grilled but pedestrian. And the tamarind spiced chicken wings, perhaps a nod to local flavours, got mixed reactions. It had a fabulously crunchy batter but the seasoning was a tad bitter. However, it is just opening week. Give the team some time to gather feedback and perhaps tweak the dishes.
Having said that, the slow-roasted Dingley Dell pork belly with spiced apple puree (S$28) is astounding. Sweet, tender and juicy, the thick slices of pork belly each came with a layer of perfectly golden crackling. The roasted black cod (S$44) is also excellent, paired with a red wine and lemon sauce, salted capers, artichoke and crushed potatoes.
If you've ever wondered what Harry Potter's favourite dessert, treacle tart (S$18), tastes like, then you must try it here. Gordon too loves it. "It's the dessert you'd want to take to bed. In a good way."
Other desserts are less traditional – coffee and white chocolate parfait with poached blackberries (S$18); pineapple carpaccio, passion fruit, coconut sorbet (S$15); Monkey Shoulder Cranachan cheesecake with roasted balsamic strawberries (S$18); Chocolate fondant oozing with salted caramel, served with mint chocolate chip ice cream (S$20).
In general, it looks set to be a cool hip venue, finally a shrine for Ramsay fans. Although it's relaxed dining, there are already grouses from some locals about the prices. Well, you can't exactly compare a Gordon Ramsay outlet to your neighbourhood zichar or fast food chains. Bread Street Kitchen certainly isn't worried. They already are fully booked for dinner through July.
Bread Street Kitchen
#01-81 The Shoppes at Marina Bay Sands
2 Bayfront Avenue
Tel: 6688-5665.