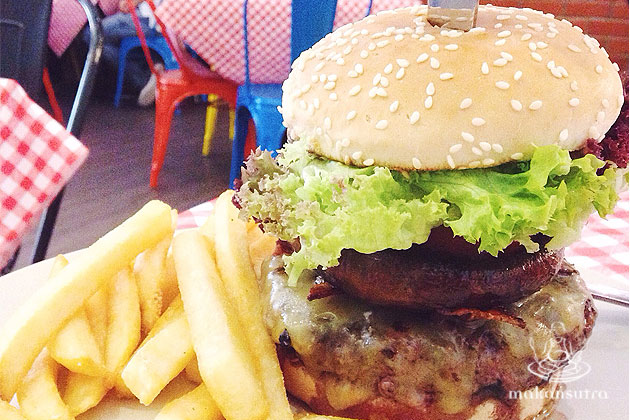 Gourmet Burgers Lovers, De Burg Is Back!
By Adeline Ang - Wednesday, Mar 04, 2015
Regarded as one of the best gourmet burger joint in Singapore, De Burg has, much to the delight of their fans, made a recent comeback this February after his exit from the Salut kopitiam in Bukit Merah last year. As a person who condemns fast food as they "give burgers a bad name", 40 year old "Encikburger" Andrew Sim sat down and shared his passion for burgers whilst I struggled to focus on his words and one of his moreish creations.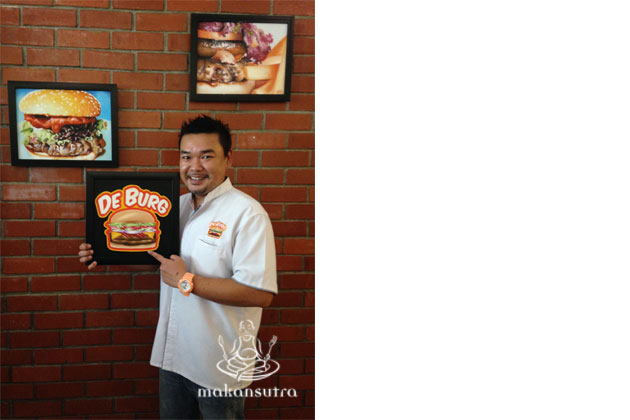 As an avid fan of burgers and upon his return to Singapore from New York in 2006, Andrew was deeply disappointed at the non-existent burger scene on our tiny island. "I was craving for a juicy burger and that was when I realized there wasn't a decent burger joint," said the Encikburger. "So a few friends and I decided to throw on a BBQ and it eventually became a business idea!" When probed about the reasons behind him joining the F&B industry, Andrew candidly replies, "I can't stand the idea of listening to teachers going on and on so I thought there was no point in perusing further studies. Plus I was a bit of a paikia so I just did whatever I wanted to and entered the F&B industry as a server." Here's a fun fact: the nickname Encikburgerwas inspired by none other than our Singapore Armed Forces. "We call the non-commissioned Warrant Officers Encik so we're similar in the sense that we don't necessarily have much qualifications but people have to respect us anyway!"
De Burg has, not counting its hiatus of 7 months, been around for 5 years. With regards to the re-opening of De Burg, fans of the burger joint would be pleased to know that they are the main reason why Andrew decided to press on. "We can't afford to disappoint our fans, so here we are!"
When asked about the inspirations for his menu, Andrew states that his creations are mainly unplanned where "it is like the moment you get out of your bed and you're struck with the idea" situation. If one were to inspect the menu, it is not difficult to spot how a good number of the burger creations are attributed to Singaporean personalities. "Since we are a Singapore company, I wanted to honor the people in our country," explains Andrew. Besides The Dee Kosh (named after ex-radio presenter) and The Richmond (named after singer/songwriter Dan Richmond), new creations may just be on the way where the Encikburger plans to name a burger after Joshua Tan, the lead actor of local movie Ah Boys To Men who happens to be a huge fan of De Burg as well.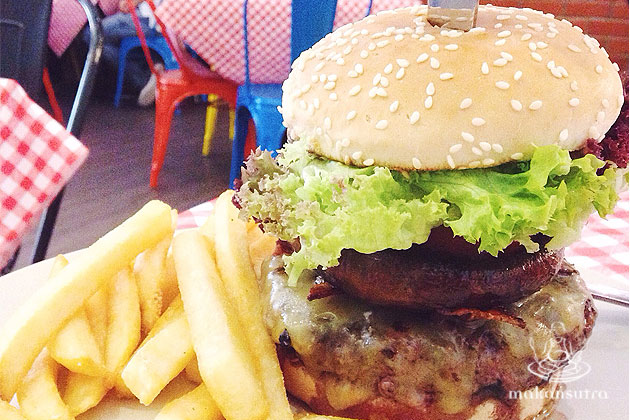 What exactly makes a good burger then? To the very particular burger enthusiast Andrew, he reveals one of the most important factors would be the freshness, taste and firmness of its patty. Also, the minimum size for burgers "should never be less than that of a quarter pounder". At De Burg, not only are the patties handmade daily, they are naturally bound by enzymes and are left to chill in the coolers for approximately 6 hours in order to achieve their firmness. Depending on the burgers, a generous-sized Portobello mushroom also accompanies the burgers and is sandwiched between the juicy patty, cheese, a layer of green and two wholesome buns.
After all the burger talk, it was time to get down and dirty. When asked for a recommendation, Andrew explains how he'd normally decline making recommendations as everything boils down to personal taste. "But if you're at a new burger joint and have no idea what to eat, I'd recommend to choose the bacon and cheese burger as it is the most basic and fulfilling of all burgers." The De Burg Decadence was my ultimate choice and I must say, as a non-burger person, I'm officially joining the burger side.
"Compress your burger before grabbing your burger with both hands and turn it upside down. The heel (bottom bun) is already soaked, so if you eat your burger upside down, the juice will flow to the crown (top bun) whilst you enjoy the burger and will have already taken in the juice by the time you're almost done." I went straight to action. The marriage of the soft buns, juicy patty and chewy Portobello mushroom wow-ed me. The burger was like nothing I've ever had; the patty was incredibly juicy and savory, pairing seamlessly with the amazingly crispy bacon and the soft, sweet buns. This must be what burger heaven is like.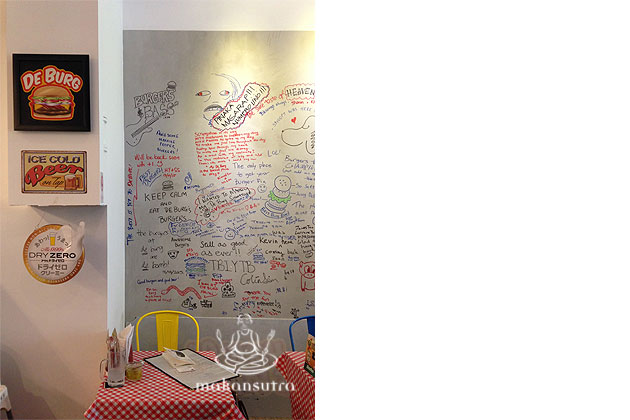 If you were to dine at De Burg, don't be surprised by the lack of cutleries. "Burger-eating is meant to be messy and our hands ARE God-given cutleries; so why use a fork and knife if you wish to enjoy a burger?" From my personal experience, I'd say eating the humongous burger with my bare hands was a really satisfying experience (much to the delight of Andrew). So for those who are afraid to get down and dirty, don't be; roll up your sleeves, sink your pearlies in. Besides a serving a range of burgers that include chicken, lamb, fish and even vegan variations, De Burg also serves a variety of craft beers and homemade Thai Iced Tea.
Next up, Encikburger is also set to have his own book. According to Andrew, this very readable 200 page book would document his 20 odd years experience in the industry. More details about the book would be published at a later date.
So for all the burger lovers out there, don't miss out on this one. For the non-burger lovers, you have no idea what you're missing.
De Burg 
CT Hub 2   
Kallang Avenue #02-15 
Tel: 6538 2874
Opening Hours: Monday-Friday 11.15am-3pm (last order at 2.15 pm) &5.45pm-9.45pm (last order at 9pm), Saturday, Sunday, Eve of PHs & PHs: 11.15am-9.45pm (last order at 9pm).