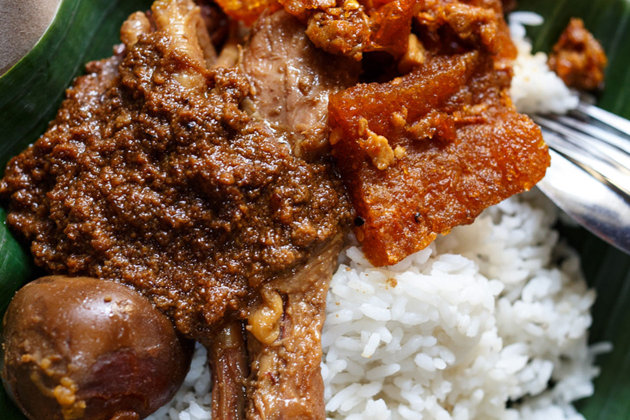 Gudeg Recipe
By Marchellinus Hanjaya - Tuesday, May 27, 2014
We wrote about Gudeg last week – (http://www.makansutra.com/stories/5/1155/TheGoodGudegofJava) that comforting and totally uniquely Indonesian jackfruit stew, and many wrote to ask how it's made. Here goes: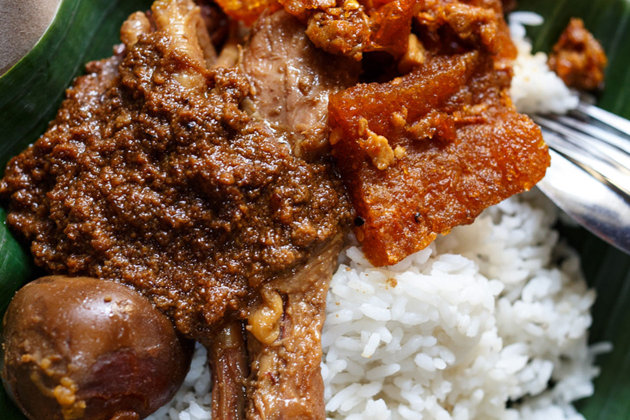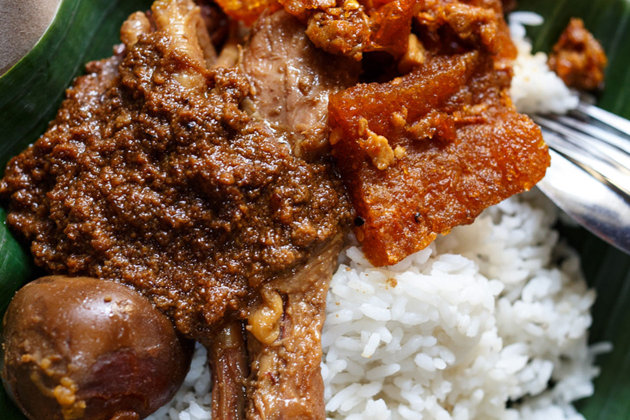 Gudeg need to be cooked in low heat for several hours using simple cooking stove or preferably firewood. Now, we can use electric slow cooker that cuts most problems related to heat control, timing, and time consuming kitchen activities.
Traditionally, Gudeg gain it's dark brown colour from one exotic ingredient, teak leaves. If you didn't put any, the jackfruit stew will stay pale. Here's an alternative secret ingredient … black tea leaves or bags.
Ingredients:
1kgboiled young unripe jackfruit
200cccoconut milk
250ccwater
4pcsteabag – black tea
6pcsIndonesian bay leaves / salam leaves
50grgalangal
2pcslemongrass
150grgula melaka
15pcsshallot
10pcsgarlic
8pcscandlenut
15grcoriander seeds
15grsalt
4pcsboiled egg (duck or chicken)
4pcschicken part (breast or thigh)
1. Grind and mix gula melaka, shallot, garlic, candlenut, and coriander seeds.
2. Prepare a saucepan and heat up over medium heat. Mix water, coconut milk, ground spices, lemongrass, salt and sugar. Stir slowly until boiling point, and adjust the seasonings to your personal preference (saltier edge of sweeter). Cut the heat immediately, and the base seasoning mixture is done.
3. Put these ingredients in a sequence; salam leaves, galangal, chicken, jackfruit, base seasoning mixture, teabag, and finally, peeled – boiled duck or chicken eggs
4. Close the lid, set the heat to low- and wait patiently. .
5. Take the teabag out after first 3-4 hours, then continue the cooking for 5 to 7 more hours. It depends on what texture you wanna get.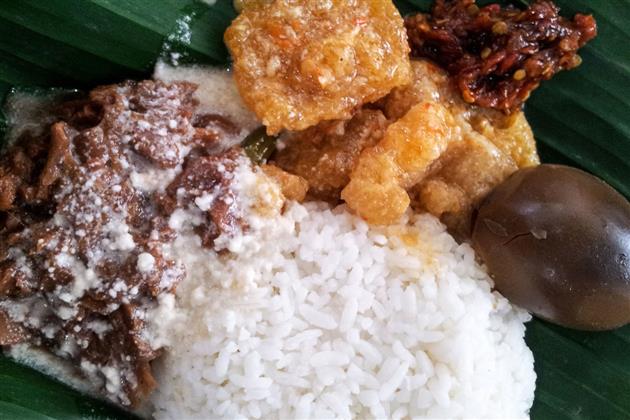 Usually, gudeg comes with krecek, stew cow skin crackers in sambal and cooked sambal belachan.