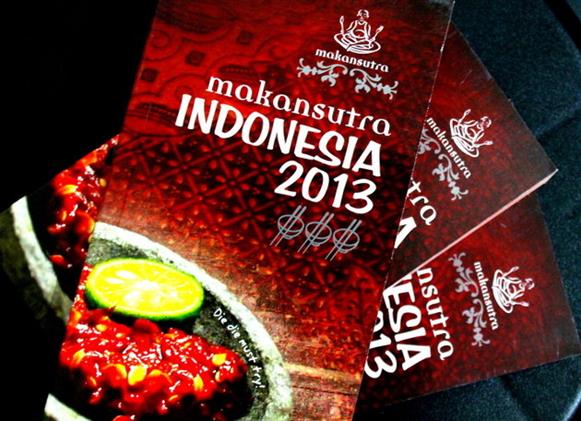 Guide to the Flavours of the Archipelago
By Tris Marlis - Wednesday, Jun 19, 2013
In a recent speech at the World Street Food Congress, Indonesia's renowned TV personality, Bondan Winarno, presented us with some astounding facts about street food in Indonesia. One, he said, the number of street food carts has exceeded the number of houses in the nation. Two, the variety of street food in Indonesia is so immense, there are 1001 types of satay and Soto (soup) alone. There's no doubt that the land of archipelago is a street food paradise.
If there is one rule to eating in Indonesia, it is to avoid the malls and maul the offerings on the streets. However, tracking down local favourites can be quite a challenge, especially when these mobile vendors do not own a Facebook page nor a Twitter account. There are also not many websites or guides that provide information on these street food gems, so we decided to create one.
Along with our Indonesian researchers, led by Arie Parikesit (Founder of Kelana Rasa culinary solutions, a gastro-travel expert), the Makansutra Indonesia 2013 food guide aims to present you the best of Indonesia, highlighting three regions in Java Island – Jakarta, Bandung and Bali. The book consists of 500 listings and over 180 food categories which differ greatly between all three cities.
Jakarta is the melting pot of a wide range of Indonesian cuisines, from Acehnese (north Sumatra) to Manadonese (north Sulawesi). At southern Jakarta for instance, you will find Rumah Makan Seulawah which serves authentic Acehnese fare, such as the Ayam Tangkap (literally "caught chicken") – dry braised chicken deep-fried with curry leaves, pandanus leaves and shallot – fragrant, moist and spicy. This dish is served with a side of Sambal Ganja ("drugs" chilli paste) which is named so because it's known to be extremely addictive. The chilli paste is made with dried shrimp, chilli, shallot and a twist of sour wild starfruit.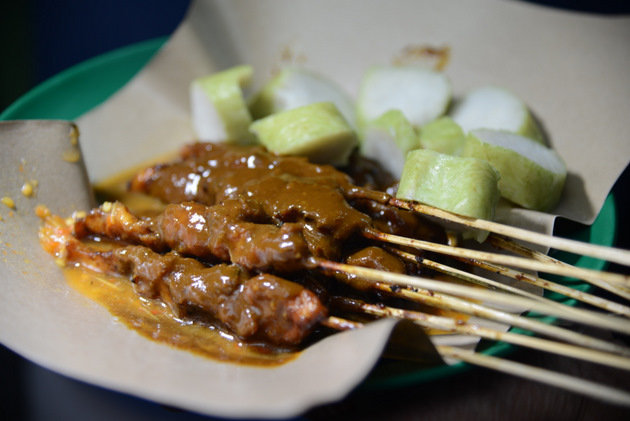 However, a trip to Jakarta is not complete without a satay meal. Sate Ayam Barokah Haji Basiri, also located at southern Jakarta, is a hole in the wall which serves Jakarta's most succulent chicken skewers. Big chunks of meat brushed with Kecap Manis (sweet soya sauce) are grilled just long enough to cook it thoroughly but still retaining its juice. Dip it in the sweet and savoury peanut sauce and you have a meal to die for.
Then, a two-hour drive will lead you to Bandung which is also known as "Paris van Java." Bandung is very well known for its tofu (beancurd) which locals credited to the local water source used. At Gempol market, there is a legendary little stall selling the comforting Kupat Tahu – rice cake with tofu, bean sprouts and doused with peanut sauce. The tofu is lightly tinted in turmeric water and lightly pan-fried to maintain its moisture and soft texture. The rice cake is also soft and moist. Lastly, the smoky, sweet and savoury and seductively smooth peanut sauce binds every element together.
In Bali, the most-raved Babi Guling Ibu Oka, favourited by Anthony Bourdain and many other TV personalities alike, almost did not make it to the book. Our researchers insist on featuring only the most authentic, and recommended joints like Babi Guling Pak Dobil instead. Pak Dobil makes one of the most famous Babi Guling (suckling pig) in Bali since 1980. They also make a mean Sambal Mbe (chilli paste with fried garlic, shallots and fresh lime juice) that will surely tickle your tastebuds. Also available at the stall is juicy pork skewers, Jukur Ares (clear soup of young banana steam) and Lawar (herbous salad with grated coconut, mixed vegetables and minced meat). We, however, added Babi Guling Ibu Oka in the end, for your information.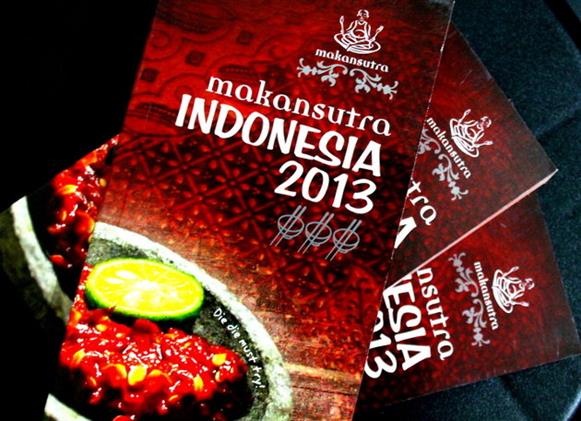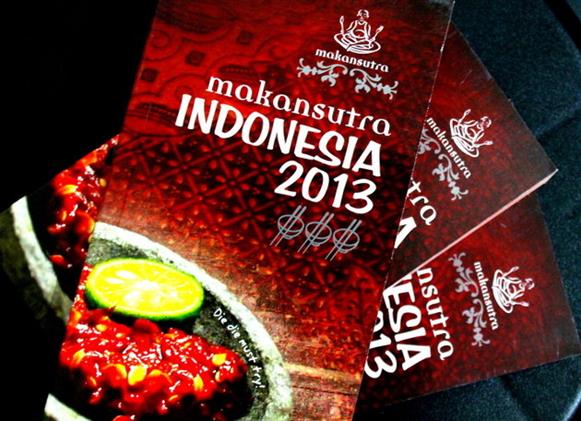 There are 496 more listings in the book that capture the flavours of Indonesia, from main meals to dessert and drinks. If you are planning on a trip to Indonesia, this food guide is the bible for an ultimately blessed makan experience.
Makansutra Indonesia 2013 ($15.90) will be available at major bookstores soon. Stay tune as we will announce our release date at www.makansutra.com
Listings:
RM Seulawah, Jalan Bendungan Hilir No. 9 (opposite RSAL Mintoharjo Naval Hospital), Jakarta 12760 (9am- 2pm)
Sate Ayam Barokah Haji Basiri, Jalan Arteri Pondok Indah No. 5, Jakarta 12240 (3pm- 11pm)
Kupat Tahu Gempol, Pasar Gempol, Jalan Gempol Kulon, Bandung 40116 (6am- 12pm)
Babi Guling Pak Dobil, Jalan Srikandi No. 9, Bali 80363 (9am- 4pm)