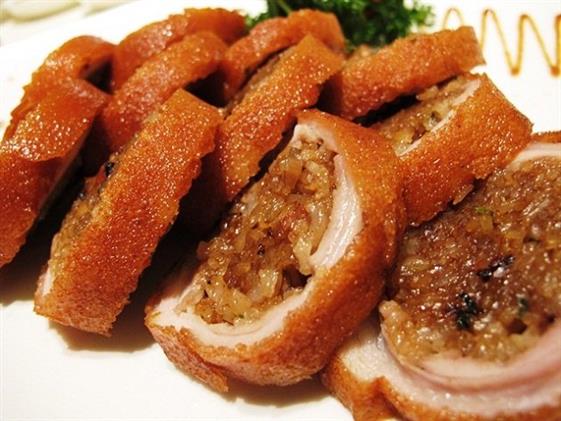 Gush… Sinful Glutinous Rice Suckling Pig
By KF Seetoh - Friday, Sep 07, 2012
So the weekend is in sight. Today is the day you look to reward yourself after a week of school holiday "childcare" duty and toil. Sure, it's more than a duty, it's love. But it sure is tiring – rushing back from work to cook, making sure they attend their play classes and courses, and calling them and taking regular calls to ask and answer the same question "where are you, what you doing?" You pray it's something that does not require your emergency attention.
Phew… So, reward yourself, go sin in style. To be more exacting, $120 worth of gastronomic ambrosia style. If you have that much to blow, then you may want to plonk yourself down comfortably at this restaurant. The Imperial Treasure Restaurant is already known for their stunning Peking Duck (frankly, a lot of such fine Cantonese restaurants do a mean version too), but not many know about their Glutinous Rice Stuffed Suckling Pig.
To begin with, it's twice the price of the duck. Then, you need to place an order 24 hours ahead, at least. What's more, it's at the Marina Bay Sands, where getting up there to the restaurant from the taxi stand, bus stop, MRT or carpark burns off 200 calories (I hope) – before topping up another 1000 ( I think).
The platter comes without the head (with a cherry stuck in the mouth cavity) and tail, but about 18 slices of "terrine" style coins of crispy pork with a layer of meat and fat, and a stuffing of glutinous rice. By way of ingredients, nothing to shout about, but it is the ridiculously tedious method of making that warrants the cost. After all, good manpower is a big problem in Singapore. So this dish is what many Chinese kitchen masters will say "sik kung fu", literally translated as eating craftsmanship.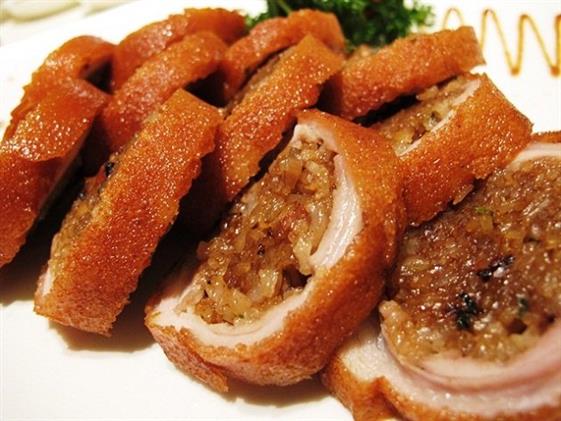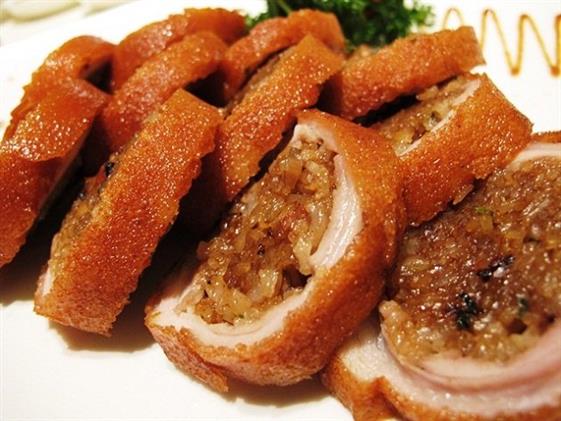 It appears they debone a trotter, leaving just a layer of collagenous fat under the skin, then they aerate and marinate the skin so it will crackle nicely in the oven. Then steamed glutinous rice, with bits of hae bi and mushrooms is stuffed inside, before it is baked. Sounds simple, until you attempt it at home and create a mess – the skin crackling goes all wrong and the meat is too fatty, plus, the rice becomes too hard. And to add salt (to the wound) it falls apart and does not hold.
The result here – is a simple platter where each slice has a 1 cm thick circumference of biscuit cracker-like crispy crackling that's not oily. The little layer of fat and meat is light and merely decoration (to give it a layered look) and it counters so well with the soft (but a tad dry) glutinous rice, like lor mai fun. You dunk it in a sweetish hoisin sauce, devour it and this sin will relief you of the week's headaches, somewhat.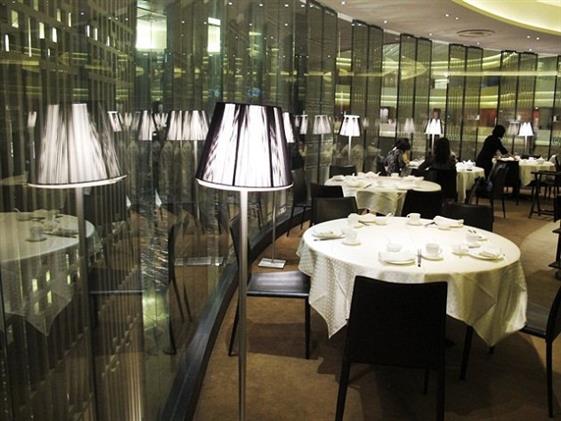 The other dishes are pedestrian and the service, overbearingly corporate friendly and a tad irritating. They ask regularly "how's everything, how do you like the food" – no big deal irritant until they repeat it to every single one at the table. Geez…
Imperial Treasure Fine Chinese Cuisine
Marina Bay Sands, The Shoppes, Atrium 2, L2-04
11.30am-10.30pm (Mon-Fri) 11am-10.30pm (Sun and Public Holidays)
Tel: 6688 7788