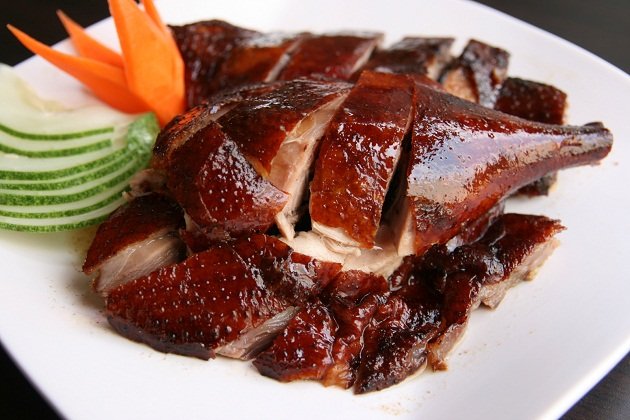 Gutsy Hong Kong Fare On The Cheap
By Catherine Ling - Thursday, May 24, 2012
It looks like a cha chaan teng (tea restaurant) café from Hong Kong, Taiwan or Macau, but the eatery's highlights are robust Cantonese cze cha (Chinese dishes) at affordable prices.
You can be assured of the food's quality as it is run by ever-smiling and laid back celebrity chef, Benson Tong.
An ex-navy soldier who is a self-taught cook, he has appeared in various competitions, television cooking shows and magazines like U—Weekly and his cooking has received various accolades. (2010's Successful Entrepreneur and Singapore 100 Special Commendation in 2008) He even has a weekly guest spot on MediaCorp radio's 100.3FM's Mr Simple (好吃小计划).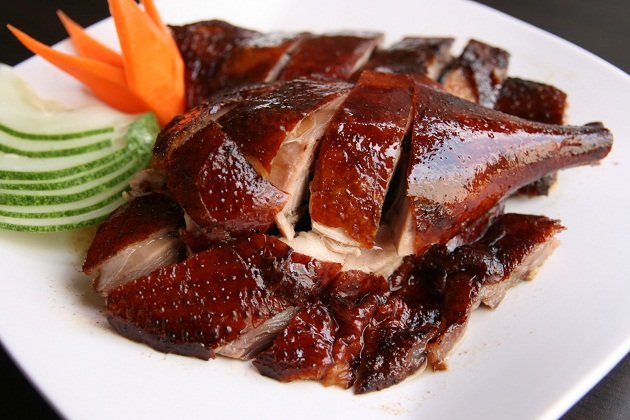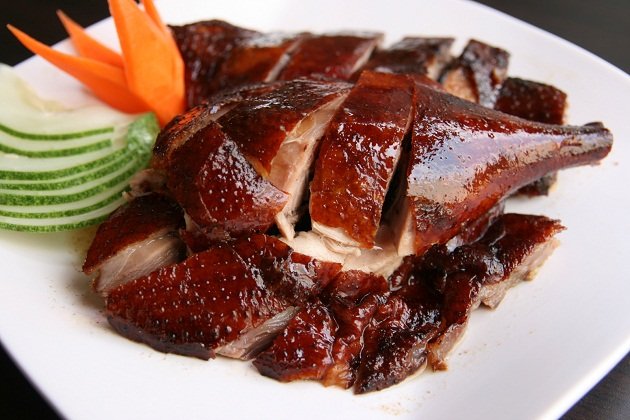 His eatery serves a mixture of Cantonese, cha chaan teng and Western dishes and if you only come here for one dish, it has to be his non-signature Roast Duck (S$14 for quarter duck), which turned out to be a hidden delight for the eating crew.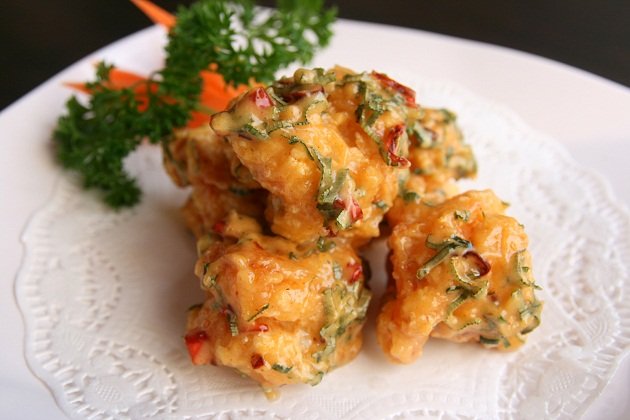 Chef Benson has three signature dishes, the Tang Spicy Coconut Prawn (S$12.90) being one of them. Akin to wasabi prawns, it has a thick coconut cream coating that makes it hard to resist.
His Vinegar Pork Trotters (S$8.90) are not too sour or intense, so those preferring a lighter flavour might like this. A minor downside is that the trotters we had that day had a lot more bone than flesh, hopefully just an oversight for that particular day.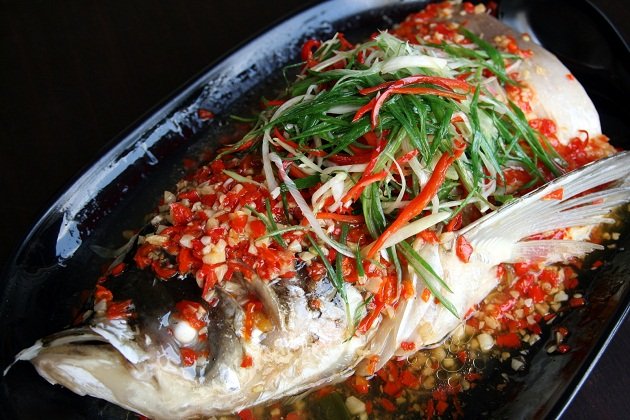 The Steamed Fish Head (S$16.90) is another signature dish. Fresh and perfectly steamed, his portions are big, and even more generous is the fragrant chopped garlic and chilli that comes on top of the fish. The sauce is milder that it looks, with only a hint of plum, but perfectly complements the taste of the fish.
The Tang Spicy Silver Fish (white bait) at $6.90 is also a must-try. Battered and fried to a lovely crisp, the white bait is dusted with powdered dried shrimp, chilli, salt and pepper, making it the perfect accompanying snack for a beer.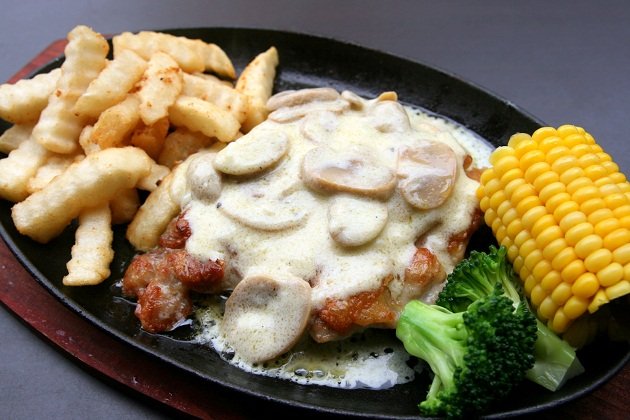 Chef Benson's western dishes are also no slouch. The chicken in his Mushroom Chicken Chop (S$8.60) is perfectly seared and the cheese-based mushroom sauce topping that comes with it has just the right creamy and cheesy overtones.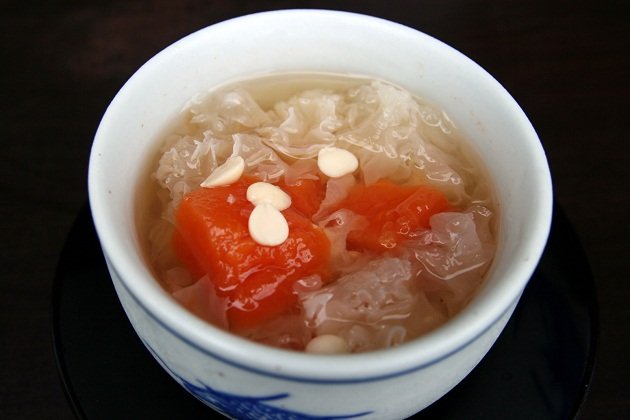 This café also offers a range of Chinese desserts. Chef Benson packs so many ingredients in his Double-boiled Papaya and White Fungus that you'd wish the dish came with a little more syrup, but it is unquestionably value for money at $4.60.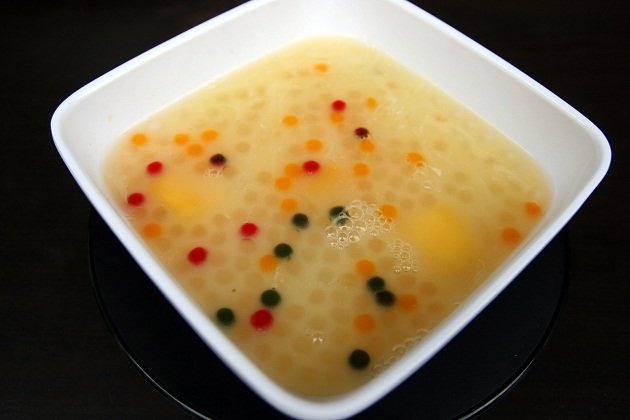 The Mango Pomelo (S$3.60) is pleasant but is a little too sweet and could do with more shaved ice to make it colder. Our eating team gave this feedback, so the dessert may change in future.
Benson and three other chefs rotate to keep the shop open every day. Give them ample notice and they can also do special requests like crab dishes.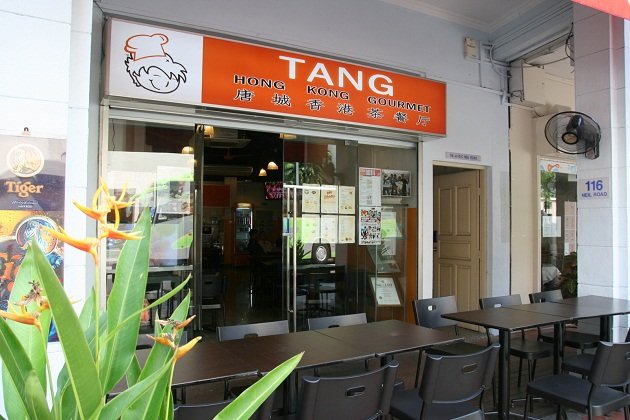 You'd best visit this café soon as the general public is starting to notice it, especially when there are no GST or service charges attached to its already reasonable prices. They were almost fully booked for Mother's Day and expect the crowds to fill in during the weekends soon.
Tang Hong Kong Gourmet
116 Neil Road, Singapore 088853. Open daily 11.30am – 10pm