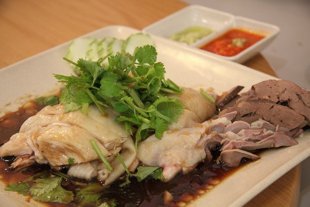 Hainanese Delights Restaurant of Penang
By CK Lam - Thursday, Jun 21, 2012
Back in the day, when most Hainanese migrated to Malaya, the majority of them ended up working as chefs for colonial masters and affluent businessmen. This had a profound impact on the culinary scene in Malaysia, especially in Penang.
One such place that maintains the authenticity of Hainan cuisines while successfully incorporating modern touches to the menu is Hainanese Delights Restaurant. Located in the low rise 1926 Heritage Hotel on the ever bustling Burmah Road, this pork-free restaurant is operated by JP Wong, who is coincidently a Hainanese himself!
The menu here offers a range of well made Hainanese specialties coupled with Western-style dishes. One particular dish that is a signature of Hainanese cuisine is the Macaroni Pie. Most restaurants do not offer this dish anymore; fortunately Hainanese Delights still has it on its menu. The macaroni pie can be declared a true fusion between eastern and western culinary. Various ingredients including macaroni, carrots, mushroom and chicken pieces are cooked in a special sauce, and then baked with a top layer of crust made of meringue. The pie was cooked just right; the crust is soft and crispy on the top yet moist and fluffy underneath!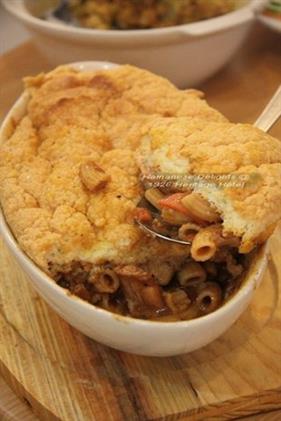 Besides the Macaroni Pie, the restaurant also prepares delightful Chicken Pies. Baked with a beautifully browned crispy crust, the pie is filled with a smooth and creamy mixture of chicken, vegetable and many other ingredients.
Next up is the Braised Lamb with Lady's Fingers; a dish that leans more towards a western taste with a Hainanese touch. The thick pieces of succulent braised lamb are served accompanied by blanched lady's finger. Every mouthful of lamb is flavorful with the braising sauce immersed deep in the meat.
Another dish that is bound to evoke nostalgic memories, especially for the older generations, would be the Hainanese-Style Mushroom Soup. The clear soup is prepared with ingredients of button mushrooms, chicken meat, liver, and gizzard as well as glass noodles.
During the older times, Nyonya and Hainanese cuisines have been quite prevalent in Penang and have intertwined greatly over the years. Thus besides the Hainanese palate, this restaurant also infused certain Nyonya elements and dishes into the menu. A must-try is the deep-fried Hainanese Spring Roll, large sized spring roll with crispy skin filled with strips of turnip, cabbage, Chinese mushroom as well as crab meat. It is a perfect dish to kick off the meal, especially with a bit of Worcester sauce.
On top of that, another dish that has distinct Nyonya influence is the Deep-Fried Marinated Chicken, or commonly known to locals as Inche Kabin! As with the Hainanese Spring Rolls, the chicken dipped in the flavorful Worcester sauce is a dish to savor!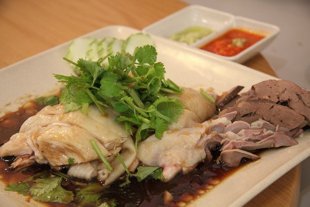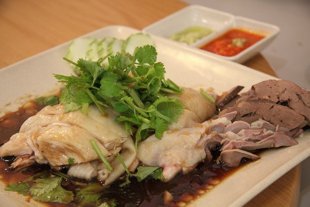 Besides the variety of choices, Hainanese Delights prides itself with serving the ever-famous Hainanese Chicken Rice. The delicately poached chicken and chicken innards were served with fragrant rice cooked in chicken broth, and condiments of minced ginger and spicy chili sauce.
Most of the dishes are a dying breed, and it is great joy that JP Wong strives to maintain them at this restaurant. Along with many other dishes in the menu, they are all worth a try. Hainanese Delights Restaurant is opened daily except for Mondays. Lunch is from 11:30am right through till 3:00pm, while dinner is from 6.00pm till 10:00 pm.
Hainanese Delights Restaurant,
1926 Heritage Hotel, 227 Burma Road, 10050 Penang.
Tel: 04 226 1926