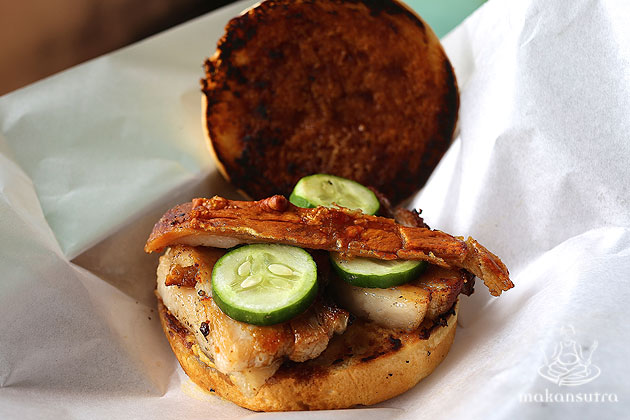 HAMBAOBAO: BURGERS WITH A TWIST
By Cecilia Joven Ong - Wednesday, Dec 03, 2014
Hambaobao, the Chinese word for Hamburger, is a no-frills stall run by a young couple, Ryan, 25 and Claire, 23. This stall is the new kid on the block; in fact, they are the newest stall amidst the other older stalls in this faded food centre at Beauty World Centre, a charming yet almost forgotten old shopping mall in the once buzzing part of Bukit Timah.
Both of them have no related culinary background prior to running this stall. Ryan used to work with Jason's the Grocer for about a year and Claire was a Staff Nurse for 2 years. Ryan first realized his passion for cooking as a teenager, he started by playing with ingredients and experimenting new dishes. They toyed with the thought of going into food business for a good 2 years before they started this burger stall in September 2014. It is their first little step towards a big dream.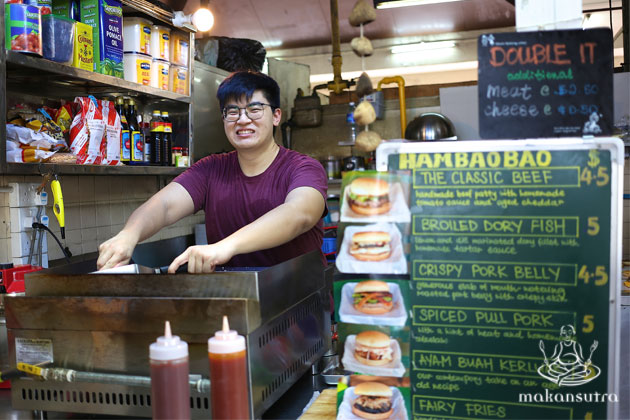 'We value affordability when it comes to food and doing it in a hawker centre or food court style will reduce the overhead costs so we can provide cheaper and better value alternatives for our customers.' Ryan replied when asked about their hawking plans.
Their menu is kept simple with only burgers and fries. There are a total of 5 different types of burgers: The Classic Burger ($4.50), Broiled Dory Fish Burger ($5), Crispy Pork Belly Burger ($4.50), Spiced Pull Pork Burger ($5) and Ayam Buah Keluak ($5). A basic burger is something that almost anyone can make and make well, but getting it right and staying simple with a hint of creativity can be quite challenging.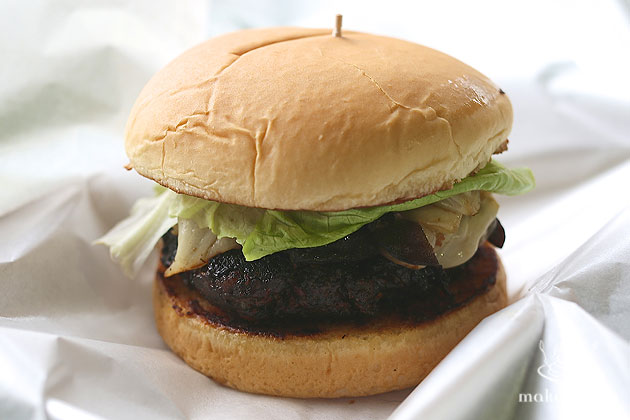 Ryan also talked about the inspiration behind his uniquely created Ayam Buah Keluak Burger and Roast Pork Belly Burger.
'I wanted to transform the very traditional dish that I grew up eating into something contemporary hence the Ayam Buah Keluak Burger. It took about 2 years from thought to product. "
He then continued, "We didn't think of burgers at that point but more of a Roast Meat Shop. When we decided on burgers, we created the Crispy Pork Belly Burger. I took about 6 months to perfect it."
He talked about their openness in accepting customer feedback and he has been adjusting the taste of their burgers to better suit the preference of their customers as part of their ongoing efforts to keep improving.
'Sometimes, we don't need to hear the feedbacks directly from the customers but observing their left over food tells as much." Ryan mentioned.
When asked about his thought on being a hawker, he stated that though it is a tough job but it has been an incredible journey and a worthy one so far. The best part of it is none other that having customers coming back for more as well as it has been an interesting exposure when getting to meet people from different walks of life and making new friends.
I tasted the Ayam Buah Keluak Burger and Crispy Pork Belly Burger. The patties and sauces are handmade to ensure its freshness and quality.
Ayam Buah Keluak Burger was a pleasant surprise despite its unappetizing look. Taste wise; it is rather unique for a burger, with a well-balanced flavor from their homemade spice paste. That comes with bits of buah keluak embedded in the handmade minced chicken patty, topped with Nonya Chap Chye consists of braised cabbage and black fungus, all held together by the soft buns. Such creativity has given a nice twist to a traditional Peranakan dish.
As for the Crispy Pork Belly Burger, the well-marinated roasted pork belly was nicely done to achieve the desired crispiness on the skin leaving the tenderness on the meat. The wasabi mustard sauce though complemented its taste but was a little overwhelming. If you do not like wasabi then this might not be your type of burger or you can choose to omit the sauce. The slices of Japanese cucumber added a nice touch and a refreshing feel.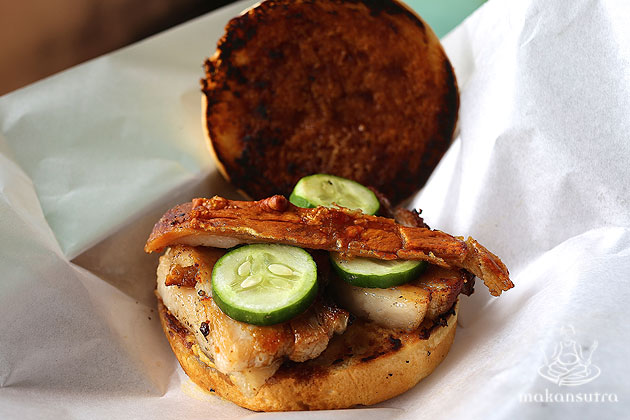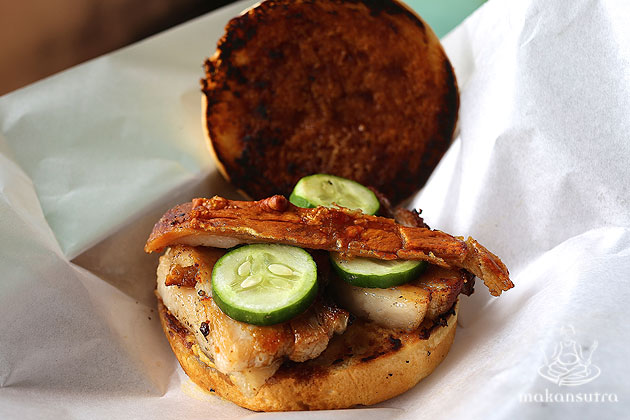 It has been about 2 months since their opening, their burgers may require a bit of fine-tuning to enhancing its taste but they are certainly promising. You can taste the passion there, in the handmade patty, in the homemade sauce, on the buns and nestled next to the freshly cut fries.
HAMBAOBAO
Block 144 Upper Bukit Timah Road #04-49 Beauty World Centre Singapore 588177
Operating Hours: 12 pm to 8 pm (Closed on Monday)