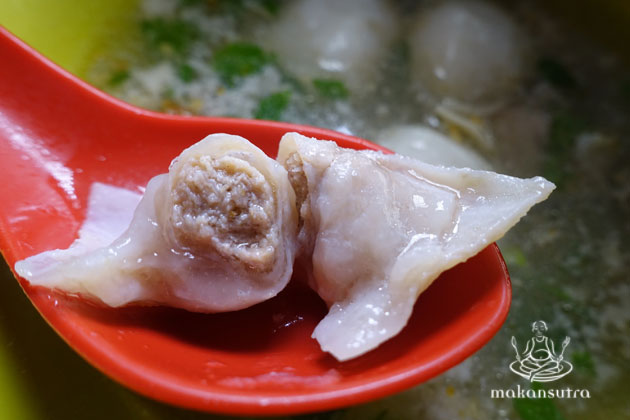 Hand Made Fish Gold Ingots
By KF Seetoh - Wednesday, Oct 28, 2015
The sign says shredded chicken noodle but you won't remember it after you've had a go at their hand made Her Kiao, or fish paste skin dumplings, which will soon go the way of the Tasmanian Tiger. Ah Liang and his wife Doris with the help of their family, makes this little umami bomb each evening after they shutter up for business and understandably, only so many can be made each day. This little Teochew gem had been steadily falling off my makan radar since we first gushed and came across one at the former Aljunied food centre hawker some 17 years ago in our earlier Makansutra food guides. They open only in the wee hours of the morning and now, they are closed for good. There were barely half a dozen of cooks and hawkers that hand make it then. Now, I reckon there's only two left and one of them, in Newtown hawker centre, I sense, uses a supplier who hand makes them in a commercial kitchen. I can't see any equipment on location which is used to make her kiao, which goes with a bowl of fish ball mee pok tah or kway teow mee.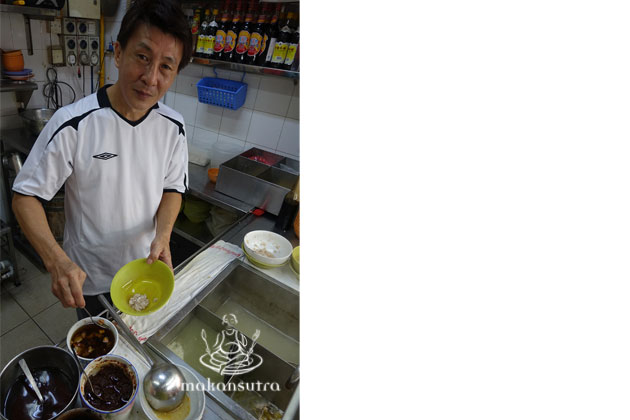 If you think making fish balls are difficult, what with all that fish paste slapping (to get the bouncy texture) plus the art of seasoning and salting it and going through an reverse osmosis process etc.. before artfully hand pressing out one ball at a time through your thumb and index finger, then this makes it look like a walk in the park. Ah Liang took over from his father's push cart fish ball noodle stall over three decades ago in the Macpherson area. They were last roosting in a coffeeshop around Tai Thong Crescent before they nestled here in Toa Payoh four years ago. The first thing that struck me when I first noticed them three years back, was that stack of noodles laid out on the stall front where Doris had to aerate, dry and dust off the extra flour suppliers usually leave in the bag to prevent the noodles from sticking together. This is what diligent mee kia or mee pok hawkers do to ensure it the fish ball mee pok tah comes springy soft and resilient. I also notice the wood bucket sitting below a fish mincer at back of stall.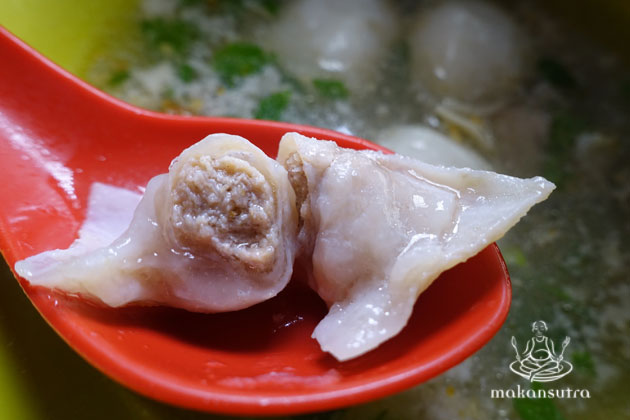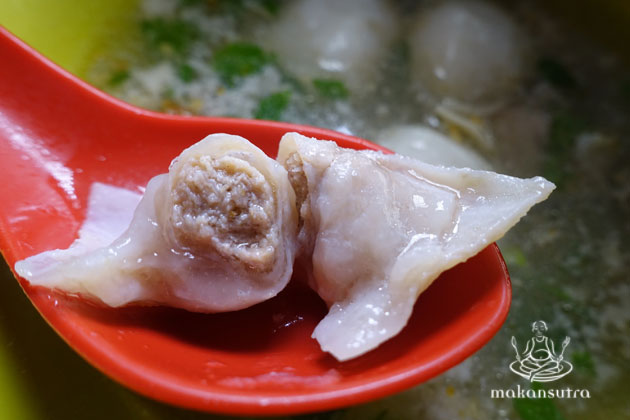 I boldly ask Ah Liang to show me how this rare gem is made and "yes" he replied, but "you cannot tell others how" was his condition. So I can only hint to you that making this little delicacy involves a lot of delicate work. The gossamer thin translucent fish paste skin, to begin with, has to have a perfect resilience or else it cannot hold the minced pork (flavoured with teepo powder or dried sole fish bones) filling tightly. And it was a revelation how and why they folded it to look like gold ingots. They make only a few hundred daily "which is why we only give two pieces per standard order" Doris reminds me. She knows of angry customers who demand a whole bowl of it despite a prominent stall front sign advertising the limit of her kiao you can buy.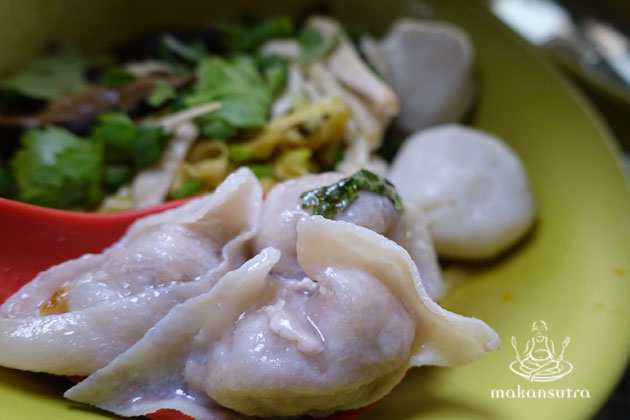 A bowl of their dry chilli noodles come with shredded chicken, mushrooms and a bowl of soup holding their hand made fish balls and two her kiao. It's all nice , spicy , springy and good but all is forgotten when you bear down on the her kiao. It is very unlike the usual factory made suspect- where the flour laden skin encases a lump of dough, egg and fish mince filling.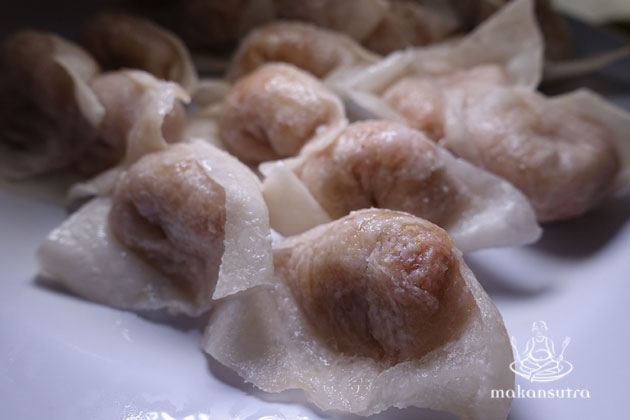 Here's one consolation, "if you want to order in bulk for your parties and festive season, give us ample days of notice" Doris beams.
Lao Sim Shredded Chicken Noodle
02-01, Blk 127, Lor 1, Toa Payoh
7am-1.30pm (close on Monday)