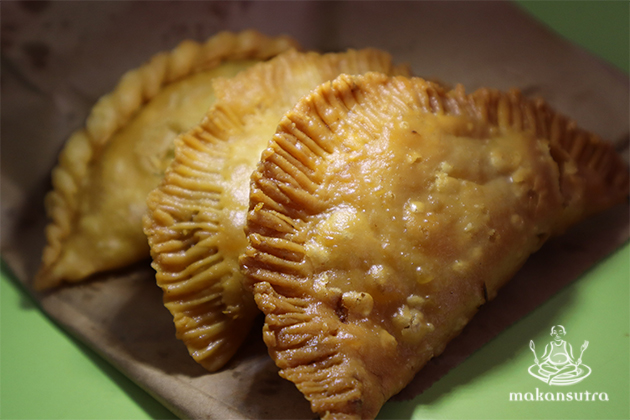 Hand Power Epok Epok
By KF Seetoh - Friday, Sep 28, 2018
Don't get confused, there's curry puff, kali pap, baked curry puff and epok epok. To a connoisseur, they all mean different things. Curry puff is the kind local fast food snack chains dish out- largely sold by Chinese hawkers and cooks. Kali pap is the triangular shaped crusty edge version you see at Indian snack and kopi stalls (a true blue made in Singapore dish) and the baked curry puff is much like a croissant stuffed with spicy potatoes, egg and even chicken. Epok epok, particularly this one, is what I am gushing about today. This is the humble local Malay style and you find them in almost every hawker centre or Malay snack stall.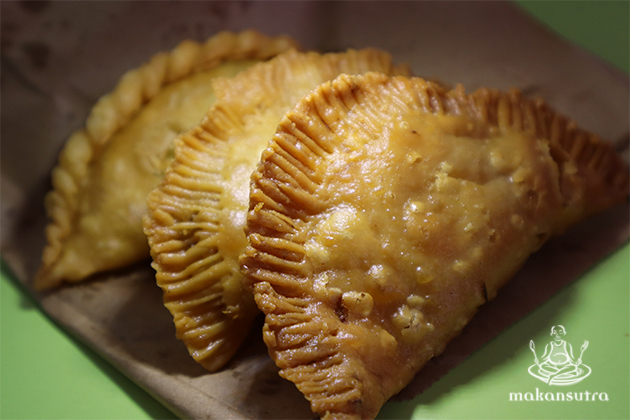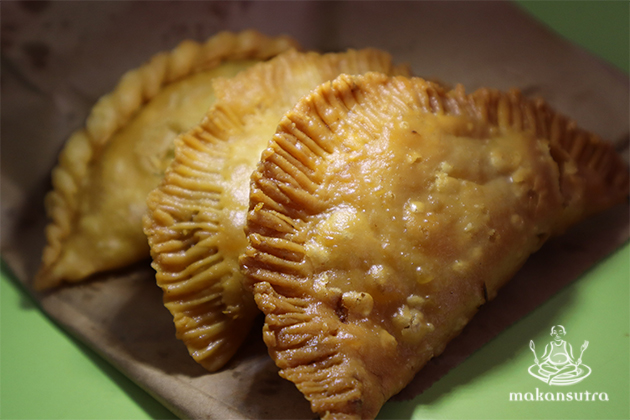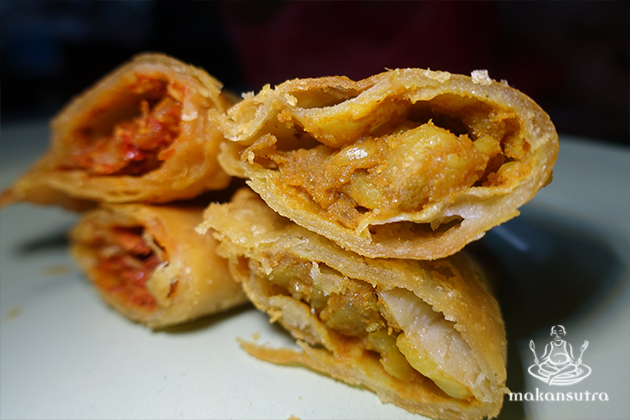 But when I first saw Ibu Yang's version, I just knew it would taste exactly like it looked. Strange, I know, but take a look at the crust, especially the sardines version, and tell me you don't feel a crispy crunch sensation coming on. I took a closer look on my third trip there and had the matriarch Ibu Yang regale more about their tale. "It's my mother's recipe and yes, it's about the crust" she tells me, dolled up proudly like a royalty on hawker centre mode. She is in her early 60's and you can see her and five other staff, patient and undistracted, making each epok epok by hand. Nothing unusual there, until you see them and pinching each fold of the potato version and using a fork to imprint the edge of the sardines epok epok. It comes crispy and crunchy and it's of course a family secret dough recipe and if felt light to the bite. The fillings by now would feel like a second fiddle but no, the sardines version (my favourite here) would stand its own ground, with a savoury mildly spicy tang. Believe me, you would want to take a second one before you turn on to the potato epok epok. It is just as crunchy but the finger pinched edges comes thicker so it feels fuller in the tummy. The potatoes are not overly spicy and it is very comforting overall. Have them paired with teh tarek and you will be devouring a slice of authentic Singapore makan culture.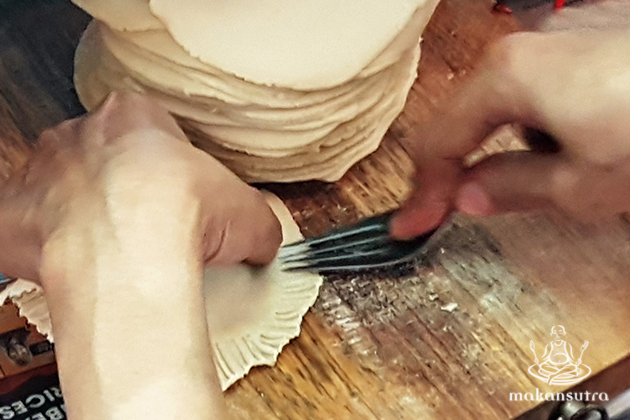 The little stall is manned by at least 6 people, and it is a wonder in today's manpower supply situation. Both Ibu Yang's daughters, her sister, two staff and a part time helper hand makes stacks of the snacks and there is queue for it every evening from 5pm. "The poorer labourers and residents in the area buy them in bulk" and Ibu Yang tells me that is one reason she still hawks them at 50 cents a piece. Then she reminds to also check out her goreng pisang (also 50 cents). Made with a supremely golden crispy and crunchy batter and they use the Kapok bananas, soft enough with a balanced sweet and tangy creamy texture.
Daughter Eda Sinwan who helps out when she's not in school studying Engineering, wondered if she will continue the family business after graduation. And I reminded her, with today's technological advances, machines can replicate accurately at least 70% of the hand work they do each day in the stall. Make it happen Eda, visit food exhibitions and go invent a custom machine to make your family's epok epok, because, it is worth doing so.
Sinaran Cahaya Bedok Corner (Ibu Yang's Epok Epok)
01-04, Bedok Corner Hawker Centre
12pm to 7pm
Closed Mondays