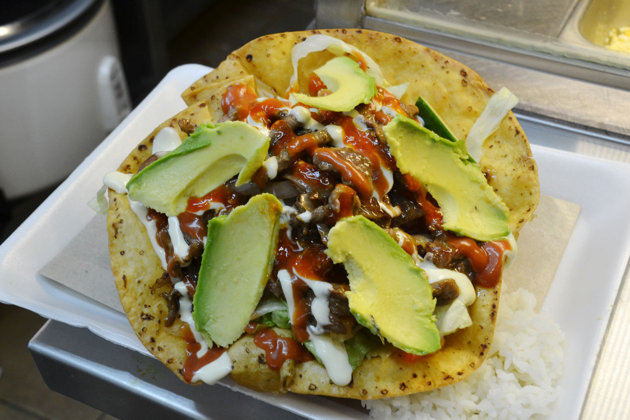 Hawker Hunks and Beauties
By Jade Hu - Thursday, Mar 13, 2014
Hawker hunks, babes and lookers – not something you often look for when you yearn that bowl of bak kut teh each time you hit food centres. But look up, they are here. It just makes people watching when you makan at such places a whole lot more fun and it may be a new hawker centre sports… Who knows? Check out these men and ladies behind your makan… things are more delicious than you can anticipate.
Gilbert Lim @ Ah Ter Teochew Fishball Noodles
Ah Ter Teochew Fishball Noodles, #01-47, Amoy Street Food Centre, 7 Maxwell Road, 7am – 4pm,  5pm – 10pm (Mon to Fri); 7am – 2pm (Sat & Sun)
Gilbert Lim, 40, has not always been selling fishball noodles. He was a trader and also toiled in the construction industry, before teaming up with his father at Amoy Street Food Centre. A third-generation hawker, he is now the face of Ah Ter Teochew Fishball Noodles, named after his father… who is the brains behind the all-important fishballs. Does Gilbert make the fishballs? "It's too tedious," he said with a cheeky yet apologetic smile, "Plus my father can do it so much faster lah!" But he has plans to master it, "I learn things very quickly, so I'm not worried."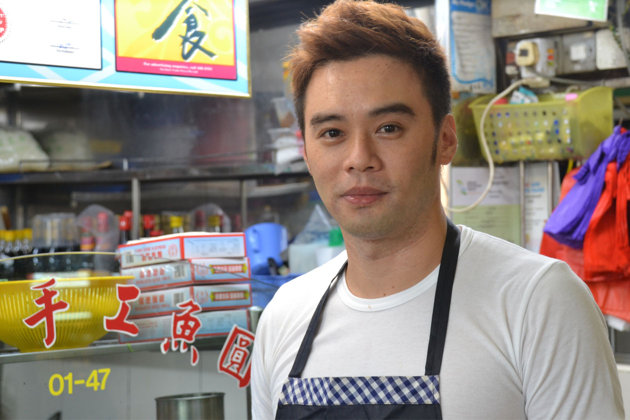 It's not the first time this confident hawker hunk has people asking after his good looks – he is after all The Straits Times' Most Handsome Hawker in 2005's National Day edition. Nine years on, is his charm still drawing the ladies in? He feels that a hawker's looks is secondary, if not totally irrelevant, in terms of attracting customers. "It's really all about the food," he emphasized. Judging from the consistently long lunchtime queues, I'm sure at least a few of them are there for the added bonus of eyeing a handsome chap tossing his noodles…
Lim Kim Bak & Eunice Oh @ Bokky Curry
Bokky Curry, #01-67, Hong Lim Food Centre, 10.30 am- 3.30pm (Closed on Sundays), https://www.facebook.com/bokkycurry
"We were very daring to set up shop here", Lim Kim Bak, 26, said, because there are already two other stalls selling curry in the same food centre. Fresh-faced, bright-eyed and bushy tailed, these folks are bristling with enthusiasm as first-generation hawkers. Bak's lovely 25-year-old wife, Eunice Oh, lends a breath of fresh air to their stall where she helps out at a few days a week, after sending her 3 kids to school in the morning.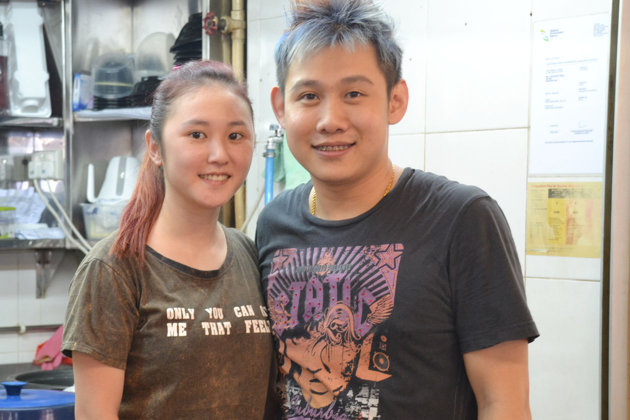 Here, their modus operandi is not to work too much. Nicholas Pang, 32, who is Bak's able assistant, said, "We will close when we finish selling (卖完就关), which is around 3pm. Plus no point staying too long." Bak and Nicholas believe this is key to ensure they don't burn out. Bak and Nicholas also work as part-time agents in the slowing property market, but now, in their spare time, they have decided to become their own bosses at this stall. Bak recalled his first week of opening, having slept only two hours because he ran out of his rempah mixture faster than he expected, and had to keep replenishing. They are starting to get the hang of it and Eunice looks forward to the day where she'll be able to concentrate on taking care of their three boys full time at home.
Cindy Castro Vega @ Mamacitas Authentic Costa Rican Cuisine
Mamacitas Authentic Costa Rican Cuisine, #01-50, Amoy Street Food Centre, 7 Maxwell Road, 8am – 3.30pm daily
She likes throwing parties, baking and cooking. "Why don't you open a restaurant?" is a question Cindy Castro Vega, 35, keeps getting from friends. The opportunity finally presented itself when she came to Singapore on holiday to visit her sister, where she met her future husband, and decided to bring her native cuisine here. This Costa Rican beauty had some foodies wondering what happened to her when she went on a hiatus for a year – she was off taking care of her now 15-month-old child. Being a housewife proved too boring for her, so with her spare energy, she reopened six months ago to fanfare. Being an exotic cuisine proved to be a boon than a bane for her, especially in Amoy Street Food Centre where the lunchtime routinely consists a relatively young office worker crowd with curious palates, one of the main reasons why she didn't want to let go of the stall despite her hiatus.
She said that burritos and Costa Rican-style "fried rice" are popular among locals, but it's really the chalupas that are her specialty. This hot mama with her voluminous ebony hair also supplies Costa Rican cuisine to the Embassy of Costa Rica in Singapore. Feisty and ambitious, she is planning to open at least another stall in the very near future.