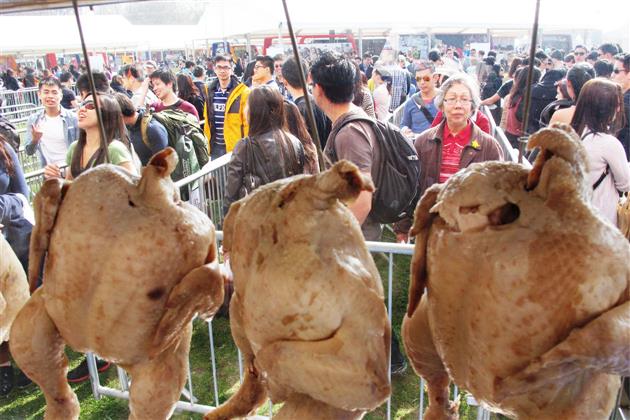 Hawkers Bond at Singapore Day in London
By KF Seetoh - Monday, Apr 07, 2014
They usually brew their stock with ocean caught grey prawn shells but at the Singapore Day event in London last Saturday (at Victoria Park), they were given langoustines, a decadent and sweeter restaurant quality version. So the Ng family did the usual routine and came up with a stock way sweeter than they expected. So was the sample plate of noodles they fried for me to test. It was a disaster and Mr Ng was in a quandary. But some quick thinking on the feet solved it – I knew there were some packs of dried shrimps and pork bones (from our laksa and bak kut teh stall who would gladly help with) that we can tap on.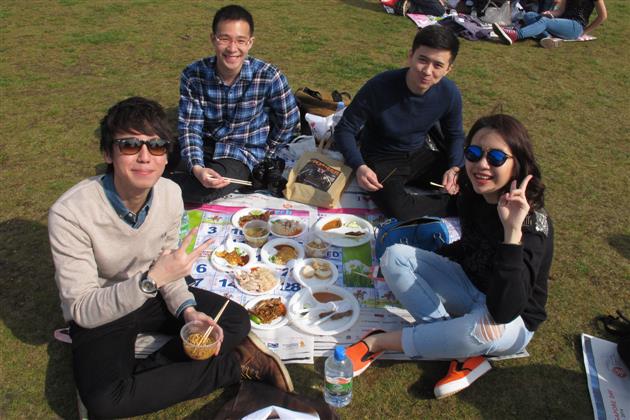 Our Makansutra consultant chef Eric Low suggested enhancing it also with some belacan from their sambal chilli inventory. They tried without question and it worked, and the Come Daily Fried Hokkien Mee stall was back on its feet. It was cooperation and bonding in action, just so every hawker could be at their best that day, especially the first time Singapore Day hawkers.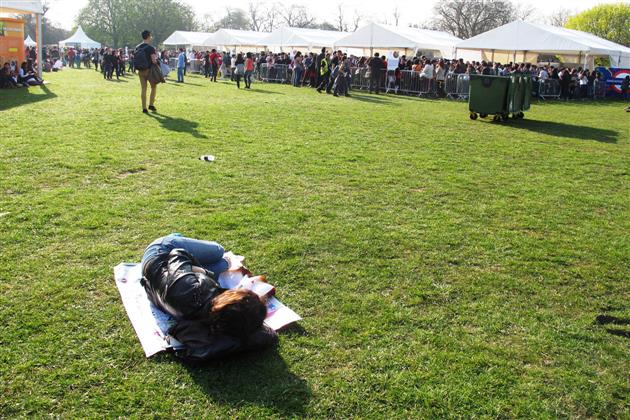 And when the Casuarina Curry roti prata folks ran dry of curry midway through the event (as they had to flip and fry 1,600 rotis on the go), Chef Chris Hooi of Dragon Phoenix Restaurant, who just dished out his last piece of chilli crab, readily volunteered his services with just a sheet of instructions and not enough spices and ingredients. So he improvised with tamarind and tomato paste he had used on his chilli crab sauce – it worked too.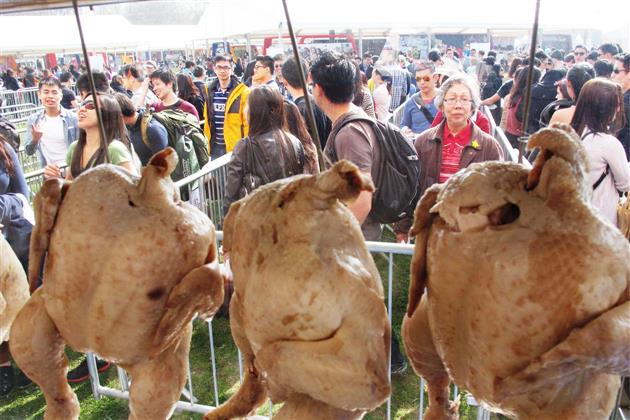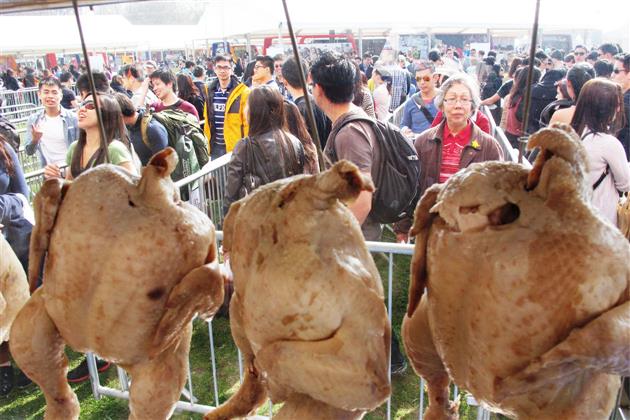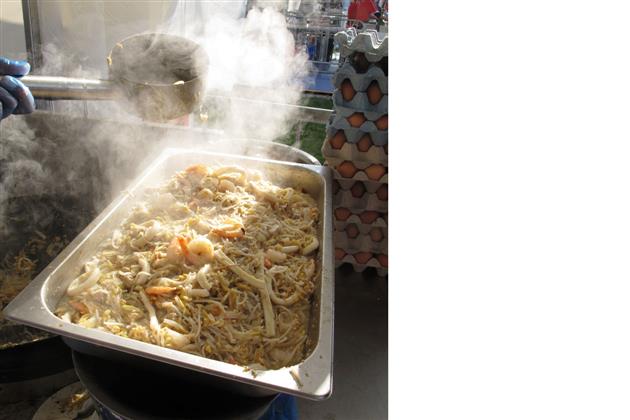 Every cooked item done ahead had to be blast chilled to 3 degrees and checked every hour. Even the noodles, kway teow and chwee kueh had to be chilled before you can use the next day. The sup kambing, soto ayam, stock for the fried Hokkien prawn mee and even the sambal for nasi lemak had to undergo this HACCP (Hazard Analysis and Critical Control Points) process for food safety and hygiene. It was the rules set by the London health and hygiene officer (who's not completely familiar with hawker fare) and diligently practised by the Singaporean counterpart. It was like getting artisanal hawker food cooked in a factory format for Singapore Airlines passengers. Hence, some interesting problems ensued. It seemed they were applying football rules to a table tennis game. The chwee kueh came out frozen, ditto the kway teow for char kway teow plus the carrot cake – which could turn out disastrous too if not thawed or warmed up properly. So the experienced Singapore Day hawkers among them swooped in with a "use the combi oven steam function, don't waste time with wok steamer" advise. It worked like a charm.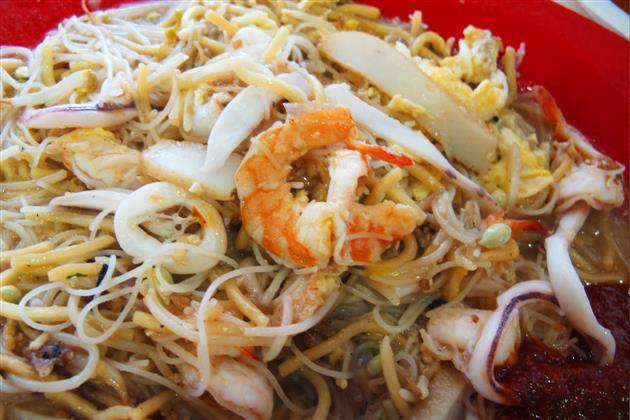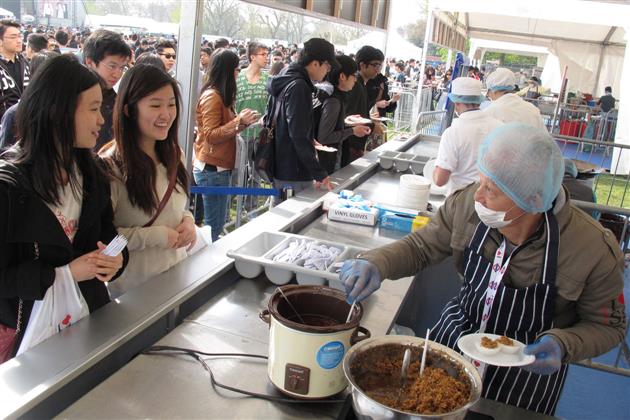 Then, a huge pot of Ariff Abdul Jabbar's sup kambing (from MA Deen Biasa at Jalan Sultan) was deemed unfit for consumption all because he missed out on recording the temperature for an hour in the blast chiller. The Singapore hygiene officer wanted to throw it away. But the experienced Sam of Alhambra Satay, came to the rescue. He knew Ariff would slip on his hourly temperature checks so he recorded it on his behalf and informed the officer. Ariff's peppery sup kambing indeed, hit the spot.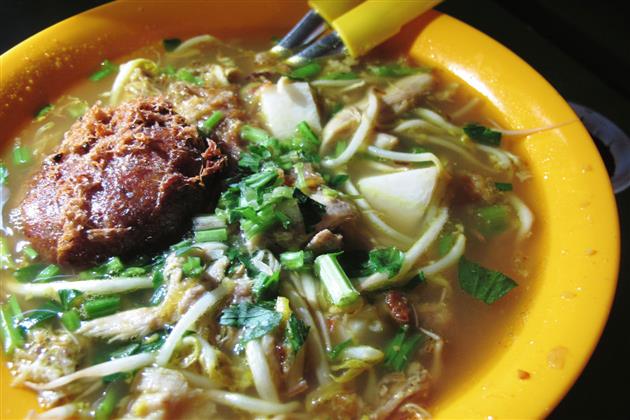 If given a chance, I am sure all hawkers in any food centre can readily bond like this too. It would be a great statement on our people and the food culture.
These are the first time hawkers at last week's Singapore Day.
Come Daily Fried Hokkien Prawn Mee
Blk 127, Toa Payoh Lor 1, #02-27
Hours: 8am – 2.30pm, closed on Mondays
Chwee Kueh
#02-142, Bukit Timah Food Centre
116, Upper Bukit Timah Road
Hours: 6am – 11pm, daily
M.A Deen Biasa
95-97, Jalan Sultan
Hours: 12pm – 4am daily
Selamat Datang Soto Ayam
2 Adam Road
Stall 9, Adam Road Food Centre
Hours: 8am -10pm, closed on Wednesdays