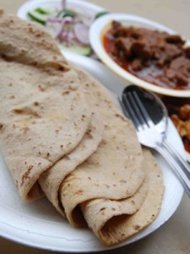 Healthy Kway Chap anyone?
By KF Seetoh - Sunday, Sep 04, 2011
So again, there's this discussion and discourse over healthy and healthier food in our hawker centres. A food centre in the west is leading the charge as urged by the authorities. So it's less sugar, less salt, less oils, less or better carbs.. say the government and public health watchdogs. It's a good idea, yet not quite so.
Firstly, it'll be damning to the famous food reputation Singapore has soulfully built over the years. The absolute variety and quality is amazing, compared to many parts in the world. There's stuff for the warriors of longevity and those who live for the moment and considers this place a foodie paradise. Everyone in Singapore is a food critic, cynical or otherwise. Even simpleton cleaners I met in China know of our Hainan Ji Fan (Singapore Hainan Chicken Rice).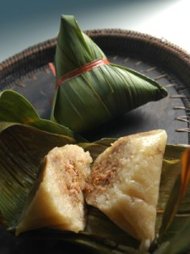 Secondly, it'll be strange if food that was not originally designed for the weight watchers club alumni, suddenly turns it in with low fat milk curry fish head or brown rice bak chang. Yikes. But I agreed that you are what you eat yet you must eat what you are and healthier options never did anyone any harm. Moderation and knowledge is the key, not blind following of a makan edict. I am sure you have met fat vegetarians. It is not about turning our food centres into a healthy food paradise (some call hell) but really about knowing what you are eating. Want healthy?- stay with rice porridge with steamed fish at the teochew muay stall, double boiled or mixed seafood soup with lots of leaves sans rice and good old mee pok tah (just ask to avoid the lard and crackling). Embracing gluttony? – well, you know just what will please at a hawker centre.
In our food centres, it's all about variety and we are spoilt for choice, some don't even know just how good things are here. So imagine these fascinating and strange scenarios if our hawker centres and food courts should all be about health: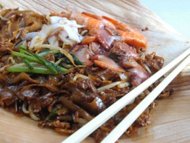 The Cha Kway Teow chap now has to use brown rice kway teow and ramen (no longer the yellow noodles with that naughty-naughty egg yolks in them). And blood cockles, which in some personal dictionary means : hepatitis, will be banned. Only approved low cholesterol egg whites can be used and fish sauce has to be of a brand that has no sodium (like they exists at all!). You are advised to request for oysters instead of seehum, so the perceived aphrodisiac effect can help up our low birth rate which helps fix our need for too much foreign talents.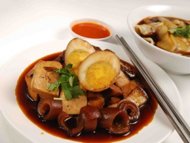 And Kway Chap… what am I talking about, forget it! It'll be banned soon.
As for Nasi Lemak or literally, "Rich Rice", a hybrid milk using no fat milk with coconut water and fancy sea salt from Spain can only be used for the steaming of rice. The otah and the chicken must only be grilled with pricey volcano lava rock grills (as charcoal spells carcinogenic).So more so than ever, it'll now become a rice for the rich.
And now for our national Chicken Rice..only plain rice is to be used, soup must be boiled only with skinny bones and breast meat is de-rigeur with no skin nor soul. And get this, they all must be blended into a puree and drunk., so it helps digestion, and the whole porridge congee is served as a salad sauce over cucumbers and lettuce. No self-serve salty black soy sauce nor sesame oiled ginger sauce
On another note, there indeed are healthier ways, in fact, I call them "logical stems" to many of our well loved dishes.
I have once eaten at a stall (one in East Coast area) where they cooked fish curry with yoghurt and lime. Think about it, that use yoghurt and lime with the curry masala eliminates the need for the not so friendly coconut milk and tamarind. The shop have since closed, perhaps because many think yoghurt and masala don't gel. Wrong.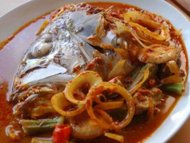 More hawkers should sell the traditional Teochew chai po cha kway teow, made with good wok hei and flavoured with a dash of fish sauce and chai po (preserved radish bits) with garlic, beansprouts and greens with prawns.. Currently, you find them only in good Teochew restaurants.
If you by now, you fear roti prata, with it's oil and ghee, then start making dates with chapatti. Its made sans a drop of oil and the vegetarian dhal uses no milk, just a masala mix with vegetables and water.
Add a "siew dai" (less sugar) suffix to every beverage you order and start hitting fresh juices, instead of soft drinks.
Finally, eat like how our (now former) Minister Mentor advises- fill up to only 70% at every meal.