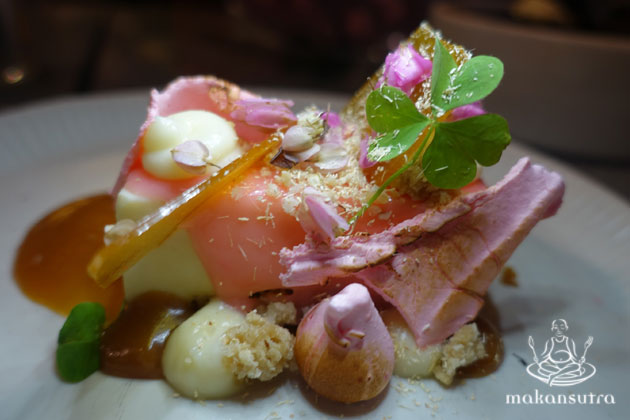 Hey Handsome
By KF Seetoh - Monday, Oct 03, 2016
We ordered everything on the menu- in one meal. I don't recall ever doing this before. And the reason- this is one of the hottest restaurant in Manila currently. Plus the fact that the Filipino owners and chefs are all specialising in Singapor-esque chow and many have not been to this little red dot of ours. I am a believer of change but only if you have a respect and sense of heritage and history, so you move in the right direction, knowing where it came from. Truffle and foie gras dim sum does nothing for me except inflate the bill but egg and pulled coffee ribs waffle-wich is something I want to try at the mere mention of it as its about egg, ham and bread with coffee.
There were only 12 things in the food menu plus some interesting drinks I will go back for again- like the Donkey Punch (lemongrass with galangal tea 130pesos or about SGD3.80). But what I was impressed with was the desire in these foreign Gen Y cooks and chefs (many of them culinary university trained) to take on a "thinking chef's heritage menu" of Singapore. I've seen and experienced how multi Michelin star chef jean George Vongerichten did so at his Spice Market restaurant and now, at this cutesy named Hey Handsome restaurant in Manila. Owner Nicco Santos says it's how he remembered guys calling each other when he studied in Singapore.
I'll rip the flavours, texture and thoughts behind some of the plates for you.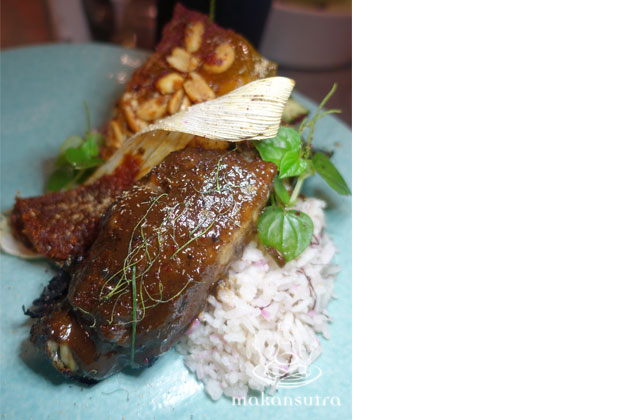 Nasi Lemak– a sambal seared seabass sits atop light coconut rice with a fancy ikan bilis brittle, pickled egg and sambal. You can kind of taste what I am saying here. A great take on the classic and a good justification the 720pesos (about SGD20) price tag. Can you imagine nasi lemak with sambal stingray with ikan bilis rempeyek. Someone, do this!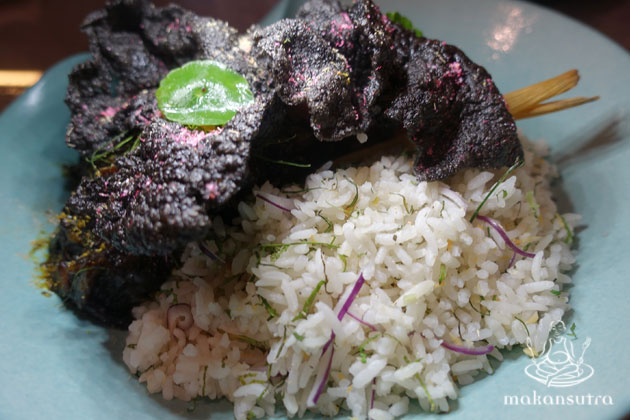 Buah Keluak (640pesos, SGD18.80) – they do a lamb buak keluak with nasi ulam and a charcoal keropok. It was teasing and tantalising at the same time. I would've loved more heat in the sambal buah keluak and more herbs in the nasi, but not all folks in Manila have our kind heat in the palate.
Fried Egg Salad (250pesos, SGD7.35) – It sounds and looks like not much, but this was the fastest to go from serve to finish. It's just fried egg, with ground sausage with herbs and greens piled on. I think this is a take on the Thai Pad Krapow with egg sans the rice. It was very hard to move on from this dish.
Soft Soft Tofu (280pesos, SGD8.20) – Simply Chinese style tofu with century egg. There are many versions- the Beijing cold cut style, three egg spinach in supreme broth or done as a chawanmushi. They do it ala tahu telor style- tofu, egg and century egg chunks deep fried in a mold and feathered with bonito flakes. Adorably delectable.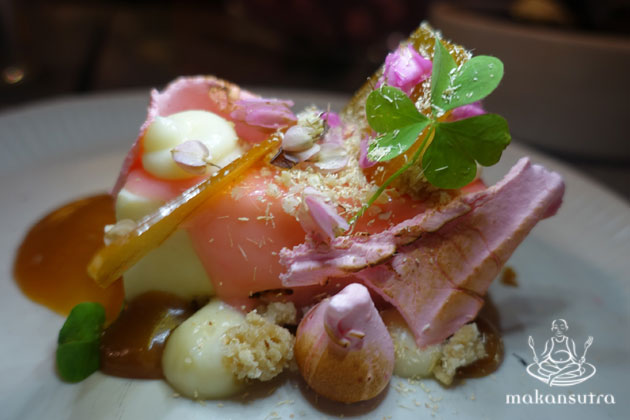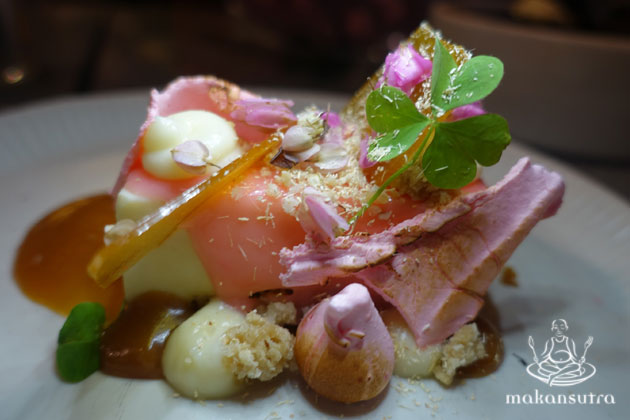 Kueh Lengkuas (220pesos, SGD6.40) – dessert with galangal infusion, coconut and rose accents. This one missed me by a mile, but that's just me. My dining buddies however, mopped it up like it was liquid gold on a street. It was like a trifle of sorts, with rose flavoured cakes and creams with bits of this and that (it was not terribly memorable for me, remember).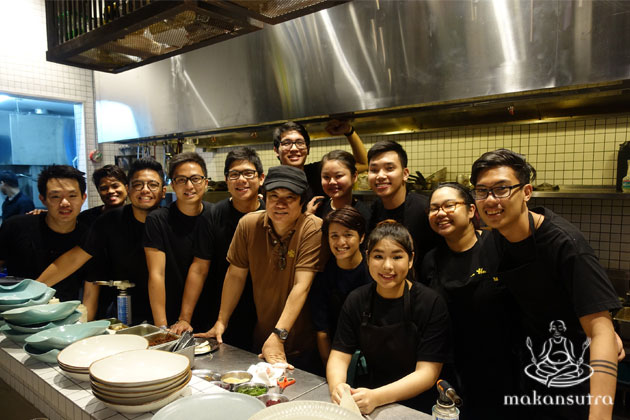 I can only hope there is a new breed of thinking heritage chefs in Singapore who will relook and reinvent heritage flavours of their kind. I see it in some menus like from the CreatureS restaurant folks, but we need more- thinking chefs. Otherwise, head overseas for it.
Hey Handsome
Ground Floor, Net Park Building,
5th Avenue, Bonifacio Global City, Taguig City
Manila , Philippines
6pm-10pm daily
Tel: +63929463815