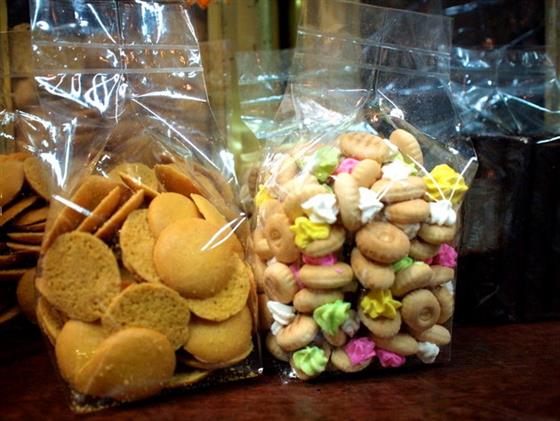 High Tech Place, Old School Bites
By Hong Xinyi - Tuesday, Apr 16, 2013
Fusionopolis may be a high-tech research and development hub, but one small corner in this cutting edge development is devoted to nostalgia for simpler times. Cousins Ken and Norman Quek opened snackshop Munch Munch here last year, and recently unveiled another branch in Chinatown Point. Their mission: To remind people of the charms of old-school tidbits.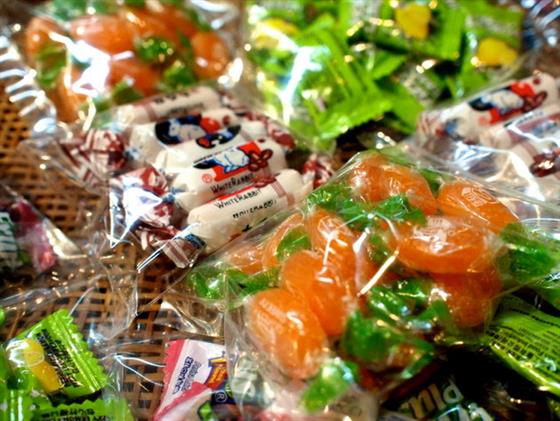 Munch Munch stocks about 60-70 types of biscuits and 20 types of sweets, most of which can only be found nowadays in a dwindling number of mama shops and wet markets. Examples include White Rabbit milk candy, Ice Gems, and telinga kecil (also known as ear biscuits). While these munchies are displayed in the Fusionopolis outlet in old-school biscuit tins, they are packaged for sale in smaller quantities that typically cost about $2 per bag.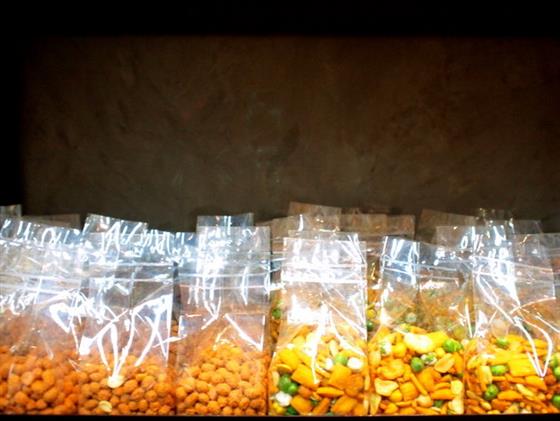 The shops also carry old-fashioned games like spinning tops, and decorative props like a vintage scooter and Ken Quek's grandmother's weathered sewing machine and suitcase add to the retro vibe. Shoppers browse while listening to the musical stylings of crooners like Cai Qin and Elvis Presley. The Queks even went so far as to order and install an old-fashioned metal grille to the Fusionopolis storefront.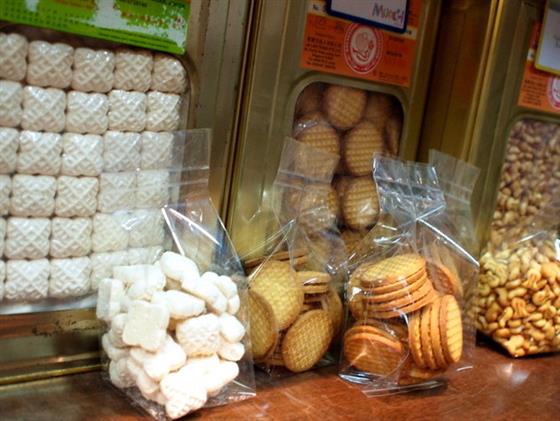 Ken, 31, says he wanted to come up with an interesting retail concept that would attract attention. "Singapore is so metropolitan now, and old-school things are disappearing. I tend to be sentimental, and I thought of selling the snacks that I liked when I was younger, the things that I missed." The stores' locations at Fusionopolis and Chinatown Point are intended to appeal to office workers, many of whom surely share Quek's memories of snacking on these retro tidbits. Food options are plentiful in these areas, but Quek was confident that his wares would have a unique appeal. "We get tired of eating burgers all the time. These snacks are things that are close to Asian hearts, and I believe people enjoy a variety of options."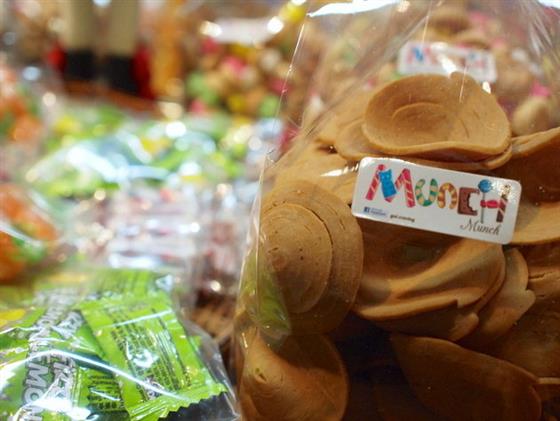 In addition to the PMEB crowd, Munch Munch has also attracted the attention of other types of clients. In August last year, Quek was invited to man a pop-up shop at luxury fashion brand's exhibition, held at the old Tanjong Pagar Railway Station. Munch Munch has also provided snacks for events organised by statutory boards and private corporations, and provides party flavours for parties and weddings. In addition, to spread the word, Quek also likes to set up stands at events like roadshows when opportunities arise. "I don't do much marketing," he says. "But once people find out about us, they usually like what we do."

There is a museum-like quality to Munch Munch, which has snacks that hail from a more austere time, like the minimalist roti kok (essentially crunchy toasted bread). Older customers sometimes also share stories about the alternative names and stories behind some of these snacks. There's a type of dense, slightly savoury cracker that's known as both butterfly biscuit and mouse ear biscuit. The first name arose because these crackers used to be sold stuck together, and this shape was reminiscent of a butterfly. Later on, they were sold as separate pieces, and their round shapes earned them the nickname of mouse ears. Another type of crumbly, buttery biscuit is known as husband and wife biscuits, because of their half-spherical shapes. When you put two of these biscuits together, they form a perfect whole – that's the kind of old romance sorely lacking from a contemporary bag of potato chips.