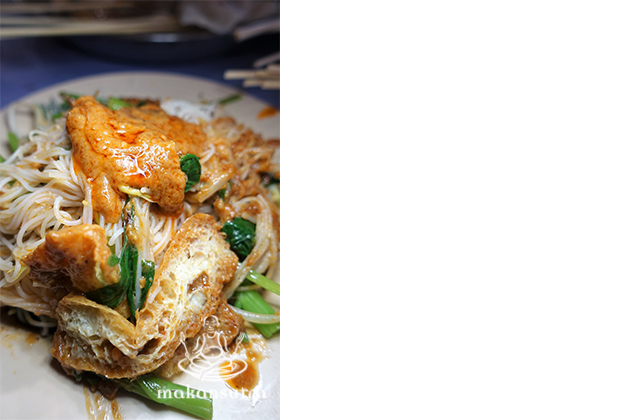 Hock Leng Satay Beehoon: The last Lok Lok Hawker
By KF Seetoh - Friday, Mar 16, 2018
Satay blanch blanch, that's what it's really called when translated to English. But I think I will stick to the traditional name Satay Lok Lok, and this is known to be the last such hawker stall in Singapore and I have to give it due respect for the pleasure this 50 plus year old stall had given us. This Teochew dish has roots in Indonesia and Chaozhou in China. Many moons ago, they sailed to Indonesia seeking better fortunes but many could not cut it so, they returned, but with new found flavours. They called the satay sauce Sha Cha Jiang (literally Sand Tea Sauce) in Chaozhou and make it with noodles and beef balls. But with the Teochews in Singapore and Malaysia, it's a different engagement with this satay sauce. Of course we dip it with satay skewers and more uniquely, it's turned into a skewers hot pot dish. Various cuts and slices of meats, vegetables, seafood, mushroom, meat balls and tubers are skewered, cooked in hot pot and dunked in a Chinese style satay sauce, punctuated with five spices and rich seafood stock. In Malacca, you cook them directly in satay sauce but the sauce will burn a pot base if you don't stir it constantly and control the heat. They have servers that do it for you. In labour starved Singapore, its DIY and you boil them in soup.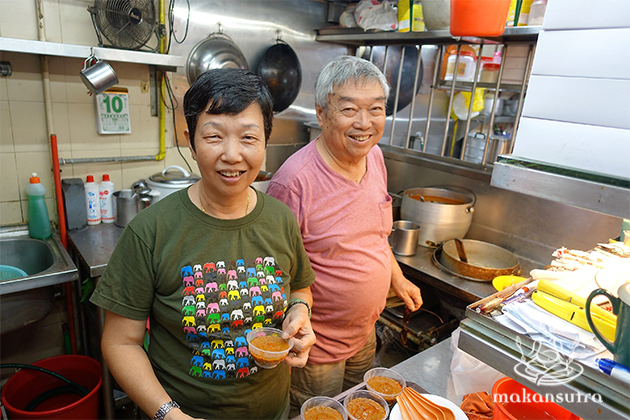 Mr Hay Choo Seng and his wife had been hawking this street food icon for over 50 years in the Old Airport Road vicinity and today, if they chose to exit and retire, the last Satay Lok Lok hawker will be no more in Singapore. "No one wants to takeover and this is very tough work", he tells me as if this is something of a new phenomenon among ageing hawkers here. They hand skewer over a thousand sticks of various ingredients each day, which is why this ageing hawker takes 3 days off a week "to rest".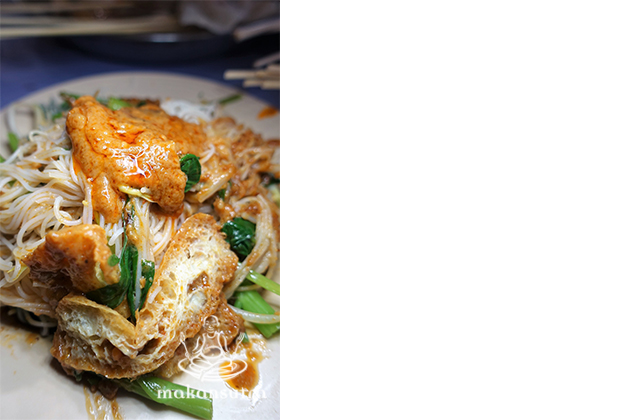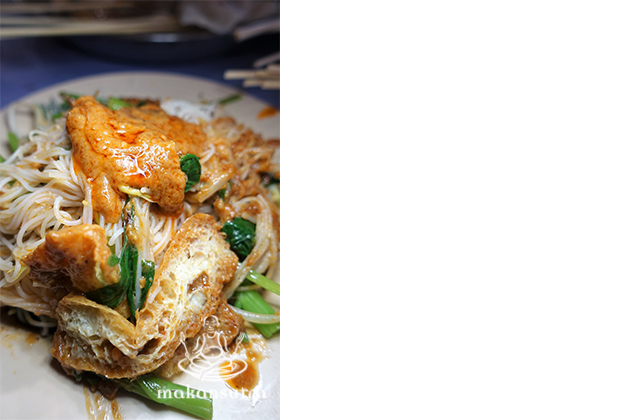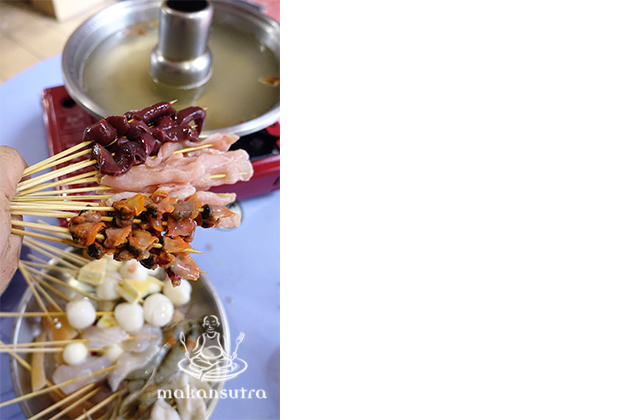 I ordered the medium set at $25 (good for 3 hungry tummies) and 2 plates of satay beehoon. I could tell just how distinctly they set themselves apart from the buffet style satay lok lok restaurants- first and most importantly, was the sauce- it had soft hints of heat, and was a very savoury, thick and rich. The genius was the accents of teepo or dried and roasted sole fish bones. Magnificent. Then came the ingredients- all 15 items came fresh. They had fish and meat ball, fish, liver, pork, cockles, fish tofu, prawns, fish dumpling, cuttlefish, crab sticks, mushrooms, quail eggs and kangkkong vegetables. The bonus was the satay beehoon, a simple platter of blanch beehoon with towgay and taupok slathered in that glorious satay sauce.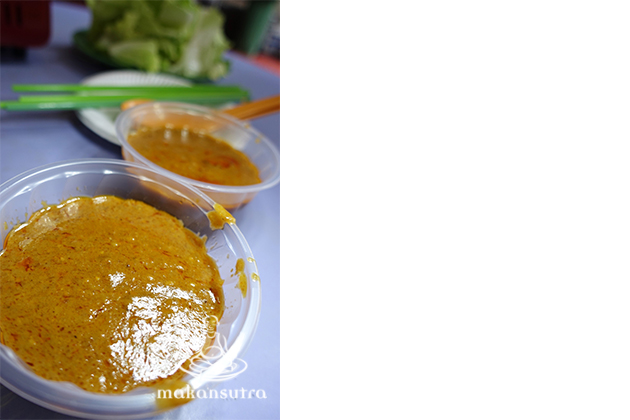 Take your time when you are enjoying this. Cook them thoroughly and devour one skewer at a time plus wash them down with teow her (fishing, or Chinese tea), kopi-o or a fresh sour soup drink. Remember, you are experiencing a slice of our heritage food culture, the least you can do is enjoy it.
Hock Leng Satay Beehoon
#01-141, Old Airport Road Food Centre
4pm-9pm
Closed Monday, Tuesday and Wednesday