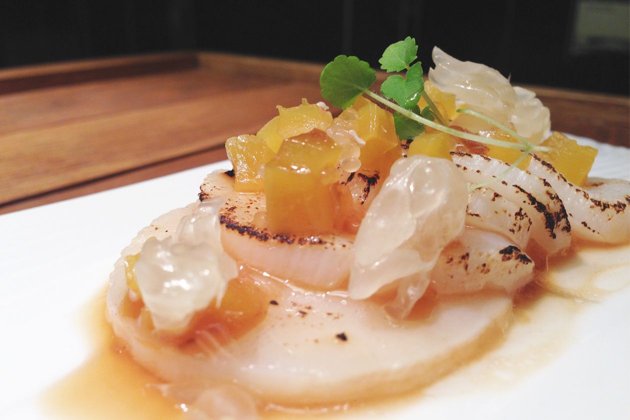 Hokkaido Scallops
By Text by KF Seetoh & Jade Hu (Recipe by Chef Laurent Peugeot & Images by LP+Tetsu) - Wednesday, Feb 12, 2014
One dish stood out when we checked out LP+Tetsu's new menu recently – the seared scallops with Japanese pickled daikon and pomelo with Seiichi vinaigrette. It floored us with the simplicity of the whole approach. Nothing fancy or molecular about it, just a great idea executed simply well. The bits of Japanese pickled daikon with pockets of pomelo grains did a nice balancing act with the scallops yet took nothing away from the sweetness of the shellfish. The vinaigrette lent a light tang to the equation that was served beautifully on a black slate.
So we cajoled the brains behind this charming makan cove to part with his recipe, and Chef Laurent Peugeot obliged so graciously. We need more chefs like him in our midst.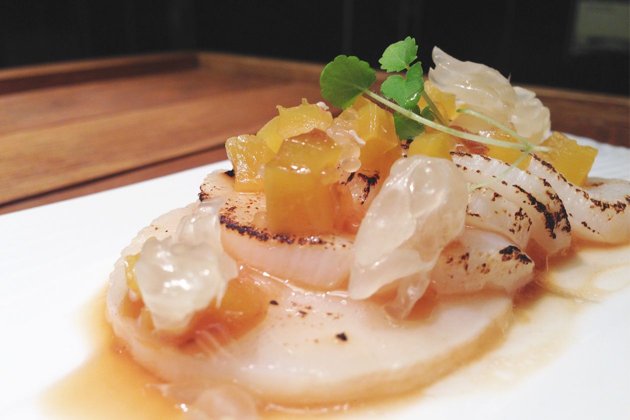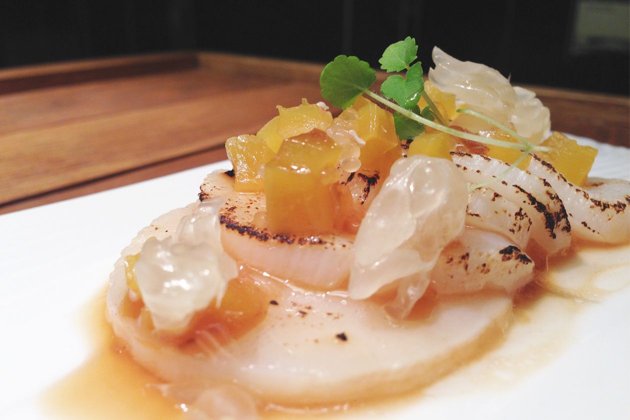 Ingredients (Serves one)
Hokkaido Scallop 1 pc
Rock Sea Salt 110 g
White Peppercorns 60 g
Sugar 68 g
Scallop preparation:
1) Marinate scallops with salt, pepper and sugar for 30 minutes.
2) Wash under cold water and pat dry.
Seiichi Vinaigrette
Soya sauce 50 ml
Sake 10 ml
Shallot (minced) 1 pc
Olive oil 60 ml
Sugar 60 g
Red wine vinegar 30 ml
Seiichii Vinaigrette preparation:
1) Heat vinegar, sake, soya and sugar in a small pot until sugar has dissolved.
2) Slowly whisk in olive oil.
Method:
1) Marinate the scallop for 2 hours in the vinaigrette.
2) Slice the scallop thinly and put on a plate.
3) Baste with seiichi vinaigrette and sear the top part of scallop using a blow torch.
4) Top it with diced Japanese pickled daikon and fresh pomelo to finish. Garnish with sprigs of red atsina leaves.