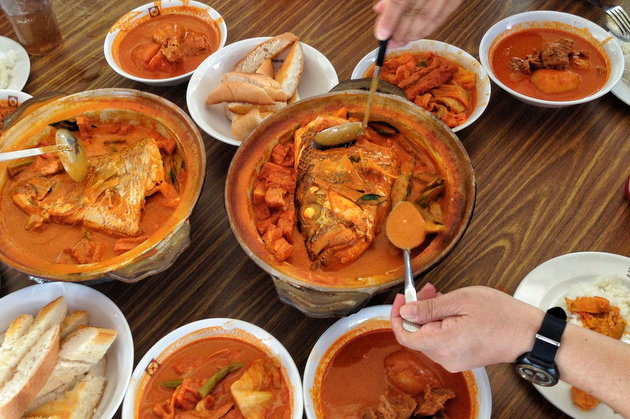 Homemade Curry Comeback
By Text by Tiantianchi & Images by Mark Ong @ Makansutra - Wednesday, Sep 25, 2013
We've always loved the curry from Na Na Homemade Curry. It is not often you see a food stall that focuses entirely on curries, especially a Chinese version at that. They are known especially for their curry fish head even though there is a selection of meats to choose from such as fish cuts (for those who can't handle eyes in their food), mutton, pork ribs, chicken and even a mixed vegetable version ($3 for mixed vegetables, $4 for meat, $6 for fish meat). In so many ways, these folks are rare and unique to us.
They do not rely on store bought curry powders that tend to give it a rough, powdery taste and texture, but instead blend and hammer out their own rempah and masala. It yields a distinct richness and smoothness. They use the same base rempah for all their curries, yet it finishes differently for each of them. The fork tender mutton and pork ribs come scrumptious and meatier, chicken curry has a pronounced silkiness and the mixed vegetable curry is gentler in terms of taste and texture.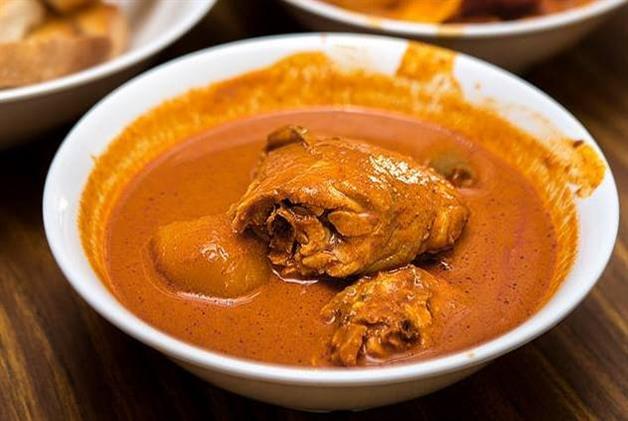 The best-selling curry fish head ($30 for a whole head) is served hot with the gravy still bubbling in a claypot. This is a full, one dish meal with vegetables such as ladies finger, tomatoes (for a touch of tanginess) and cabbages thrown in. There are even pieces of taupok (beancurd puff, the Chinese curry trademark) and slices of yam that provides body and added flavour. The secret weapon in the curry is the addition of white pepper corns. Just Like what this will do to a pig stomach soup- provides sting and punch that bring about a satisfying sensation, a warmed stomach and yet is not piercingly spicy.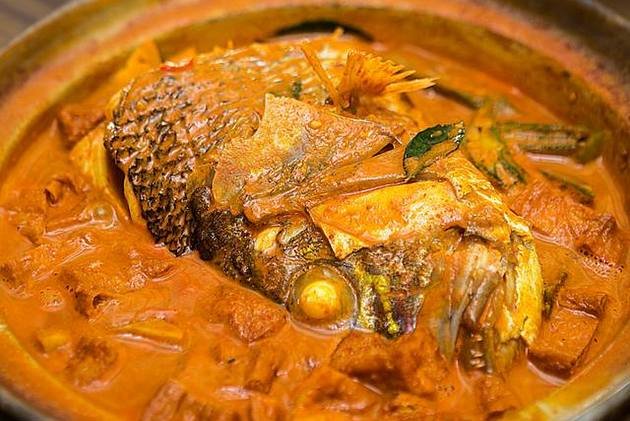 Nana was founded in 1989 by Mdm Tan Ah Kim, a Nonya who was already making a name for herself among friends and families with her culinary skills, specially her curries. With the encouragement from the children and their support, they set up that first shop at the defunct Marina South food court. It was an instant hit.
Within a short period, word spread and popularity soared. Despite the less than convenient location, they came in droves, from white, blue to no collar folks, even at lunch. They stood in the humidity, patiently waited for a portion and tore in like it was cooked by their mummies. Na Na is also credited to be the first serving up curries with toasted baguette, something done more at home than at such outlets. Again, it was a hit – dip, nomnom… dip, nomnom. Yummy. They left when operation and maintenance fees skyrocketed. The landlords replaced them with another curry stall but it was not the same, and the crowds could tell.
They moved to a couple of locations before settling at Amara Shopping Centre Food Court. It was good news to their regulars – it was in the CBD area and delivered in air-con comfort. Business was good and they decided to expand into central kitchen operations which catered to their own needs and hawkers who ordered from them. The matriarch Mdm Tan, together with three of the five sons, took charge and the recipe is kept within the family. Fourth son Yap Hock Guan together with his wife, Mdm Chai Mee Yoke and elder sister Mdm Yap Lay Kim took care of the stall. Third son, Yap Hock Hua and wife opened another stall at Ghim Moh hawker centre under the name of Li Xiang.
Unfortunately after spending many good years here, they had to move again when the Amara Shopping Centre underwent a complete makeover. (The current curry house at the new shopping mall using the name Na Na, is not related to them).
When we visited them at the food court of Fusionopolis last year, we were a little puzzled when they served the curry with a bowl of plain chicken broth. We were told that many of the newer customers, the foreign professionals cannot handle the signature fire in the curry, yet like it. So they toned down just a notch here and even resorted to offering a plain soup to offset the spiciness. They also lost many of the old regulars due to the inaccessibility of the location (before the One North MRT station was built). They left the food court a few months back after a renovation and hike in rentals.
Now, for the first time, they've moved to a heartland location and the buzz is back so are the old regulars and some folks from the nearby universities. And to attract younger audiences, they even offer curry ramen and udon and the response has been good.
We revisited them recently and were happy to report that they are back in the original game, but with a slightly weaker punch in the rempah. This seems to placate a newer, more gentle flock of curry lovers. While we understand that this is a business decision but hope they can make space for those who show up and ask for the "original punch" or perhaps with differing degrees of spiciness just like how they do buffalo wings in those joints. In the meantime, if you miss that sting, go tell them you want it like the good old days and put some pressure on their lids to rethink it.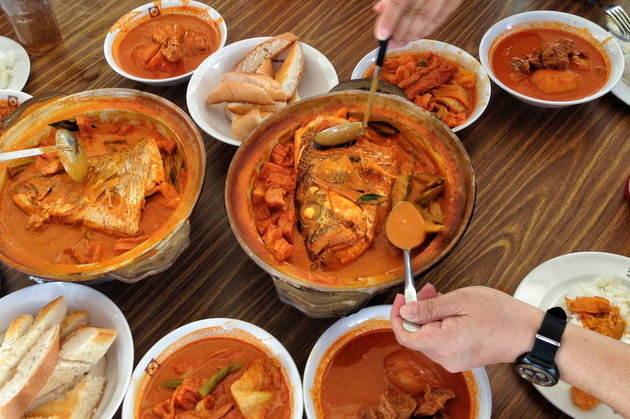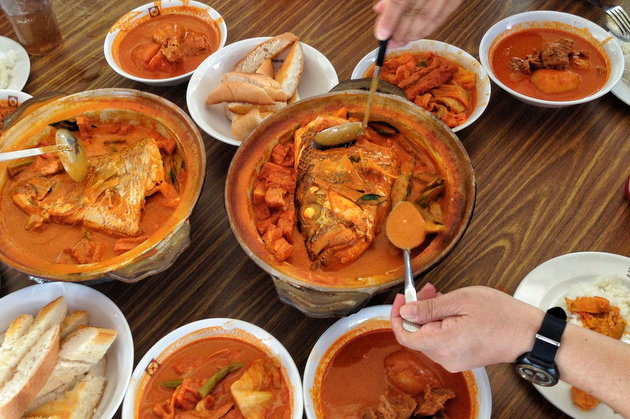 Na Na Homemade Curry 南南家咖哩 Blk 34 Dover Road #01-159 Hours: 10.30am-7.30pm (Closed on alt Sundays)