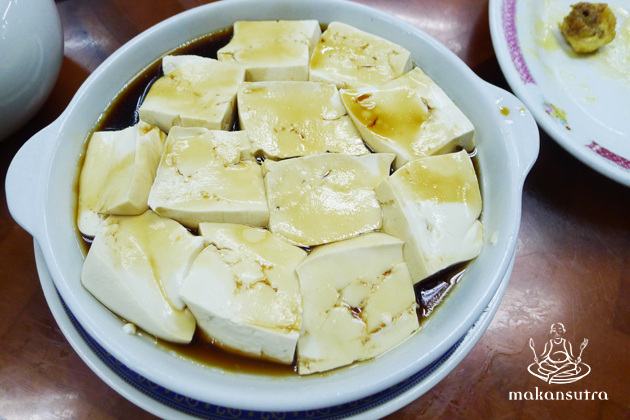 Hong Kong Eating: Off the Tourist Food Traps
By Chan Arne - Thursday, Mar 26, 2015
Hipsters relish every opportunity to go off the beaten track, and for those who are seeking something beyond eggs benedict, Tai O, a little-known fishing village in Hong Kong is the place to go.  You will need half a day away for this journey and meal experience then pack home some of their belacan.
The journey in Tai O must start in a shed, with two old and incredibly grumpy men making arguably the world's best glutinous rice ball or mochi ( 糯米糍 ) . Every component is made in-house, and early birds can get them with red bean paste filling.  Those who sleep in and shuffle in later will have to settle for second prize,- a sophisticated filling of dessicated coconut, roasted peanuts and ginger.  The muah chee is nipped by hand around the filling, just thin enough to keep everything in. Crucially, it never sticks to the mouth, making it a very fragrant, fluffy and addictive ball.  I'm sure the Michelin fatty would agree with me on this one, the glutinous rice ball alone is "worth this special journey".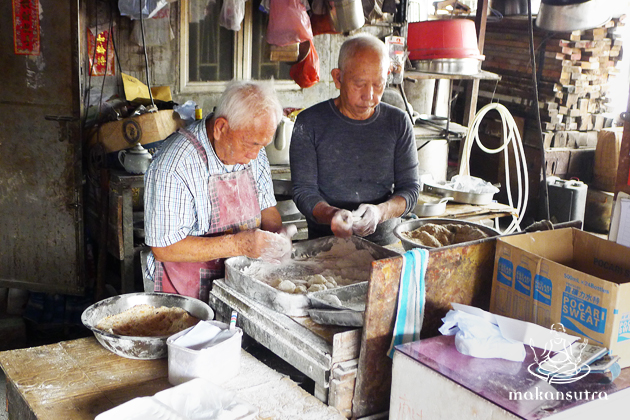 Tai O is renowned for their stunning salted egg yolk dishes and their version of belachan, and then,  there's a place that sells tofu to die for.   However, you need to be as fit as a fiddle to reach the tofu temple.  At the end of a seemingly endless lane, turn right and you will find 海韻素食菜館 ( Hoi Wan Vegetarian Restaurant). Ostensibly, it is a vegetarian restaurant, but strangely, they offer Poached Chicken  ( 白斩鸡 ) .Perhaps chickens in Hong Kong are wildly different from those sold in Singapore, over there, the texture is firmer but never tough.  Before the vegetarians crurl up in disgust, it's just that this place offer a separate vegetarian menu, so the meat loving foodies are not left out. .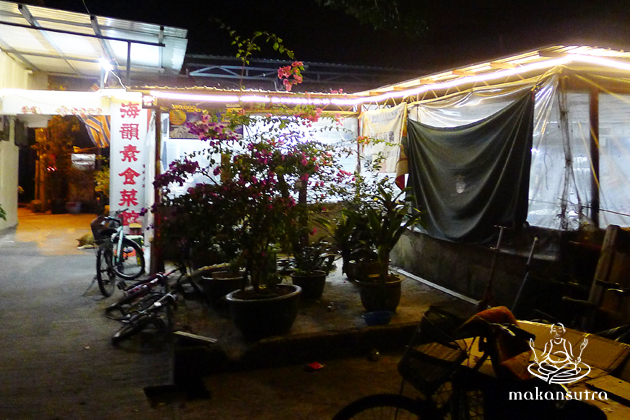 To appease the animal lovers, Hoi Wan does an absolutely brilliant vegetarian chicken.  Unlike the disgustingly greasy fried gluten lumps we usually associate with this dish, a firm tofu is used to mimic the texture of chicken and it's done beautifully. It shames all other versions I've had to date. Po Lin Monastery has many rave reviews about their vegetarian fare, but Hoi Wan makes their food appear pedestrian.  The waiter then informs us that the smoky scent wafting from the dish is not 'wok hei' alone, but the 'yin fun mei' (smoky aroma) imparted onto the tofu during its production.  Those making the pilgrimage to this tofu temple will not be faulted for initially believing the tofu is burnt. The waiter tells us that 80% of their diners have that impression.
The steamed tofu with simple soy sauce reminded us of why this tofu restaurant is in a league of their own.  Such a simple dish would normally be served with a variety of garnishes, but here, you simply get..just that, tofu and soy sauce.  The simplicity of the dish is exactly what makes it sensational.  The smokiness of the tofu is beckoning and the soy sauce is like a black wine, a perfect accompaniment to a perfectly created tofu.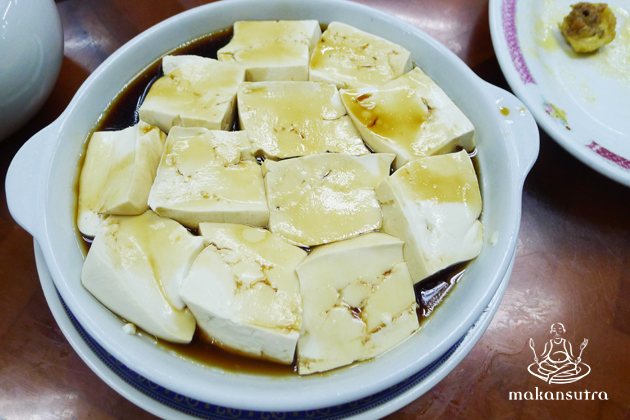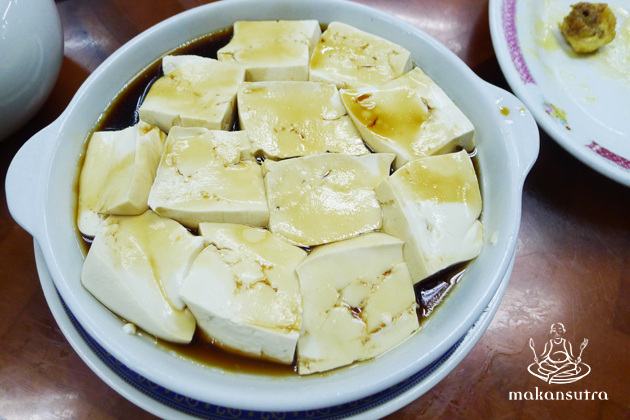 For those who seek to bring a chunk of Tai O home, consider flying a block of the local belachan home too.  While Cheong Choi Kee has received significant publicity, the best belachan, like many things in Tai O, is found in quieter areas of the island.  Sing Lee is the go to belachan brand for the locals, and it isn't hard to see why- it's like a block of umami.  The belachan is savoury yet intense. The savoury sweetness of the shrimp makes this a natural MSG. According to the boss, the best way to use the belachan is to mix chunks into minced meat and steam.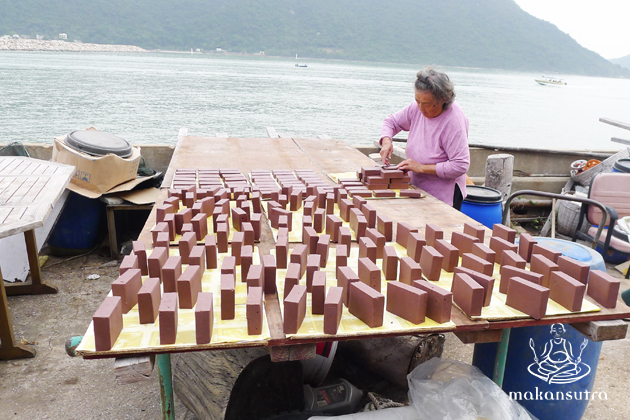 Someone then suggested that the belachan can be mixed into water to season the pork, to which the owners retorted, "If you do that, you would have wasted all my efforts.  Look at my skin, all weathered to give you a dry block of belachan with that intensity of flavour.", she felt insulted but there was no anger in her voice and everyone understood the pride and passion she held for the belachan she makes. This is old school passion.
This off the beaten track culinary journey has its appeal. Just leave the touristy corners and avenues, seek out these real local hangouts and your trip becomes a meaningful journey of exploration. In this case, very humble belachan changed my trip to Hong Kong.