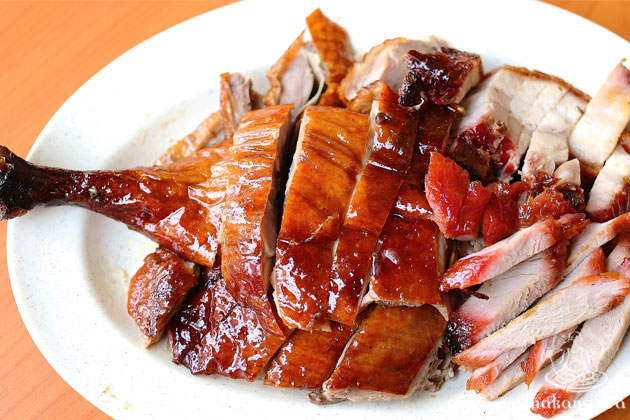 HONG KONG JIN TIAN IS BACK! (香港锦田)
By Cecilia Joven Ong - Friday, Aug 15, 2014
Not so long ago, we bid adieu to one of the best arp geok pao (Duck Leg Wrap) and roast meats in Singapore, but now, they are back. The Hong Kong Jin Tian ( 香港 锦 田 ) , a popular eatery serving authentic Hong Kong style roast meat along Eng Hoon Street in Tiong Bahru that closed on 27 April 2014 is back, at Zion Road. The eatery opened its door again on 15 July 2014. These folks took over the vacated Nasi Padang River Valley shop lot.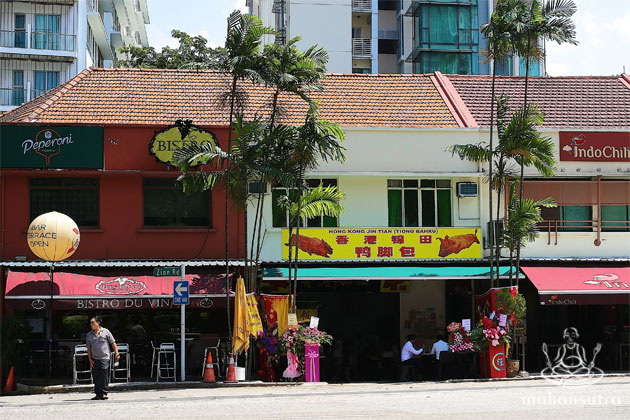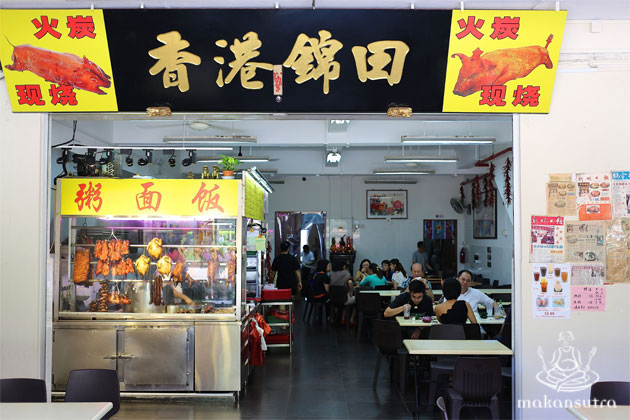 Owner Mr Yip Kwok Ching, 59 and his wife, Mrs Yip moved from Hong Kong to Singapore about 28 years ago, are currently running the shop with their 2 sons.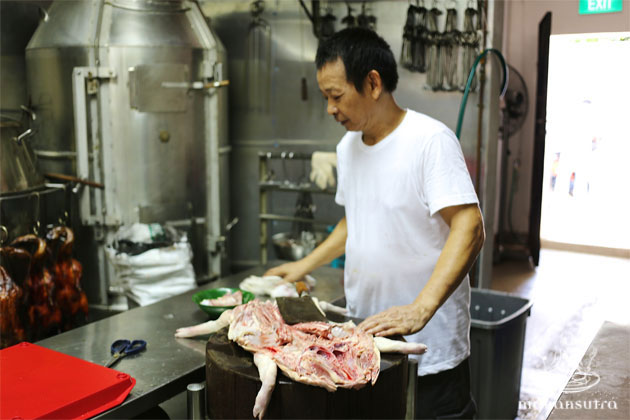 They had to leave their original spot in Tiong Bahru due to rental increases, so my obvious question to the owners was why, when the rentals here is just as, if not higher than before (the main reason the nasi padang folks left). Qi Xian mentioned that their current rental is $1,000 more than their old shop in Tiong Bahru but he said, 'We are not allowed to use the kitchen there so we were forced to leave and to take up this shop.'
When asked why did they choose this current location? Mrs Yip answered in her heavily Cantonese accent Chinese, "This place is closer to Tiong Bahru, it would be easier for our old customers to patronize us again." About a week into their opening, business is still a little slow particularly in the morning as there are no breakfast crowds here as compared to before.
Mrs Yip also talked about the raising costs in running their business. She mentioned that the cost of their specially blended five spices powder; which is a part of the seasoning for their roasted duck is twice as much as compared to those readily available ones. She talked about the difference in costs when selecting better grade raw ingredients from a trusted source. She also talked about the difficulties in hiring locals as no one has responded to their recruitment advertisements.
We talked about her decision to revive their roast meat business. She said, "This has never been my decision, as I bear in mind the high operating costs, but my sons wanted to continue the business as they have already mastered the required skills to carry on the trade." She said that the shop is registered under her sons and that she and husband are merely helping out.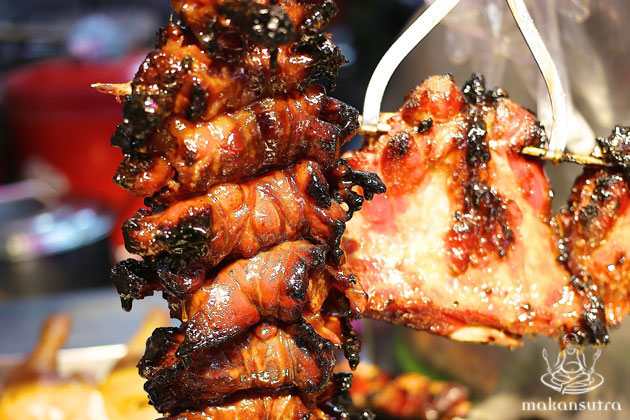 Their specialty, the fondly missed 'Duck Leg Wrap' or pao (directly translated from 鸭 脚包 ) is $2.80 per piece now. She said it is not commonly available in Singapore and Hong Kong now though it used to be a popular dish in the 1970s and 1980s. This delicacy consists of a duck's foot with a piece of yam in the centre surrounded by a slice of pig liver, fatty pork meat and char siew bundled together using pig intestine then barbequed in their special sweet sauce.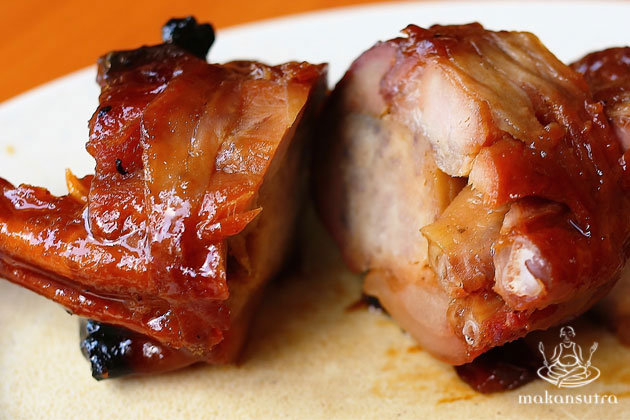 We ordered a hindquarter of roasted duck, Duck Leg Wrap, Char Siew, Sio Bak, a plate of rice and a plate of noodle for a total of $22.00. You can choose either rice or noodle to go with the affordably priced roasted meats. The roasted duck was impressively done to give the skin a noticeable crispiness and the desired tenderness right within. The Char Siew and Sio Bak might have left an equally good impression only if it has been chopped uniformly into chunky pieces. As for the duck leg wrap , I could not fully appreciate this unique taste.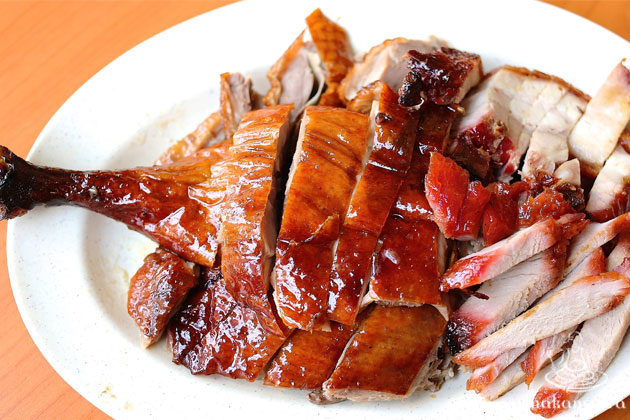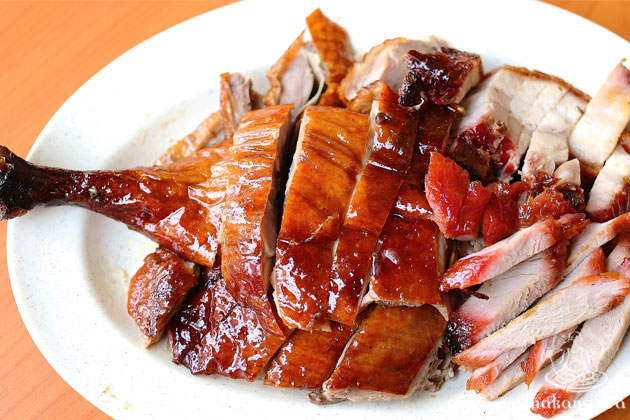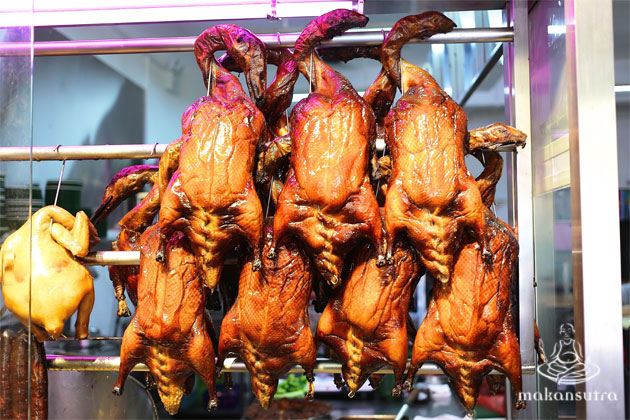 I can sense her pride when Mrs Yip said, "We serve our foods with our hearts and that's what made it tastes so good!".
HONG KONG JIN TIAN
55 Zion Road Singapore 247780
7 am to 8 pm (Daily)
Also read: Bye Bye, Arp Geok Pao?