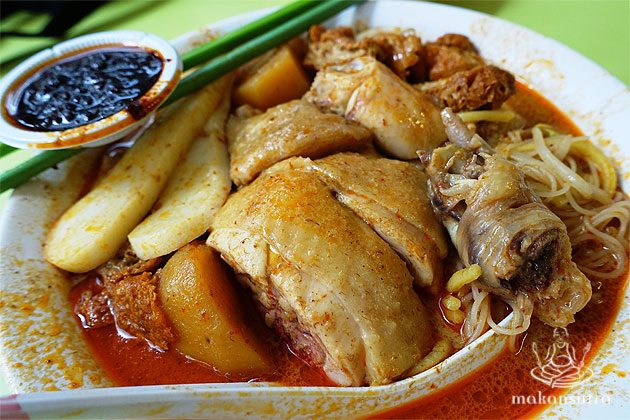 Hong Lim Food Centre: Die Die Must Try, before they soon retire.
By KF Seetoh - Monday, Sep 29, 2014
It's been a year to the week since Tay Khang Huat's father passed on and left their iconic curry chicken noodle business to him and his mother. Naturally, I enquired and his mother Mdm Theng Pow Chen quipped " I think they have all gone to this great hawker centre in the sky, the whole gang." , she smiles and reflects on her late husband Tay Yong Heng, who started this household name stall at Hong Lim Hawker Centre. She said jokingly how all master hawkers like the Hai Ah Balling, Ming Kee Satay Beehoon, Selamat Datang Soto Ayam, Ye Lai Xiang Cheng Tng, Geylang Claypot Rice founder etc.. have all gone and are happily doing brisk business "up there."
The double storey Hong Lim Food Centre is one of the best hawker centres in town and there are many masters that took up a stalls there back in the 70's when street stalls were relocated to hawker centres. Most are now in their twilight years, many with no successors or succession plans.
I pay tribute to two of my favourite stalls there. But there's also host of "greats" in this hawker centre like the Outram Park Freid Kway Teow Mee (#02-17, the long queues patiently await this well fried platter of pleasure everyday), Tai Wah Pork Noodle (#02-16, brother of the Crawford Lane stall), Hiong Kee Dumplings (#02-17, the only dumpling stall I know where one can smell it's aroma from distance) and even Teo Heng Porridge Stall (#01-56, Teochew porridge with the freshest white rabbit fish and a wicked onsen style stewed eggs). These stalls have been consistently ranked up there since the first issue of Makansutra, last century.
Hong Lim Food Centre, 531A Upper Cross Street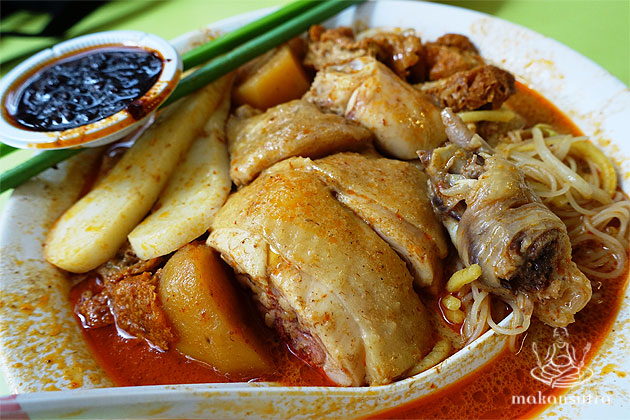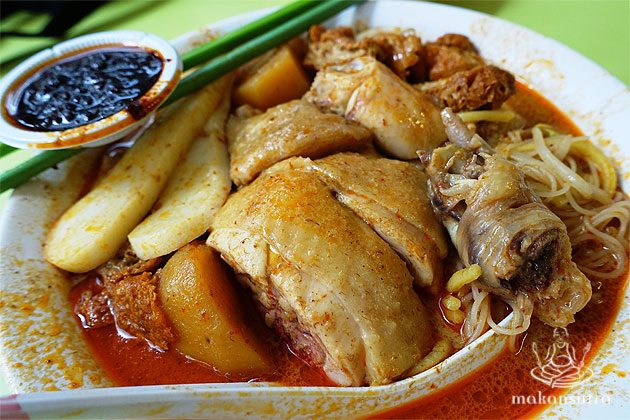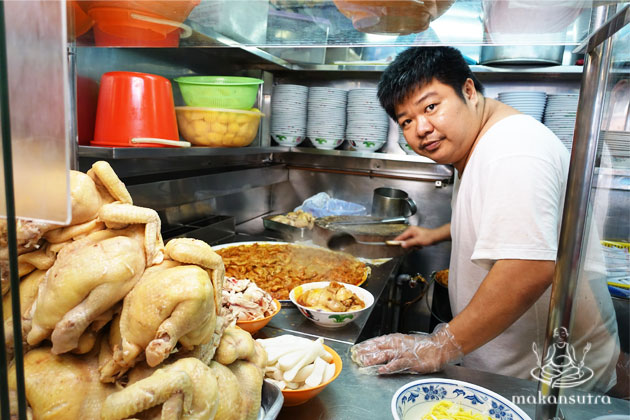 Heng Kee Curry Chicken Noodle, #01-58, 11am-3pm. Close on Sundays and Public Holiday
Son Tay Khang Huat, 42, is now back in the groove taking over where his late father left one year ago. They took a short hiatus then. Nothing much has changed since they re-opened, " I still cook the chicken dip and dunk method which produces a better texture than the Hainanese boil and chill method." Indeed, it's so. The chicken has a firmer yet smooth texture and their curry comes rich but has a lightly sweet tone- which is why you must spoon some of their blackish brown sambal over. The spicy saltiness takes the curry to yums-ville and the savoury and smooth chicken seals the deal. They take 10 hours to make a huge pot of the sambal which they then freeze, every three weeks.
Rated: Three pairs Chopsticks or Die Die Must Try
Teck Kee Ipoh Sah Hor Fun, #02-40, 11am-3pm, close on Sunday
Our President's namesake Tony Tan took a stall here in the 70s, created this Cantonese style dish and there was no looking back since. This Foochow hawker simple makes a shellfish like bouillon stock and starch-thickens it before he slathers it over a plate of smooth Ipoh hor fun noodles with crayfish, prawns or chicken with greens and crispy shallots. "I will just work here till I die. No one's taking over and I am already 68 ,I can't expect too much anymore. I am quite happy." His crayfish chicken and prawns are steamed and boiled and comes supremely fresh. The crunch of the prawns is such a delightful foil to the smooth starchy and soft noodles.
Rated: Three pairs chopsticks or Die Die Must Try.