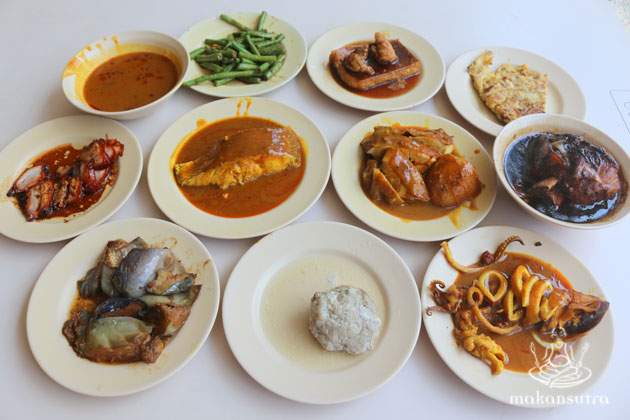 Hong Seng Curry Rice: Ditching Finance Degree for Curry
By Catherine Ling - Wednesday, Jul 29, 2015
We don't need to plaster a SG50 sticker over a true Singapore makan story like this. It's all hard core Singapore, period. And when a new generation helms the kitchen dishing out a uniquely Singapore dish, that's a real reason to celebrate. Meet Lim Jia Han, 25, a Banking and Finance graduate from University of London (SIM), cooking and dishing out Hainanese curry in a hot, sweltering stall at 85 Redhill Lane #01-74. Behind the warm smile and gentle demeanour lies entrepreneurial vision and zeal that may make Hong Seng Curry Rice a bigger name than when his grandmother started it.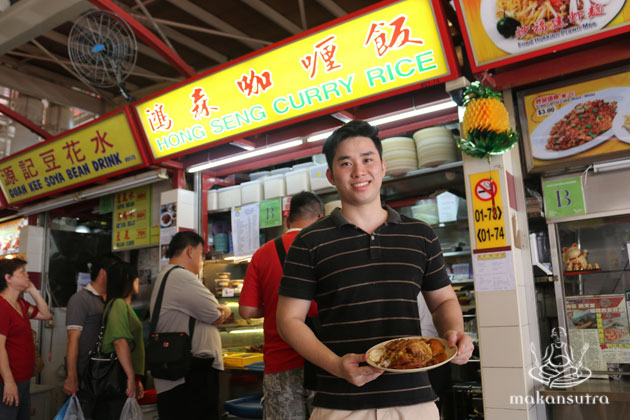 His dreams include a central kitchen, more branches, catering and delivery options. Already he has streamlined worker tasks so that they don't have to panic when someone falls sick or quits; he has used automation to reduce reliance on manual labour; he has sourced ingredients freshly pre-cut and delivered daily from Johor, and also devised ways to protect the family recipes from being stolen by employees. Jia Han's efforts would make our national efficiency and productivity boards proud.
"I never wanted to be in an office job. Like many others, I completed my university education to prevent disappointing my parents. When I graduated, my uncle, the main chef, and my father who helped run the stall, decided to retire after 20 years. I love food and cooking, and I have always preferred to work for myself, so I wanted to take over the business," says Jia Han.
His parents at first were not enthused. They didn't want him to follow in their footsteps; they didn't even have him helping out at the stall when he was young. But when they saw he had greater plans than just working at a hawker stall, they decided to let him take over. After three months of training and learning all the recipes from his uncle, Jia Han became the main chef for the stall.
"Of all the heritage foods that may die out, Hainanese curry might be the first to go, because it requires so much effort," he says. He wakes up at 6.30am to cook 22 dishes for sale from 10am onwards. It is non-stop cooking, three dishes at a time, using the steamer and the fryer. It's not easy. He had cooks who quit in just two days, citing the kitchen as being too hot an environment to work in. But Jia Han himself has dug his heels in, cooking for almost a year now.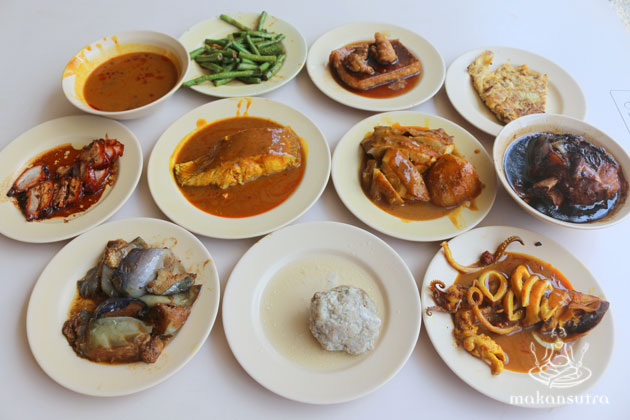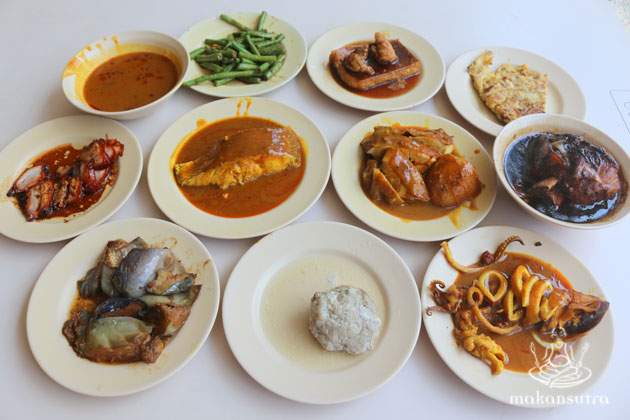 There's only one curry gravy here and it's used for chicken, fish and squid. It isn't a watery gravy but thick and fairly robust with spices that they prepare from scratch (the spice mix is a protected recipe). Interestingly, he serves braised pork trotters instead of the commonly used pork belly. These are fall-off-the-bone tender but the gravy is a little on the salty side. He also carries char siew which is more savoury than honey sweet in a way that's reminiscent of Malaysian style char siew. He reveals that his aunt who gave him the recipe is from Malaysia.
Jia Han is also using social media (mainly Facebook) to draw a wider and younger crowd than the regulars from the nearby estate. He also came up with a "value set meal" at just S$4 featuring six dishes – chap chye, pork chop, fried egg, curry potato, sambal ikan bilis, and a fried prawn fritter. This made ordering easy for the younger generation who were afraid to buy too many dishes. The hefty portion also makes it a very filling meal.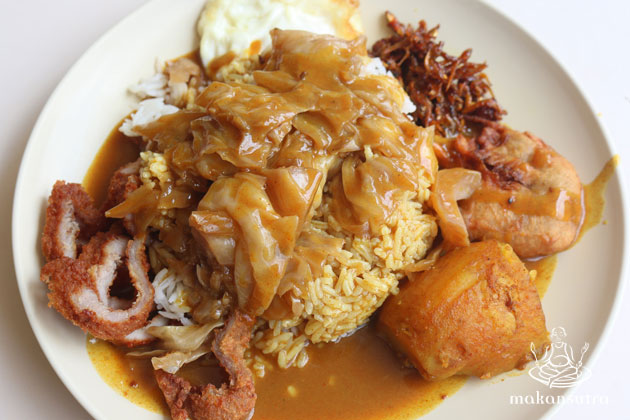 Are young people interested in curry rice? Yes, he says, although he notes it's more the guys than girls who make a beeline for the rice. He is also very encouraged when he sees the youngsters finishing up his food, and returning with friends and families.
Business does look good. When I visited at 2.30pm, there was still a queue for lunch.
But Jia Han is wisely not jumping on premature expansion. "It's been a Snakes and Ladders game," he says of his first year handling the stall. While his many improvements have helped the operations, he still encounters many difficulties. The biggest challenge is labour – hiring and training the right people who won't abruptly quit. He's taking it one step at a time, focusing on training the cooks for a second branch.
If you visit, do pick up one of his sambal ikan bilis (S$5 a tub). The anchovies stay crispy despite being coated with a sweetish sambal that's not oily; it's so popular, they started selling it as a takeaway.