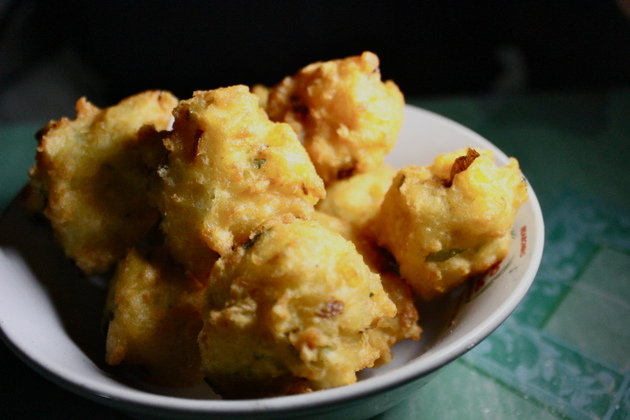 Hooker's Bagedil
By Tris Marlis - Friday, Apr 19, 2013
In the United States, they call it tater tots. In Australia, it is known as potato gem or potato pom-poms. In Singapore, you might have seen similar dish at Nasi Padang stalls, known as Perkedel (or bagedil), a more refined, golden brown fried mashed potato ball that is crispy, fluffy and spiked with some spices.
Tater tots and Perkedel are both wonderful, but when you combine the crispiness of the former with flavours of the latter, the result is divine. That is exactly what we found at a small alley (a former red light district) in Bandung, Indonesia.
The locals call it "Perkedel Bondon." Bondon means "hooker," referring to a spot where this stall is where call-girls used to ply their services at night. At 11pm nightly, a queue will form as they open for business at this still dimly lit almost dinghy spot. It was a 30 minute wait for us before we landed that plate of Perkedel Bondon.
Each potato tot is about the size of a ping pong ball. It has lightly crispy edges, and a light fluffy filling of potato and shallot. It's the perfect snack for parties, and it goes well with a glass of iced cold beer, or even kopi. It definitely got us hooked.
Here's a simple recipe provided by our friend, Jeffrey Sie, who runs his own café/restaurant in Bandung where he has been living for a decade now. He is a frequent customer of this Perkedel Bondon spot (Jalan Kebon Jati, South Entrance Bandung Central 'Angkot' Station)
Perkedel Bondon (Potato Tots)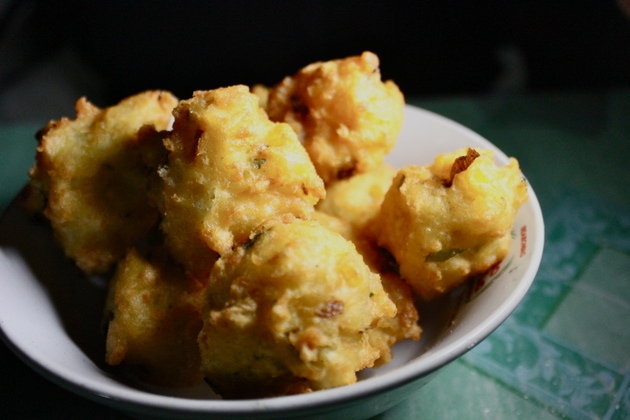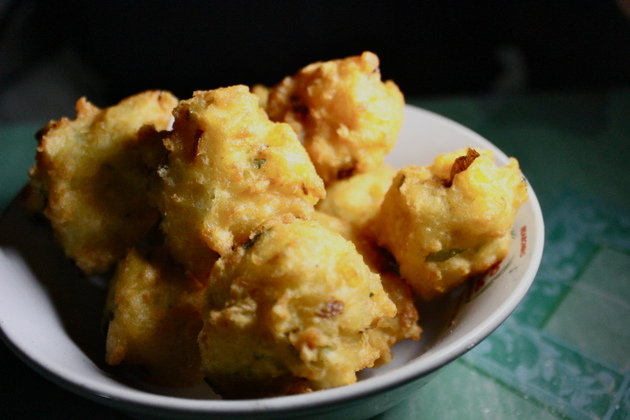 Ingredients:
1.5 kg potatoes (high starch potatoes, preferably Russets) 6 cloves of garlic 8 cloves of shallot 1 tsp salt 1 tbsp pepper (white or black are both fine) 2 chicken eggs 2 spoonful tapioca starch 400 – 500ml Cooking oil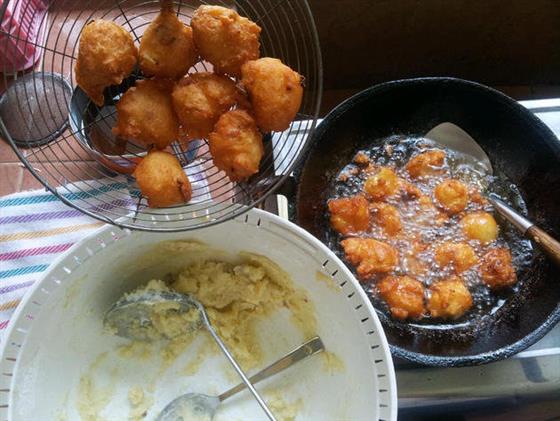 Method: 1. Bring a pot of water to boil, add in potatoes. Make sure all potatoes are submerged. Cook them until tender, about 20 minutes. 2. Grind or pound garlic and shallot to fine paste. 3. Add salt and pepper into the paste, mix well. 4. When the potatoes are cooked, peel the skin, cut them into small cubes and then mash. 5. In a mixing bowl, mix mash potato with the paste of shallot and garlic. 6. Add the egg and tapioca starch and knead well. 7. Heat up a wok of cooking oil. 8. Take one spoonful of mash potato and fry it in the pool of hot oil (don't roll with hand, shape it roughly with spoon to form crispy edges). 9. Do the same with the rest of the mash potato. 10. When the potato balls turn golden brown, remove from the oil and plate on a kitchen towel-lined tray or plate. 11. Serve it hot and fresh, with a side of your favourite condiment: mayonnaise, ketchup, or even belacan!