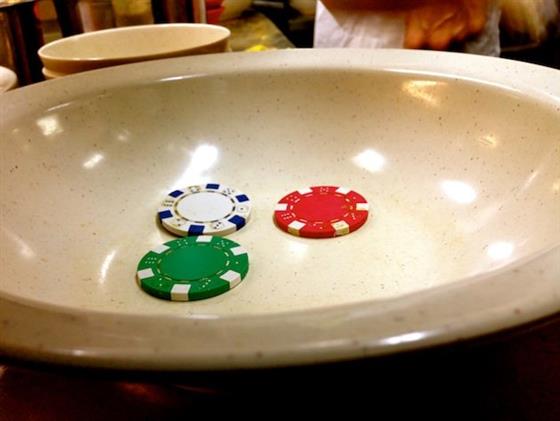 How Hawkers Remember Orders And Location
By Tris Marlis - Thursday, Jan 03, 2013
In a hawker center with hundreds of tables, often with illogical table numbering systems where a table 1 can be located next to table 100, we sometimes get lost, in more ways than one. Then we line up at the stall with longest queue, patiently yet eagerly waiting for our turn. You noticed the hawker was perhaps listening to your orders but gives you no hints of it and did not even write the order down , no matter how complicated. At best, you get a quick glance back from the busy hawker with a cursory "OK". The next moment, you have your plate of char koay teow with no cockles, less spicy, less oily, no bean sprouts and more Chinese sausage, as ordered, delivered to you at your table located at an obscure part of the hawker center. ..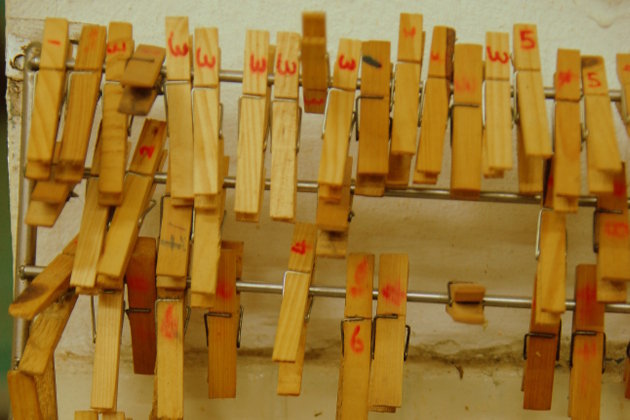 This is the unregulated and unstudied practices of an experienced hawker. Some, along the way, have introduced ingeniously simple ways to note orders over a big line of fussy customers, often without even writing it down. They include using humble household items that can be multi-functional and make encoding order a lot easier than reading it.

How do they remember your table number? The way we sort of point there or state table numbers are not much help as sometimes customers change tables at a swipe of their smartphones. Besides, paper orders can get wet, hence muddled, dropped or fly away. These folks have numbers written on bamboo clothes pegs. Numbers written on its rough surface won't be easily smudged compared to the plastic ones.

Clothes pegs are very commonly used by hawkers to remember orders, especially at cze cha joints. They impress the table numbers on the bamboo ones while plastic and coloured ones are used to remember special request. At An Ji Fish Head Noodles in Chinatown Complex, you will see a whole collection of clothes pegs hanging on strings at their stall. "These clothes pegs are easier to use, I can clip it everywhere," says the owner of An Ji. They note the different sizes of clothes pegs – bigger pegs for big portions and smaller ones for correspondingly smaller orders.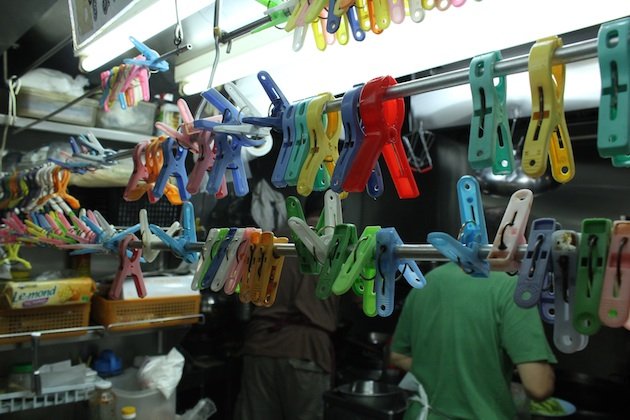 The Serangoon Road Fried Hokkien Mee once used colourful Lego bricks stacked in a certain manner in synch with customer's nuances. Stacked two high for double order, green with extra ingredeints and blue with less chilli etc… There are hawkers who resort to coloured ice cream sticks, rubber bands, toothpicks and even casino chips (thrown into a bowl, like a game of dice). The hawker who uses casino chips prefer to keep his identity anonymous, "people might misunderstand, and they will give me a bad impression," he says. "White one is for no vinegar, red for no chilli and green means large," he continues. The owner also explains that casino chip is easier to clean compared to clothes pegs.

The use of colour is also introduced otah- coloured toothpicks, steamed buns- colourful dots to indicate type of filling, and bak chang (rice dumpling) to signify different fillings.

You may like to think that these are ingenious methods mothered by desperation due to the lack to technology and the hawkers' uncomplicated ways. But look closely, and these hawkers and cooks will often whip out the latest smartphone to play games the second they let their woks down. But no matter, 9.5 out of ten times, they get it spot on right.