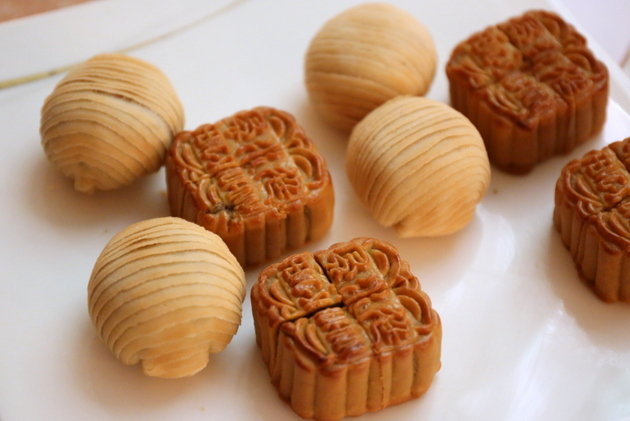 How to Make Flaky Crust Mooncakes
By Catherine Ling - Tuesday, Aug 20, 2013
Flaky crust mooncakes take centre stage this year at Resorts World Sentosa with two different flavours – Flaky pastry with Organic Japanese Golden Sweet Potatoes and Flaky pastry with Japanese Purple Sweet Potatoes. Chinese Head Chef Li Kwok Kwong is making these flaky and crispy treats instead of the popular mini snowskin mooncakes. He and his assistant share and demonstrate the recipe in a hands-on workshop.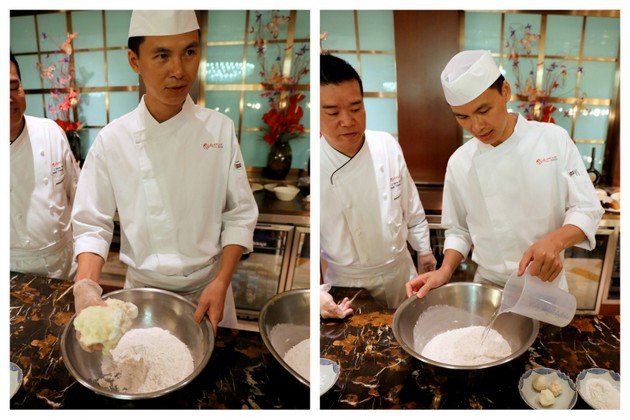 Flaky Golden Sweet Potato Mooncakes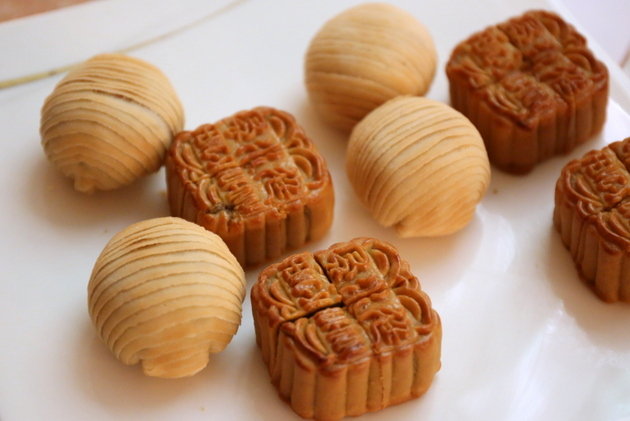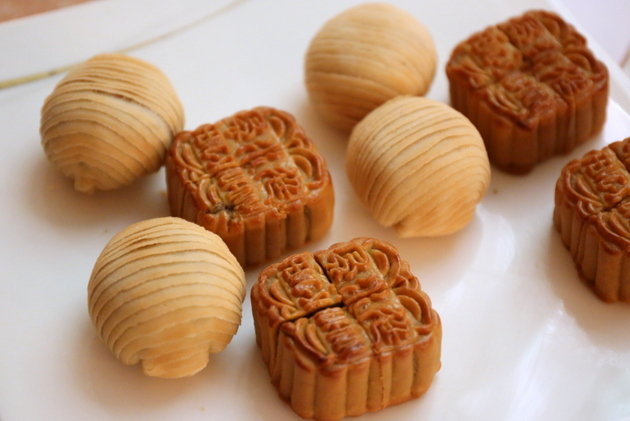 Ingredients: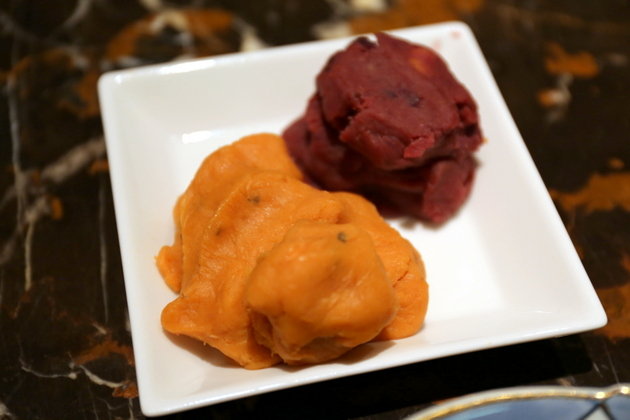 500g Sweet Potatoes (RWS uses organic Japanese sweet potatoes)
1.2 kg Narcissus Flour (水仙面粉) or low-protein flour (plain flour)
250g Crow Flour (高筋面粉) or high-protein flour (bread flour)
500g Dough Fat – lard or butter
100g of Sugar
400ml Water
10ml Oil
To make the potato paste:
1. Wash the sweet potatoes, peel and chop them into chunks.
2. Steam the sweet potatoes for 15 mins until it softens.
3. Blend or knead the sweet potatoes to form a mash.
4. Heat wok over medium fire. Add 10ml of oil and 100g of sugar.
5. Add in the mashed potatoes and cook until mixture thickens to form paste.
6. Leave it to cool.
To make the flaky skin:
To get the effect of flaky pastry, you need to make two different kinds of dough – one with water and one with dough fat.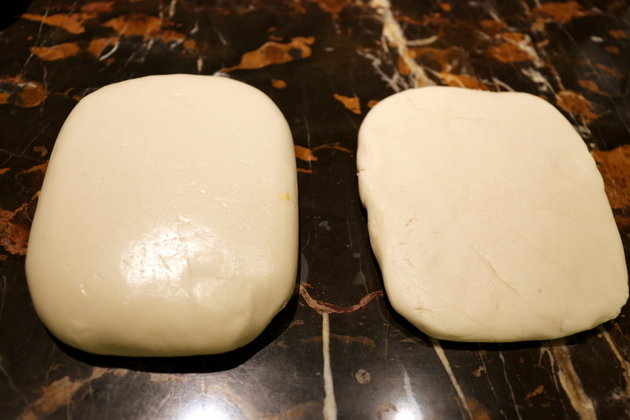 1. Combine the flours (plain and bread), divide them into two portions and placed on separate mixing bowls.
2. In one mixing bowl, cut the dough fat into pieces and add into the flour, knead until it all blends together. In the other bowl, just add water to the flour and mix.
3. Knead both into dough. This should be good for ten portions.
4. Stack one type of dough on top of the other and flatten them together.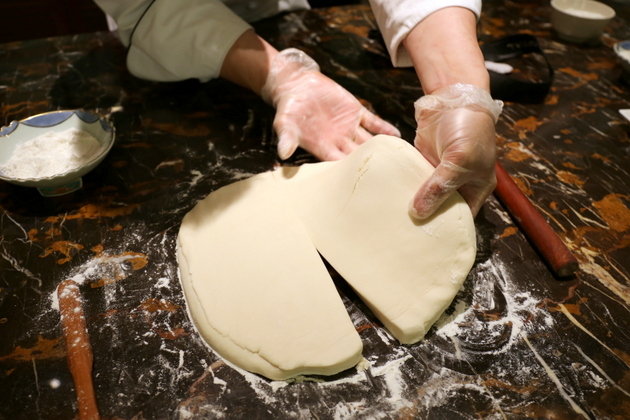 5. Cut the combined dough into two equal sheets before stacking them up into two layers. Dust some flour on the worktop and on the dough for easier rolling, and flatten them together.
6. Repeat the step above and stack into four layers. Repeat again and stack into a total of six layers, to create the multiple layers (It should look like a layered cake or kueh lapis).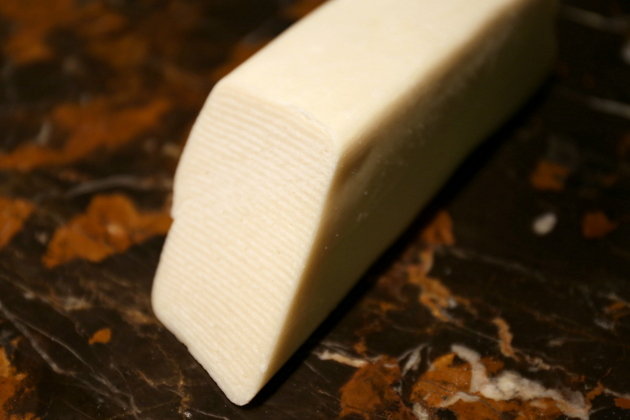 7. Freeze it in the fridge for 20 minutes.
8. Slice the dough at an angle (45 degrees) to create dough sheets (approximately 4cm x 4cm x 0.5cm). Flatten the dough sheet into a moderately thin skin.
To make the flaky mooncake:
1. Roll the potato paste into a ball (about 40g) and place them on the square-shaped skin. Fold the skin over to make a rectangular pouch.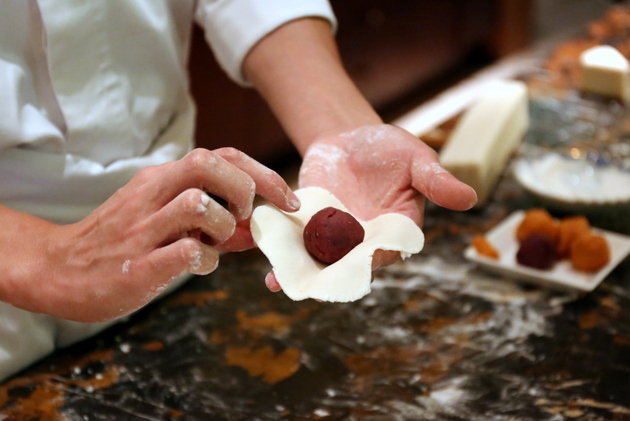 2. Now comes the tricky part. Pleat and roll the paste in the dough between your thumb and index finger (in waveform to bring both ends together), while pushing in the paste. Make sure you don't leave too much dough behind or it may not cook evenly. Fully seal it and pinch off the excess to achieve a fully round shape. The lines should be still parallel with each other.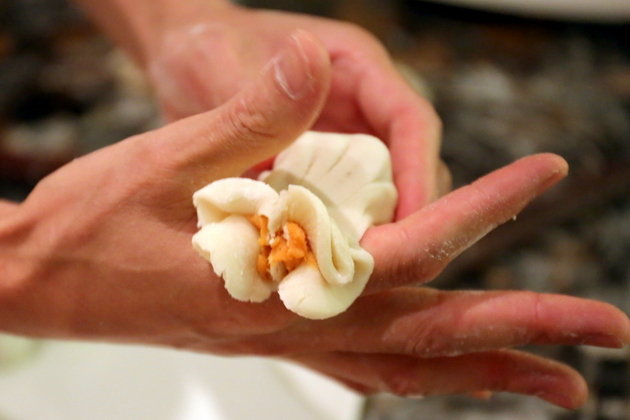 3. Deep fry the mooncakes for about three minutes (until golden brown) in a wok filled with hot cooking oil (about 180 degrees) using a skimmer. Or, you may bake the mooncakes in a pre-heated oven at 180 degrees for 15-20 minutes. You may add egg wash for a more golden crust.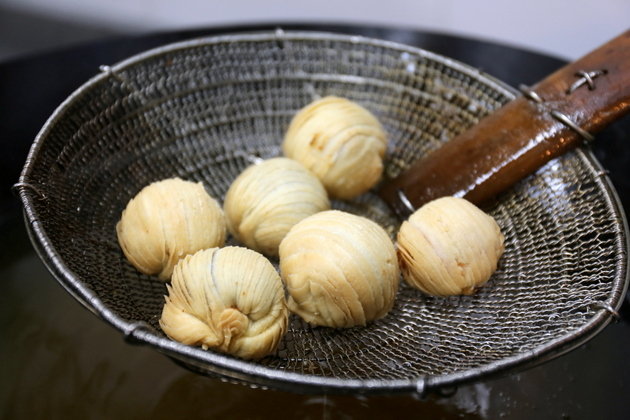 With a bit of practice, your very own homemade flaky crust mooncakes will certainly make an impression on friends and family. The flaky mooncakes are available at Feng Shui Inn (Crockfords Tower, level G2), and Festive Hotel Lobby from 16 August to 19 September 2013. For the Flaky crust mooncakes, guests are recommended to call +65 6577 6688 five days in advance for reservations.