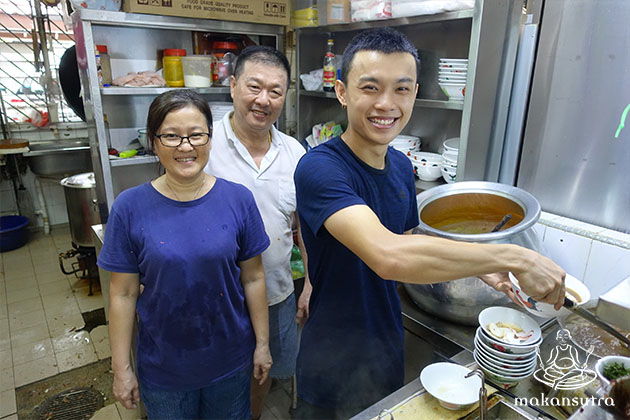 "Humble" Prawn Mee and Laksa
By KF Seetoh - Friday, Jun 07, 2019
It is a very humble kopitiam or hawker dish, but trust me, making a prawn mee soup to achieve "humble" and comforting status with our fussy Singapore palate, is way more complex than you think. This Hokkien noodle dish, of course, has roots in Fujian, China and to once think that they hawked this dish on shoulder food carts back in the day is like being cruel to yourself. One end of the cart held a charcoal stove warming a pot of delicately brewed prawn stock while the other end contained the noodles, ingredients and condiments. That, was how Johnny Lim began his hae mee and laksa business 40 years ago. He learned and adapted the recipe from his mother-in-law and hit the streets around Singapore.
His style is indeed the "humble" version. The basic technique for that do-or-die stock – prawn heads are wok roasted then eased into the pot and often boiled with pork or chicken bones broth together with bits of rock sugar, garlic and shallots. This is the "clear" version, but there are recipes that call for the roasted shrimp heads to be blended, then lowered into the pot with the other ingredients, and it yields an opaque and thicker broth. I like both on different days, depending on what shoes I am wearing that day (ah, the pleasures of fickle dining culture in Singapore).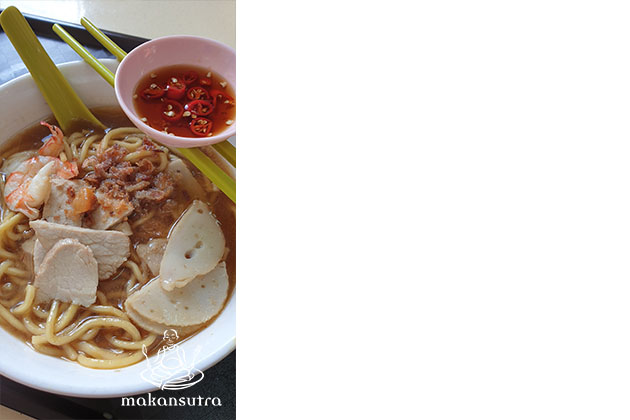 Clear broth hae mee, is the version here.

Johnny had since roosted in this coffeeshop for the last 30 years, faithfully whipping out that same prawn mee soup and laksa (you often see this combo in stalls as prawn stock is commonly used to make laksa, another of his specialty). I had over the years cajoled and observed hawkers and thought about their additional secrets to the recipe and one technique was the use of a good soy sauce plus boiling fried shallots in the stock till they wither away. And I could taste that in Johnny's version.
First up, laksa. They offer the classic "Chinese" version which looks mean, but is actually light and redolent of stock flavour balanced with the rempah of laksa spice blend. The other clue, is the use of blood cockles (which true blue Nonyas, the original purveyors of laksa, frowns upon). The noodle are shredded so you can down noodles and broth with just one scoop. Best to blend that dollop of sambal in the enhance the kick and those cockles, halved and fresh ocean prawns (sweet and crunchy) and fish cakes complete the show with some laksa leaves sprinkled over.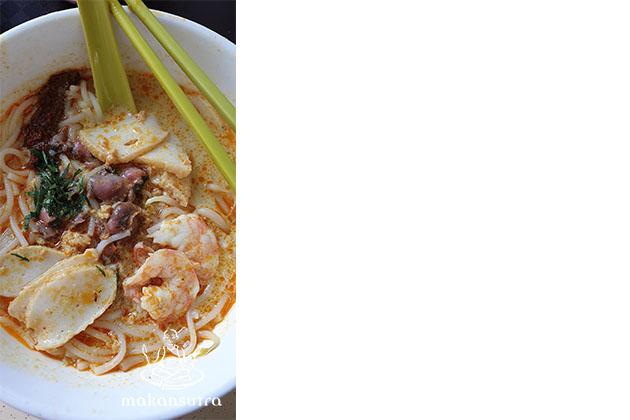 The light "Chinese" style laksa, with cockles

The prawn noodles were what I call "heartland" comforting. Clear prawn broth with yellow noodles and beehoon (my favorite combination) hits the spot and I called for me to slurp up the last drop of soup. Those bean sprouts lent a lovely crunch to each bite and mouthful. Their dry chilli sambal version was a tad tame but it was perfect for the heartland folks in this kopitiam frequented by many retirees and Merdeka generation seniors.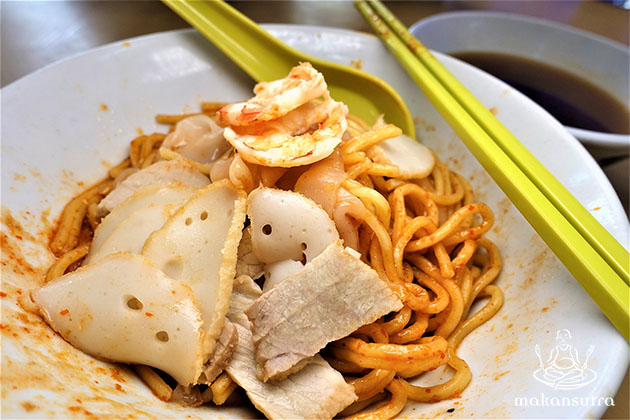 The "heartlander" dry sambal version- less spicy but moreish

Another spot of good news- his 22 year old Shatec trained son, YY Lim, is set to take over and preserve their family's 40 year old name and tradition. He does all the preparation work out in the back of kitchen and cooks when dad takes his regular break. Keep the faith YY, evolve, tell your story, ring your bell and sell your tradition in a bowl, you have my support.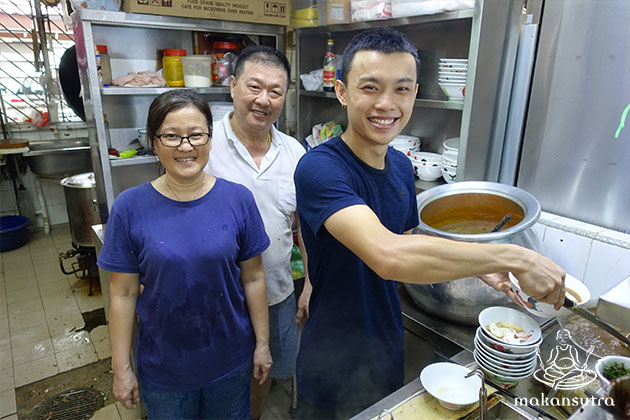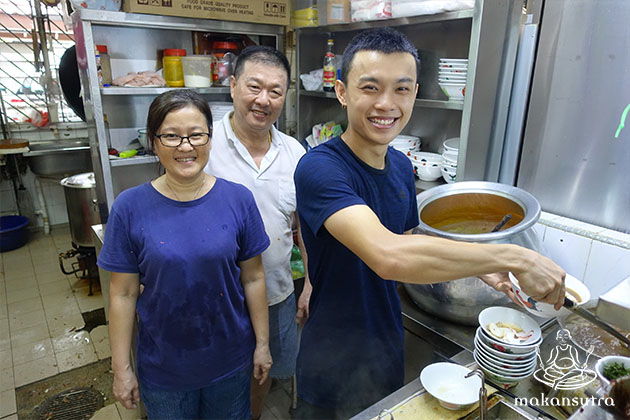 Johnny, his wife Mdm Lee Siew Lian and son, YY.

Geylang Laksa Prawn Noodles
Block 45, Sims Place
Sheng Hui Coffeeshop
630am-2pm close Tuesday