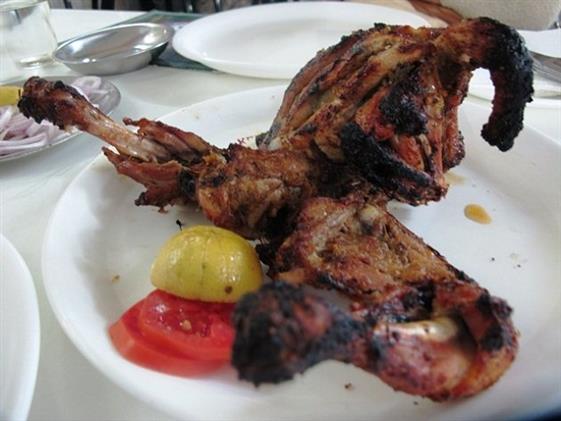 Humbled by Royal Seekh Kebabs
By KF Seetoh - Thursday, Dec 20, 2012
I had only been there once before in my life and then I had to make a second trip there again because I bragged too much about it and was asked to put my money where my mouth is. I had to find Karim's Restaurant, a very famous seekh kebab joint that even international publications raved about. I was taken there like a VIP hostage the last time – jumped in and out of taxis and trishaws, meandered through little lanes and pushed through a tiny gap along a bustling street before they sat me down and showed me the menu. This time I was not the victim but the gang leader. I stood humbled at the top of what may be the busiest street in the world, and I had to find this little needle of a restaurant in the mess of a proverbial haystack.
And as I stepped out of the Red Fort, the amazing Chandni Chowk begins. This trader's street in New Delhi is infested and thick with people, rickshaws, street peddlers and hawkers, cars, animals, tourists, smells of all sorts, taxis and buses. It filled every nook and cranny of the street, its side lane, alleyways and holes in the wall.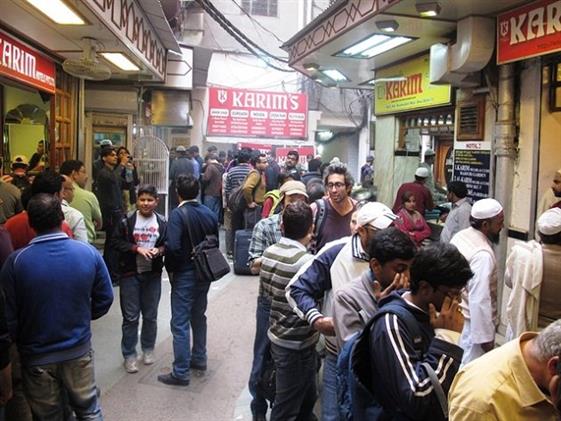 I walked on bravely, not knowing if any of the five lanes I passed was the one to Karim's, dodging rickshaws, about a million people (who knew where they were going) and tuk tuks (Bajaj cabs). Then, voila, I saw the Jalebi Wala stall (a fried dough snack drowned in sugary syrup) that we at eat after that previous Karim's meal. I spent a buck on it and asked for directions, "go to end of this street, turn right, left, right left" and he rocked his head sidewards, which meant, that's all for now and, good luck. And a kilometre of zig-zagging and dodging again, Karim's was nowhere in sight still. I asked a tyre repairman. He looked and pointed right, then said "there", towards a dusty street, as if he was pointing to the Taj Mahal, and that everyone else could see it. Somehow, I finally stumbled across the little crevice along the alley and it all came back. I squeezed in and it led to that familiar courtyard of chow. That little square has four similar restaurants – Karim, Karim, Karim and Karim's. Those in the know went for the last one. They claim proudly in their leaflets that they inherited the royal recipes of the Moguls through the owner's great grandfather.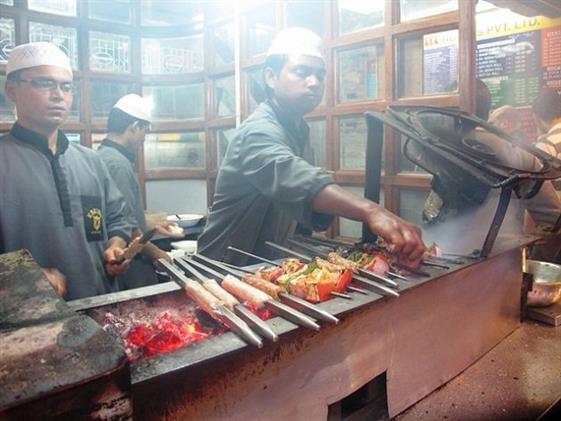 Karim's grilled their kebabs continuously, in front of the eatery and I could see through the smoke the whole cozy place was packed. We squeezed our way upstairs for seats. The kebabs came as fast as the menu did – freshly grilled, soft, smoky and roasty. One among us cannot handle lamb, 'so gamey la" but in the interest of adventure she took one bite… then two, then the whole thing. "Don't know how they did it but there's no pong of the lamb and the spices was so well balanced", she said. It was devoid of any gaminess and intense with spices. It beckoned a piece of roti or naan but I preferred it with the egg and lamb biryani. The spices were gentle, nicely savoury and perfumed by turmeric, and they used the uber long pillaf grains, which was less starchy and correctly so. The egg and the soft lamb chunks just made sense to that equation. Loved the egg so much I ordered another one drenched in their masala curry. Supremely humble and simply sensational. That could have been the meal itself until their "no colouring used" tandoori chicken arrive. The flavour of all the spices and the softly tangy yoghurt was in attendance and the chicken came roasty and slightly charred but was extremely juicy inside. It made my day, just like their signature seekh kebab did. We polished off the rest of the decently portioned biryani then paid a bill which was not much more than a tip in a five star restaurant. When we left, there were queues at all four restaurants – Karim's had the longest.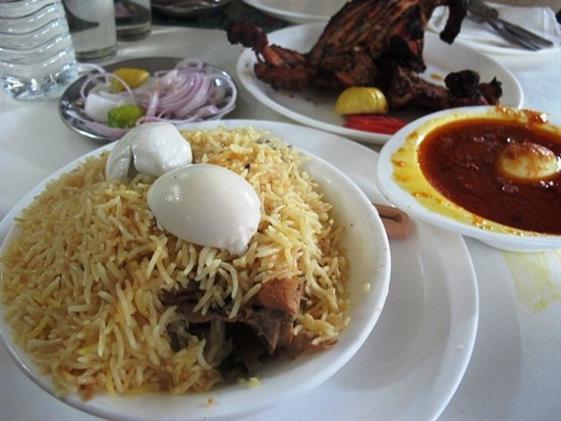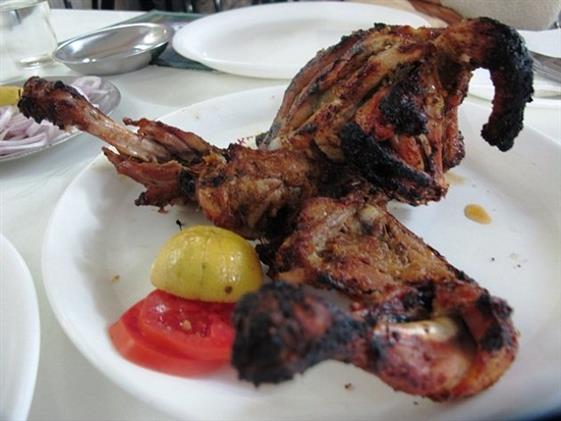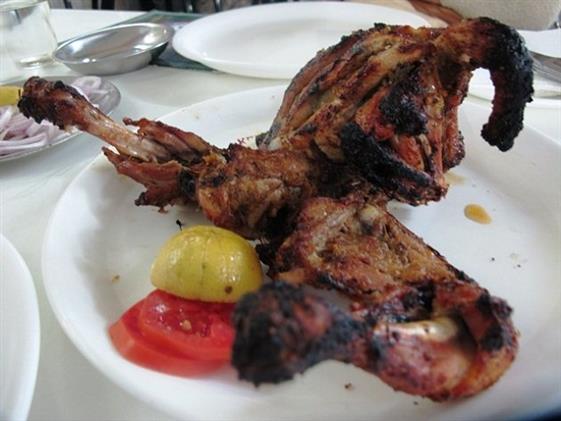 Then the arduous task of backtracking to the Red Fort where our ride was- began, back through the same zigzag route, past the tyre man and the Jalebi stall. If only someone had told me earlier that all I had to do was jump onto a rickshaw, say "Karim's at Jama Masjid Gate 1" (Delhi's largest mosque), and walk 70 metres into the lane facing it. But I would have missed out on so much and the meal would not have been as meaningful.
Karim's In front of Jama Masjid Gate 1 Off Chandni Chowk Delhi 110 006, India Tel: +91 232 69880