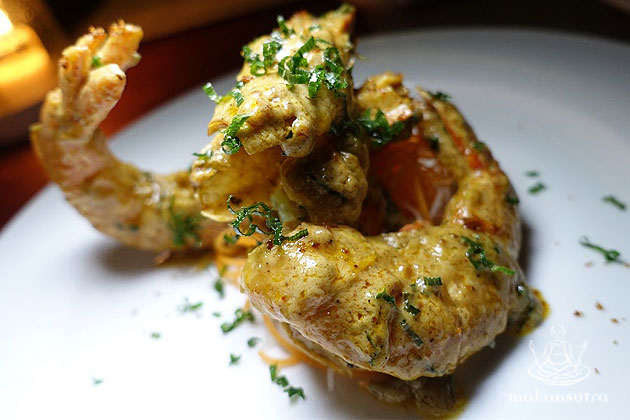 HU'U Bistro Bali: Hawker turned Culinary Consultant
By KF Seetoh - Wednesday, May 13, 2015
He once had to think about just how special his steamed fish head dish had to be. After all, he had about 13 competitors in the Chinatown hawker centre where he was sited in. Benson Tong knew that his fish not just had to be unforgivingly fresh, but his saucing had to be spectacular (deliciously different at the least) and it had to pair well with a couple of other dishes he needed to specialise in…like coconut curry prawns and vinegar trotters. The competition was about price, something he could not win all the time. He moved on, participated in food TV competitions, worked in top restaurants looking to introduce traditional and new heritage street food in their menus and did food events and private chef gigs. He was climbing up the heritage food space ladder in his own way.
Then a chance to re-position himself. He teamed up with Jason Suwantika and set up a small consultancy outfit. Jason studied at a local culinary institute and paid his dues with some top restaurants in Singapore and leaned more towards a western repertoire, although at heart, he is a local and Indonesian makan boy. The jobs trickled in and Benson had some were very interesting jobs, like a personal chef gig for facebook co-founder Eduardo Severin. Then the Hu'u Bistro from Bali called. They wanted to revamp their very tired and unbefitting menu (of their status) in Bali.
The duo excavated the old and tired bar food tapas menu (as the Hu'u Bar was very popular with the clubbing tourists.) and created a fascinating twists to street food and classic western fare. They also re-plated comfort cze cha fare too. "The owner of Hu'u basically gave us a black cheque on creativity.", and Benson added that the trend around the restaurants in the Seminyak area was leaning towards progressive local and Asian fare. He did just that and threw in some traditional stuff too.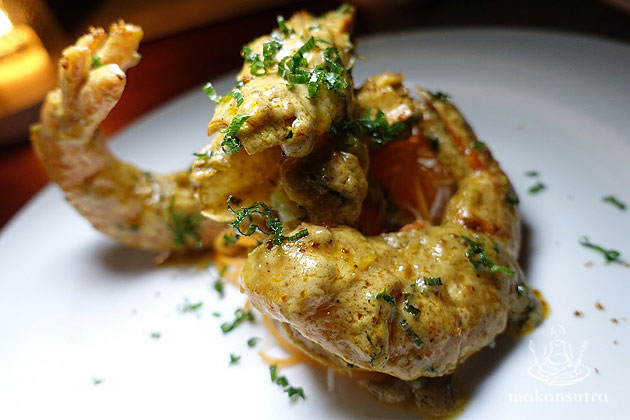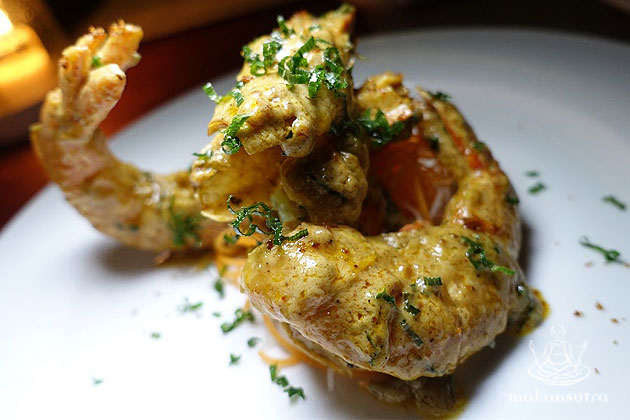 He plated my favourite coconut curry prawns (17.8k IDR)- two fresh shell-on giants on a plate clinging on to that signature thick curry he used to serve as a Chinatown hawker, and rained some finely chopped scallions over. It was so clear and confident and when served in that Hu'u Bistro environment, I naturally re-examined the appeal of this popular cze cha (street style stir fry restaurants) dish. The bistro has alfresco n moonlight open air seats, set by a little water pool with an international class dance club beside. The seductive bar and an open glassed kitchen sat amidst the space. It inspired them to create a water melon sashimi with kombu noodles and tobiko (38k IDR, the texture wonderfully transform when you sous-vide the melon pieces).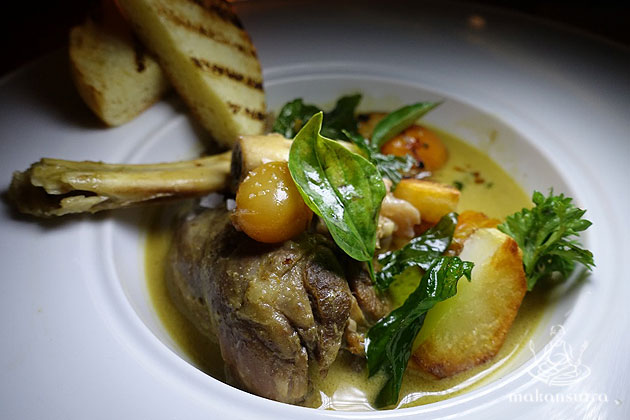 They created this Lamb Shank Gule – a kambing soup inspired lamb shank in a spiced coconut broth with roasted potatoes and sambal gel with kicap manis accent (208k IDR), which would please gamey meat fans. But I was not sure about the Foie Gras Rojak (98k IDR), I tried it when they offered at the Ultimate Hawker Festival earlier this year in Singapore ,and it did not do it for me. But I adored the Chendol Pannacota- not something new, but they finished it with Gula Melaka sago pearls and countered the richness with a sliced of roasted and cured mango (48k IDR).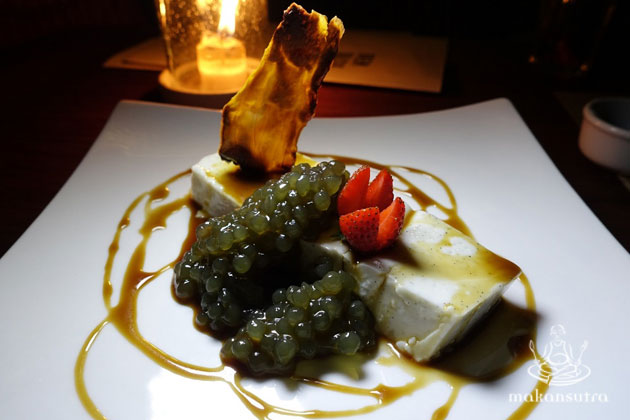 A quick glance at their new menu shows some cheekiness and heritage –like a Soto Braised Chicken with coleslaw and gravy named Indo KFC ((98k IDR) with classics like a hard core Babi Guling served with pork rinds, sambal matah, lemongrass salsa and red pilaf. But the only gripe I had about the place, and it's only because the revamp is still in gestation mode, was the service and menu design- which looked like those in some hipster café wannabe offered in those Tiong Bahru. It should be a lot more confident.
When asked what's ahead for the duo "I still harbour thoughts of going back to be a hawker, as I know the scene will evolve" shot Benson's reply and Jason was looking to unseat William Wongso, the "godfather" of Indonesia food from Jakarta. All things will happen for good reasons. For now, the owners of Hu'u Bistro are so impressed, they gave the chefs a little stake in the eatery. I look forward to their journey up ahead.