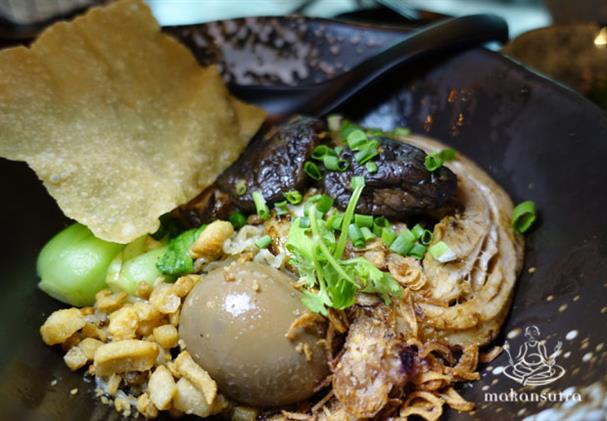 I Want My Noodles Too…
By KF Seetoh - Monday, Aug 15, 2016
I asked and pried for an answer as to why he stepped into this harsh field of the food business arena (from a few angles, mind you) and I still could not get a decent answer. I had to because Derrick Kuah was, up to two years ago , an art director with an established agency and he personally handled accounts like Heineken Beer and Nokia. It would make an inspirational entry to this story. He said something about how his mother in-law from Indonesia ran Chinese restaurants and noodle houses there plus something about how his father's steel business was not his cup of tea.
The best I could do was "listen between the lines" and I realised, "I wanted a hands and feet on job" he told me, and boy, did he get what he bargained for. This food business first-timer was full of ideals and aspiration when he stared, and when asked, Derrick said the main fear and misgivings he had was the manpower issue, sharing that " a few chefs did not turn up on the first day and there were days when no one showed up to open up the shop for the day". He had to scramble and double up but I could see no anger in his eyes because that slip was made up by the pleasure of seeing customers finish up his bowls of noodles, and coming back for more.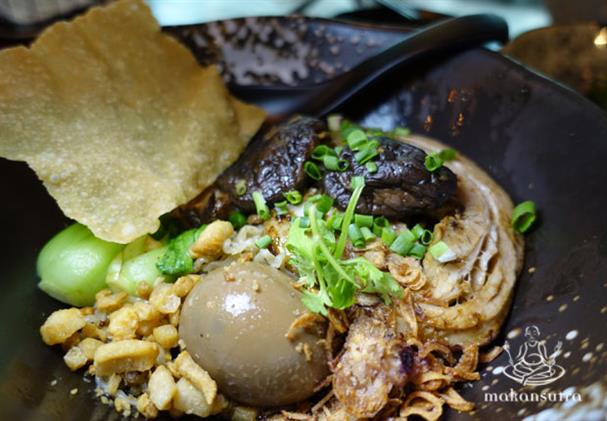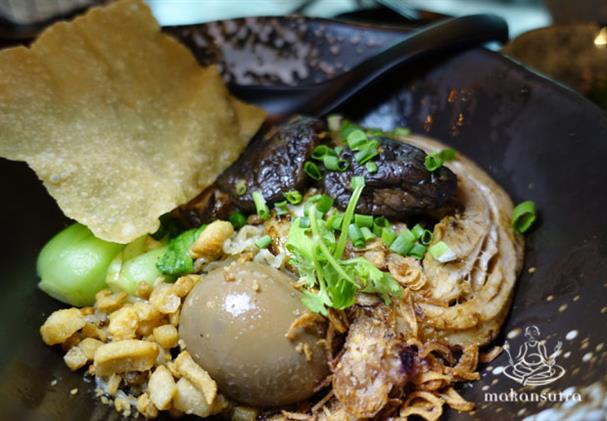 His noodles are the Indonesian bakmi type- springy, soft and slightly curly, and are all hand made almost daily on site. He cranks up to 20 portions a day (more on weekends) and it is how I remembered Indonesia bakmi to. One of the best sellers is the My Lor Bah Noodle ($12.90), a huge pork roulade medallion of soy braised pork with mushrooms, braised yolky tamago egg, crispy wanton skin, greens with a sprinkling of crispy shallots and…lard! If you like, ask for some sambal to stir into the softly and springy noodles in the fragrant braised sauce. Eat and you'll know why it's one of the most popular item in the menu.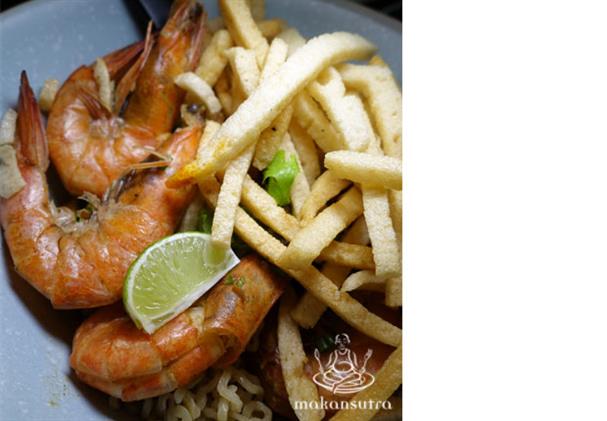 The My Aromatic Prawn Noodle ($14.50) did not look much, except for the pile of French fries (which is actually sliced prawn crackers) stack atop three prawns. But when you toss it, the mildly spicy hae bi XO sauce surfaces from under and , viola, it transforms. I suggest you squeeze that tempting piece of lime over only after you had a couple of mouthful in the original state. The lime twist to the XO sauce was enchanting, it's like, yet not quite bak chor mee.
Between the Prawn Dumpling ($7.90, recently introduced and not in menu yet) and the meatball, I suggest the former. The feel of the prawn crunch was instantaneous upon first bite and the wolfberry infused prawn broth was very agreeable. The Meatball Soup($6.90) was like how mum would make it, soft and very meaty, unlike the hawker style which comes with a bouncy bite because of how they blend them and introduced some reverse osmosis trick (salting and extraction method).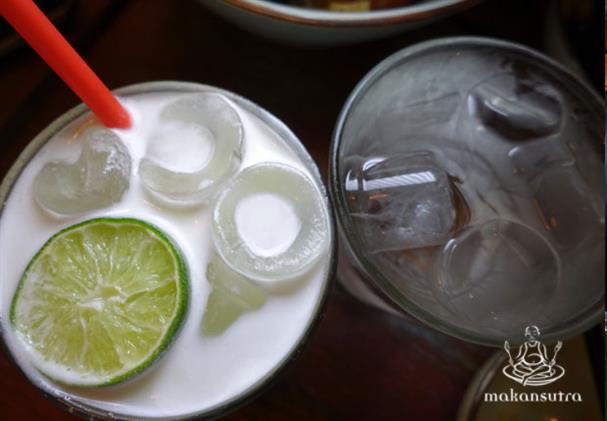 And, I also suggest you try their Muddy Lemon Milk ($3.90), if you can't handle the sharp tang of this fruit. I quaffed a whole glass down so easily. Atmosphere wise, hey, what do you think an art director would come up with.
I Want My Noodle
1, Scotts Road,
01-14/15 , Shaw Centre
11am-10pm daily
Tel: 6935 2331