Ikea Singapore resumes sale of meatballs at 10 cents apiece
By Admin - Friday, Mar 08, 2013
At 10 am today, four students stormed their way into Ikea's Tampines store. An hour later, they proudly announced: "We just had over 160 meatballs!"

These students are amongst the crowd who turned up at the Swedish furniture store this morning to snap up the meatballs at 10 cents apiece. This promotion, which is on at both stores for one day only, aims to win back customers after the company halted sales of the meatballs in late February this year.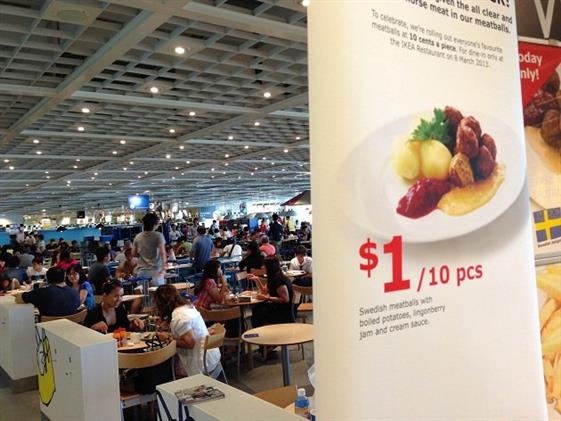 More than 20 Ikea stores in Europe recalled the company's signature meatballs after Czech authorities found traces of horsemeat in one batch of frozen beef and pork meatballs. Soon after, IKEA Singapore removed the item from its menu as a precautionary measure.

Yesterday, Ikea Singapore announced that the DNA result by a local independent lab has confirmed that there is no horsemeat in their meatballs.

"Our suppliers are not from the affected area. We've always been very confident, but we took that precaution step because customers' trust is our main priority. Today's offer is a way to thank their support and to reinforce their confidence," says Mr Gary Chng, Assistant Manager of IKEA F&B.

To meet the expected demand, they have prepared 2500kg of meatballs in the store, triple the usual supply. The number of people who turn up at the furniture store's cafe this morning, according to the company's spokesperson, is double the usual breakfast crowd.




Mdm Cheryl Goh, a customer who is packing meatballs for her neighbours, says: "All meats are hormone injected. If horsemeat is poisonous, then all meats are poisonous."

Although most customers are not bothered by the horsemeat scandal, cautious patrons like Mr Lim prefers to stick to his usual Nasi Lemak. "Of course I'm afraid of horsemeat! The price doesn't matter. I won't eat it just because its 10 cents."

The usual price for meatballs is $9.50 for 20 pieces.